The ‌‌‌‌Toyota‌‌ ‌‌dealer‌‌ ‌‌near‌‌ ‌‌Tustin‌‌ ‌‌‌tells us that the RAV4 continues to be the Japanese car company's best-selling vehicle. It is to no one's surprise that it is a fan favorite. The car has loads of off-road-ready attributes, tons of interior space, a decent amount of technology and safety features, superior MPG numbers, and how can anyone forget about Toyota's fool-proof reliability?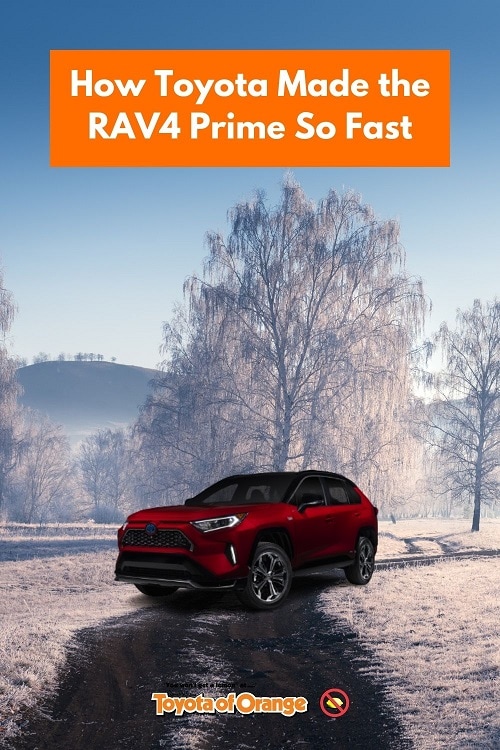 The ‌‌‌‌Tustin‌‌ ‌‌car‌‌ ‌‌dealerships‌‌ tell us that Toyota has received a lot of popularity from buyers for their bank account-friendly vehicles on offer and the RAV4 also makes the cut. This car includes everything that someone who drives daily wants and requires and also encompasses some fun for when you want to take your RAV4 on a weekend getaway. However, out of the surplus of RAV4 options that Toyota has graciously made available, the RAV4 Prime is what gets everyone interested the most. The Toyota RAV4 Prime is a new trim level for 2021 and has made news for being a plug-in hybrid crossover that can do a staggering 94 mpg in one span while delivering 302 horses to all four wheels.
All this information from the Toyota‌‌ ‌‌dealer‌‌ ‌‌near‌‌ ‌‌Tustin‌‌ ‌‌‌can be overwhelming to take in at first, but the Japanese car manufacturer has made a fun-to-drive hybrid family crossover. It's fast, too. The RAV4 Prime can do 0 to 60 mph in 5.7 seconds, which is practically the sportscar category and weighs 2,500 pounds. Needless to say, the 2021 Toyota RAV4 chews up its rivals and spits them out!
The RAV4 Prime VS The GR Supra
The RAV4 Prime is so fast that even the GR Supra gets intimidated. It's weird but true. Toyota has an ongoing row between the RAV4 Prime and the GR Supra. Both cars are priced to accommodate the masses, and at the same time, the car company has enhanced the RAV4's performance into sportscar territory. All in all, this has brought the Toyota GR Supra into a corner.
The ‌‌Toyota‌‌ ‌‌dealer‌‌ ‌‌near‌‌ ‌‌Tustin‌‌ ‌‌‌ ‌understands that comparing a family-friendly crossover to an iconic sports coupe is like comparing apples with oranges, but still, you can't overlook 302 ponies.
Although the standard 2021 Toyota RAV4 tops out at an MSRP of $37,330, the most powerful RAV4 Prime is offered in 2 trims and is priced at $38,250 and $41,575, respectively.
RAV4's Clever Hybrid Tech
In the past, many customers looked at hybrid technology as boring, and there are even some today that believe hybrid power is clean and beneficial, they still won't go near it because they feel it is more for the conservative driver. Nowadays, with vehicles such as the Camry Hybrid and the all-new 2021 Toyota RAV4 Prime, no one can say that owning a hybrid vehicle is a "conservative only" concept.
Additionally, the RAV4 Prime bewilders us with its powertrain structure. It is equipped with a 2.5-liter naturally aspirated gasoline engine coupled to two electric motors, one on each axle.
The front 134 kW motor pumps out 199 pound-feet of torque, and the rear 40 kW pushes out 89 pound-feet of torque. When it comes to the gasoline engine, a comforting E-CVT is responsible for transferring power to the front wheels. All of this combined, the 2021 Toyota RAV4 Prime gives out an impressive 302 horsepower.
The Toyota RAV4 Prime Does 0-60 MPH In 5.7 Seconds!
The brilliant feat that the RAV4 Prime managed to achieve is that the front and rear axles are powered because of the individual electric motor setups. So, 302 horses to all four wheels support the RAV4 Prime to get to a 0-60 sprint in a swift 5.7 seconds. These numbers might make you believe that this Toyota may be the only one that isn't conventional and cautious.

However, that is not the case at all. Toyota has given a lot of attention to its efficiency and returns an extraordinary combined 94 MPG. The electric motors on their own can also work things out and run for 42 miles straight. So, a quick yet capable Toyota. Powerful by all means.

The RAV4 Prime can give you a thrill for a moment, but it's good enough for cushy drivers who like a mid-range drive. If you are looking for athleticism, you aren't going to find it in the RAV4 Prime. The weight from the car's battery pack adds stability in the corners, but it isn't going to blow your wig off.
RAV4 Prime's Interior
It's good to be fast, but being fast and still interesting to the average Joe is a whole different kettle of fish. Toyota has done this with the RAV4 Prime. The performance numbers are off the chain for a comfortable and spacious family vehicle. This versatile characteristic comes from its genuine setup. Toyotas have always been recognized for their practical and tech-loaded approach to interiors.
The RAV4 Prime has a fantastic interior. Standard things include an 8-inch touchscreen infotainment system floating on a clean dashboard layout. You have SoftTex upholstery, an exceptional kind of fake leather, and all four seats are very comfortable and well-bolstered. The battery layout does take away a few cubic inches of the cargo space with 33.5 cubic inches rather than the standard RAV4's 37.9 cubic inches.
Although it still scores high on practicality and comfort, it also gets an honorable bunch of safety features with Toyota's Safety Sense. It consists of features such as Adaptive Cruise control, Lane-Keep Assist, and Road Sign Recognition, to mention just a few. The Toyota RAV4 Prime is an excellent symbol of practicality, comfort, power, and performance, finished off with a dab of joy.