Toyota's selection of hybrid vehicles is an ideal option for you if you are looking for financial advantages, environmental advantages, or both. Luckily, you've found yourself at one of the most dependable auto dealers near Santa Ana. Read on to learn more about some of the excellent options we have!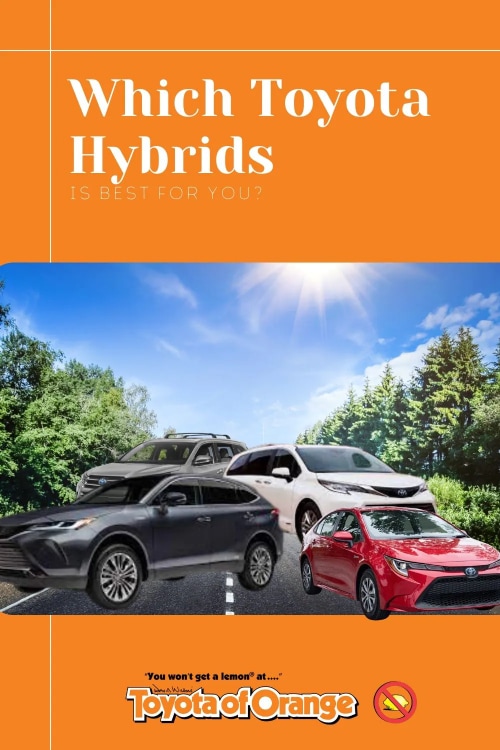 Corolla
A hybrid sedan like the Toyota Corolla makes sense if you reside in a location with few charging stations. With a ton of standard technology, including Android Auto, and safety features like blind spot monitoring and rear cross-traffic alert, it's a fantastic option for your everyday commute. The Corolla is one of the class's most fuel-efficient cars, with EPA estimates of 53 city mpg and 52 highway mpg. A 1.8-liter Atkinson-cycle four-cylinder engine and two electric motors work together to produce this performance.
Highlander
We also have options for you in this class if you're looking for a three-row SUV. The carbon footprint of a Toyota plug-in hybrid like the Toyota Highlander is comparable to that of an all-electric car. However, it has a few advantages, including a lower price, smaller batteries, a better range, and more charging alternatives. It is the best-ranked hybrid SUV at auto dealers near Santa Ana because of its smooth ride, spacious, luxurious cabin, and powerful engine. Its appeal to all demographics extends further. You and other parents will like the sizable cargo compartment for family outings to the grandparents' residence. A massive 84.3 cubic feet are available below the front row. The cabin is adaptable, as well.
Sienna
The Toyota Sienna is a family-friendly vehicle with space for eight, a 10-year warranty on the hybrid batteries, and an all-wheel drive option for greater control in snowy conditions. The 2021 model comes with many upgrades, including a brand-new exterior and interior design and a new Entune infotainment system. Engineers overhauled even Sienna's drivetrain. This cutting-edge family transporter now has a new, fuel-efficient four-cylinder engine in place of the V-6 from the previous year. This configuration kills competitors with 36 mpg on the interstate and city.
Venza
The Toyota Venza has everything you might anticipate, from outstanding fuel economy to an opulent interior. Its engine generates 219 horsepower, and that much power is more than enough for quick acceleration and offers some excellent driving dynamics. Venza's poised handling and comfortable ride will appeal to you, and it is simple to maneuver and feels calm on curvy roads.
This midsize SUV's command center has stylish details that you could see on a luxury model. Up to five people, including four adults, can be transported in comfort thanks to the available panoramic sunroof. A large 12.3-inch touchscreen, navigation, and a top-of-the-line nine-speaker sound system are standard on higher versions.
Want to see our selection for yourself?
Schedule a test drive here at Toyota of Orange to discover which of our Hybrid vehicles is best for you! We are one of the most popular, not to mention trusted, auto dealers near Santa Ana, and you can count on us to help you choose your next vehicle.