Regular car washing does more than keep it looking good. When carried out properly, car washes preserve the external paint and minimize visible flaws like minor scratches. We aim to give local drivers the best care for their brand-new Toyota automobiles. That is the Toyota of Orange difference. And because this Toyota near Irvine wants to ensure that you know how to take the best care of your car, we've created the following car cleaning guide to help you.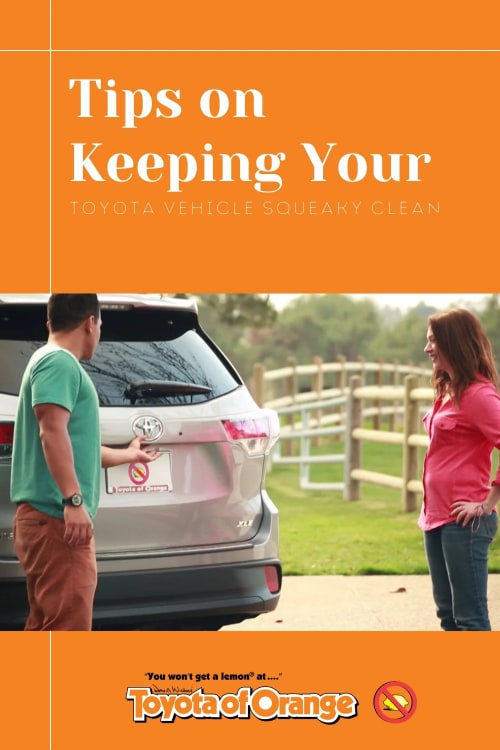 How often should I wash my car?
The answer will vary by how often you drive. That said, recently waxed and polished cars only have a wash and a wax. But if your vehicle has been left out in the weather for a few months without any care, it will probably require more. However, experts from our Toyota dealer near Irvine still advise that you should aim to wash your car every two weeks.
Auto cleaning pro-tips:
Rinsing and washing
Use paint-safe products in place of hand soap, dish soap, or regular household glass cleaner to protect your car's finish. Afterwards, wash with a wool washcloth or a natural sponge. Lastly, rinse your car thoroughly to get rid of any loose dirt and debris before you start washing. To clean the car's surface thoroughly, use car washing gloves and drying cloth. After washing the car's body, use solution designed specifically for autos that don't include ammonia to clean the windows. After that, clean the wheels and tires with a low-strength, pH-balanced aluminum wheel cleanser.
Removing bumps
Remove tree sap and other impurities stuck to your car's surface using a clay bar. Additionally, you can use a dual-action polisher to apply compound to the surface to remove minute scratches. Usually, the compound requires two to four coatings.
Waxing
Waxing a car does more than making it seem nicer; it also shields the paint from UV rays and keeps its gloss. Carnauba and polymer are two of the most popular kinds of automobile wax. Although polymer wax is slightly more expensive than carnauba, it doesn't haze and requires less time to set. Waxing should be performed every 6 months. Be sure to set a reminder so it doesn't fly off your radar!
Polishing
The best polishers are dual-action ones. The polish's oils give your car a smooth, shiny appearance. You can use an orbital buffer or a soft towel to apply it. Although orbital buffers are quicker, you don't have as much control over the final appearance. Additionally, you risk scratching your automobile if something falls between the pad and your vehicle while it is moving.
No matter what you need from us, we're here for you.
Since 1971, we have assisted Toyota customers from all walks of life with every aspect of renting or buying a vehicle. We truly go above and beyond to ensure that every one of our clients. As a result, our Toyota near Irvine has become a local favorite among regular folks and car enthusiasts. We look forward to serving you soon!