If you feel unsure how to pay for your new Toyota, you're not alone. It is one of the most common questions people buying a car for the first time have. While the answer will depend on your financial situation, we are here to help. You have the choice of paying cash or financing for your new car from your Toyota near Irvine, CA.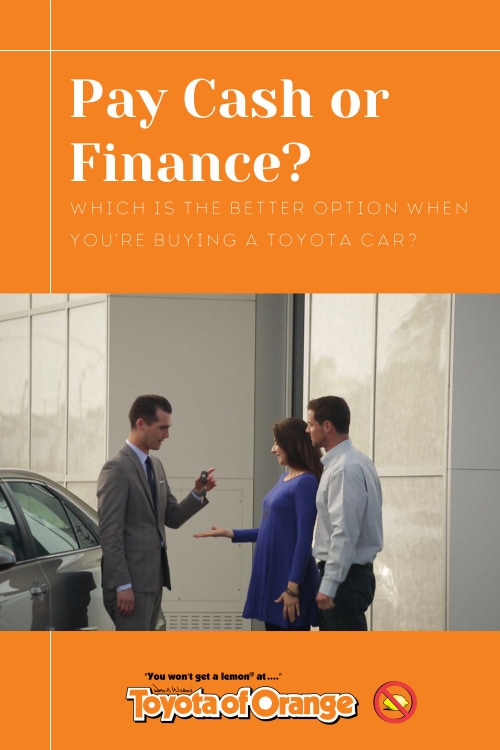 Financing
Car financing is an auto loan offered by a financial service provider to a person so they can buy a car through several reasonable installments rather than a single payment. You must repay the loan over the loan term, the interest that has accrued, and any lender costs, just like with other loans. The loan period is typically computed in monthly installments and can last anywhere between 2 to 7 years. You can also decide with the financial service provider on the loan payback period and the frequency of payments.
Financing is most likely the best option for you if:
You have limited savings. Financing can be the best option if you don't have much money in the bank. However, you might need to choose suitable monthly repayment alternatives that you can afford while still taking care of your other obligations.

You want to improve your credit score. Making on-time monthly payments could raise your credit rating when you need to buy another automobile in the future.
Choosing to finance a car at one of your local Irvine car dealerships comes with a variety of benefits, including:
Progressive payment options are available. Car finance is a terrific alternative if you want to keep your funds for other investments or bills. It allows you to pay for your vehicle over time.

Incentives: Car retailers and manufacturers may provide incentives like 0% financing. With the aid of these incentives, you might be able to avoid paying high-interest rates over time.

It allows you to compare the car's worth to the repayment amount: You can weigh the value of the vehicle you wish to purchase against the cost of your loan payments. When done correctly, this comparison can give you leverage in negotiations with your lender over the interest rate and length of the payback period.

Potentially low-interest rates. You might choose to finance if the interest rate is low because the added expenses won't be very high. Low monthly payments can also mean low-interest rates, enabling you to pay off other bills more rapidly.
Cash Payment
Making a single payment in cash to a vehicle dealership is easy. Obtaining a cashier's check from your bank or credit union is the most common way to pay. The Automated Clearing House (ACH) transfer is an additional technique that instantaneously sends money in response to a request.
While paying upfront for a car may seem daunting, it is a more favorable option for you if:
You already have the savings. You can still preserve your financial security with more peace of mind, which could be helpful if you have a financial emergency.

You have a low credit score. You have a lower chance of being approved for financing if you have a low credit score. If approved, the monthly payments can be too high, which isn't worth it for a car that might lose value before you finish making payments. However, at Toyota of Orange, we directly work with clients with bad or no credit. We understand that there is a story behind everyone's financial situation, so we want to be able to help you afford the ride that you need.
Benefits of paying in cash include:
Allows you to your budget. Since you know how much money you have to spend, cash payments help you stay inside your spending plan. A spending cap could prevent you from getting sidetracked by other models that cost more than you're willing to spend.

Interest-free purchase option. In contrast to financing, which requires you to pay for the vehicle in installments as its value decreases, buying a car in one payment will allow you to own it when it is at its highest worth.
Ready to discuss your options? Contact our Toyota near Irvine, CA, to make an appointment with us today!