Are you in the market for a new truck, such as a preowned Toyota Tundra? If so, then Toyota is most definitely a fantastic choice for you! There are many great features in new Toyota trucks and other components that increase performance and safety. There are many different options available. You can select a car to meet your needs and tastes regardless of your preferred style. Check out all of the features you won't want to miss out on here at our Toyota dealer near Riverside, CA: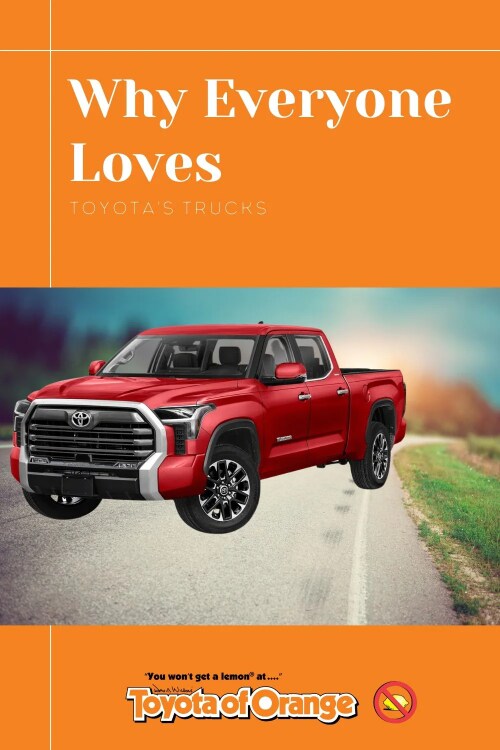 Safety Features
As much as we love discussing how aesthetically pleasing our vehicles are, we have to be honest when we say that the most critical feature of any car is safety. You depend on dealers near Riverside, CA, to provide you with cars that can protect you in the event of an emergency. These features safeguard you and your passengers and aid in averting collisions as you drive across the Golden State, and Toyota is concerned for your protection. Standard safety features include stability, traction, and emergency brake assistance. Additionally functional are the four-wheel antilock brakes and tire pressure monitoring. Other features like lane-departure warning, rear cross-traffic alert, and pre-and post-collision systems will also provide you peace of mind when driving.
Top-Tier Technology
It's best for all drivers to have a truck fully equipped with technology, which is precisely how new Toyota trucks' entertainment systems keep you connected. Expect entertaining alternatives like satellite radio, Apple CarPlay, Wi-Fi hotspots, and Android Audio. You and your passengers will have much to do with these for many miles (and smiles!).
Extraordinary Exterior
You might start by looking at the exterior when you visit your nearby Riverside, California, dealers to look at new trucks. The Toyota trucks will pass the eyeball test with their attractive, robust bodies. You can choose from a wide variety of paint colors. Toyota vehicles are desirable options because of features including running boards, steps, chrome wheels, all-season tires, wheel locks, and a variety of off-road capabilities. There is a lot of storage space in truck beds; some come with tonneau covers. Don't overlook the winch systems and other towing devices that can enable you to save someone.
Dazzling Durability
There are several causes for someone to look for new Toyota trucks. However, most buyers are searching for a vehicle with a strong engine that can help them navigate rough terrain, climb steep slopes, and handle even the most difficult situations. Although Toyota vehicles have a range of engine capacities and power, all may assist you in reaching your objectives. Models typically feature three to five-liter engines that produce between 300 and 400 horsepower. In addition to these figures, you'll be impressed with the towing and payload capacities. Toyota vehicles are made to handle the most demanding tasks.
Ready to buy or rent your new favorite truck?
Toyota of Orange is committed to getting you the best deal on the premium truck you want if you want to schedule an appointment with our experts here at our Toyota dealer near Riverside, CA. You can check out our variety of trucks on sale now, schedule a test drive, and discuss financing options with our specialists. We look forward to serving you this fall season!