It's crucial to have your vehicle ready for an inspection. Specific rules demand and call for regular car inspections in the US. It would be best if you took some action to get your car prepared for the next examination, whether your state has a yearly or biannual review. It is also essential to be aware that although many vehicles in California must pass an assessment each year, if you own a particular car, you might not be required to do so. You will probably need an inspection if your vehicle has a model year between 1976 and the present.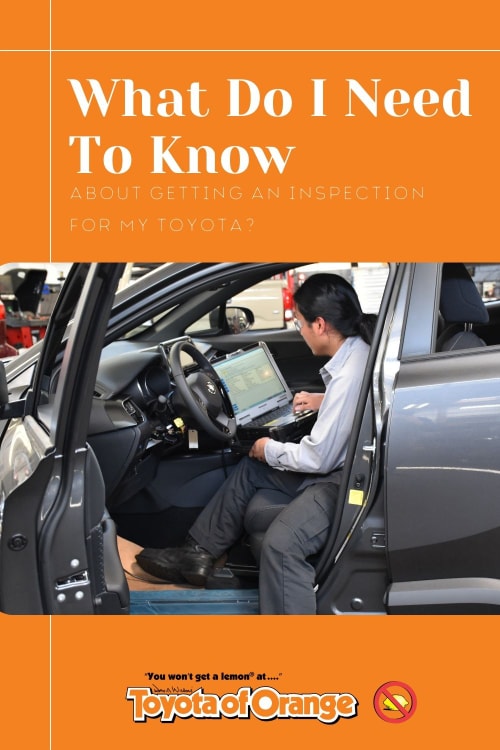 It is necessary to take these steps before bringing your car into Toyota of Orange, the #1 Toyota dealer near Tustin, for an inspection:
California Vehicle Inspections
In California, the majority of drivers are required to have their vehicles inspected every two years. You may be subject to fines and being denied registration if your emissions test is not completed. You will take your car to a nearby authorized inspection facility.
Go over the checklist.
Inspecting your car is the first thing you should do. Either use the DMA checklist and take care of any problems you see before the expert inspection. For instance, if your rearview mirror is broken, get it fixed right away.
Correct anything that hinders your vision.
Any obstacles that could impair your eyesight must be removed, otherwise, do not expect to pass the inspection. To make sure your wheels adhere to these standards, check your car's owner's manual for the recommended tire and wheel sizes. If your current tires are getting worn out, you must purchase new tires before the inspection.
Getting the Inspection
You must then have your engine serviced once you have examined and corrected any visible faults. Owners of Toyota vehicles can accomplish this at nearby Tustin car dealerships. The oil filter and the air filter should both be replaced. Make sure the spark plugs are in excellent operating order by inspecting them. If your car has a computer, you'll need to bring it to a business that sells auto parts so they can connect the OBD reader to it and look for any error codes. Use only original Toyota parts to repair any problems discovered by this inspection.
Remember that a vehicle inspection can be daunting, but it is necessary to ensure that your car is secure and well-kept. It is, therefore, a good idea to know the inspection regulations in your state. Regular maintenance is the best way of passing vehicle inspections. Now that you know how to get your car ready for review, you may confidently complete your California state inspection now. Tustin Toyota dealerships such as ours can help steer you in the right direction (no pun intended, promise).
Need help fixing up your vehicle?
If you feel that your car isn't operating the way it should be, please schedule an appointment with the technicians at Toyota of Orange right away. Whether it's an obvious or a subtle problem, either can hinder your ability to pass a state-mandated inspection. You can count on our Toyota dealer near Tustin to help you get the job done right.