Are you currently considering your options if you intend to lease in the future, or is your lease from one of the top-rated auto dealers near Santa Ana about to expire? If so, you have come to the right place! Leasing is always an excellent choice for those who don't mind needing to switch cars every few years or if it's purely for budgeting reasons. Whatever your reasoning is, all leases inevitably expire, and unlike financing a vehicle, the end may not always be the happiest of events for you. That is why we are here to explain your options when your lease is about to conclude. By doing this, we have the opportunity to better inform you on whether leasing a new car or purchasing the one you are currently leasing is a better option for you and your current financial situation.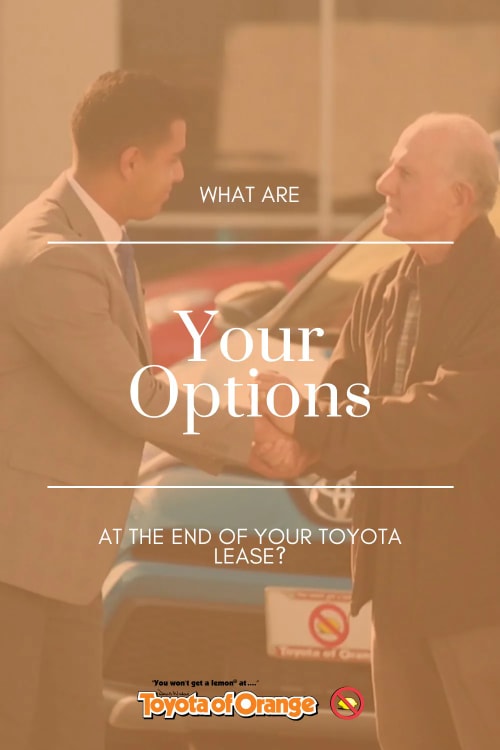 Option #1: Return Your Vehicle and Purchase or Lease a New Toyota.
It's never been simpler to get settled into a new car! Why not upgrade to a newer model or try a different Toyota if you liked your old one? With this choice, you have the freedom to look around before choosing a car to finance in full. We want to ensure that you choose the right Toyota because committing to a vehicle is no light matter.
Option #2: Purchase the Vehicle You're Currently Leasing.
Why change if you love the situation you are in now? We give you a choice to buy the car you might not be ready to part with. If you need assistance with financing for this vehicle, go directly to our dealership near Santa Ana auto dealers for help so you can keep driving.
Option #3: Return Your Vehicle to Toyota of Orange
We will respect your decision if you decide to move on to leasing or purchasing a car from a different brand. We don't have any obligations or contracts that would bind you to something you don't want or like. You can return your vehicle by the end of your lease. Although we will be sorry to see you go, we will always be here if you ever decide to come back.
You can count on Toyota of Orange
We hope that this short and straightforward guide will help you make the most informed choice for you. Toyota of Orange always strives to make the end-of-lease process simple and efficient for all our loyal customers! This process begins by making the trade-in process simple and ends with you driving away in the next Toyota vehicle you will adore. Leasing a car can be a great experience, and we are here to ensure your time with us at Toyota of Orange, one of the most prestigious auto dealers near Santa Ana, is above and beyond.
If your lease with Toyota of Orange is due to expire soon and you have further questions about the process, do not delay. Please get in touch with us right away at (714) 907-4742. We're always happy to have you over at our dealership!