Toyota is a brand that is highly respected all around the world. Our vehicles are known for durability, power, and commitment to utmost comfort for the passengers. The technology found in every single one of our models is astonishing, and the power recently added to engines is astounding. Fortunately, when you purchase a used Toyota, none of this is lost. Because they endure so long, Toyotas are in high demand. At Toyota of Orange, the #1 Toyota dealer near Anaheim, you'll be able to locate whatever kind of vehicle you're looking for.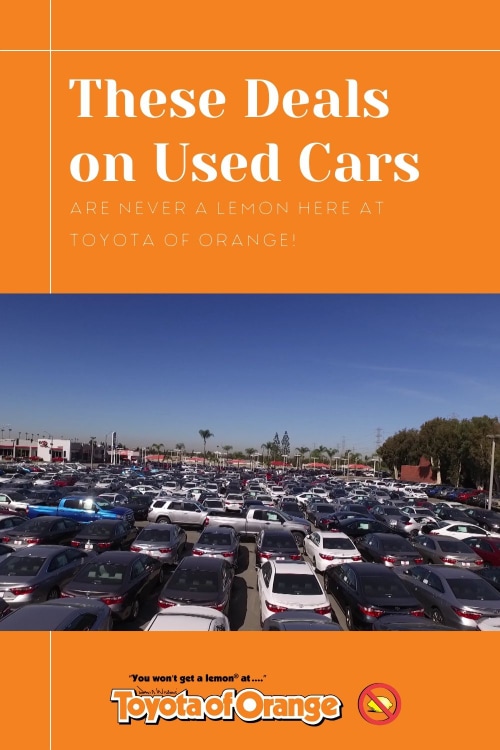 There is usually a good selection of used cars, trucks, and SUVs available even though the lot is constantly changing. The Toyota Tacoma is one of the many popular trucks made by Toyota. This truck has many of the same strength ratings as the Tundra but has several adjustable features to make it the ideal vehicle for your needs. The Toyota 4Runner is another vintage vehicle. In addition to having plenty of room for families who want to be able to spread their belongings out on extended road journeys, it is a superb vehicle for those who wish to venture off the main path a little bit. You will be able to embark on any trip you can imagine thanks to its out-of-this-world clearance.
Another excellent choice available at our Toyota dealer near Anaheim is the Toyota Tundra. This vehicle is a workhorse and will get you to your project and bring all the equipment you need in the interim. This truck can navigate any terrain you take it to, thanks to its 8-cylinder, 5.7-liter engine. Because the cabs are roomy and sturdy, you can quickly load more and more equipment into the rear of them to make complex projects much more straightforward.
For a few reasons, purchasing a second-hand car is frequently the best option. A car's value plummets considerably in the first year or two of ownership. In addition to the purchase price, this depreciation also impacts other aspects. Because your car insurance is based on the cost and value of your car, buying a used car will probably result in less expensive insurance costs for you as well. So basically, what we're trying to get across here is that you can get a used car that feels like new for a pretty solid price. It simply can't get any better than that.
You can purchase a pre-owned vehicle that is either more recent or has already withstood the test of time, but you can be sure that Toyota of Orange is offering you a terrific deal. We guarantee that whether this is your first time visiting our dealership or you have been a loyal client for many years, you will leave with the knowledge that we are one of the best Toyota dealers near Anaheim. Our clients are our primary focus, and we wouldn't succeed without you. To arrange a test drive of any featured vehicles on our website, call our sales department at (714) 907-4742. We can't wait to have you!