Whether you are purchasing a car for the first time or it is simply time to replace your current one, you should choose Toyota. Not only should you choose a quality, well-renowned name, but you should also be sure to opt to purchase your new car from a reputable Toyota dealer near Riverside, CA, like Toyota of Orange! Here are four reasons why you will fall in love with the vehicles we have at our dealership: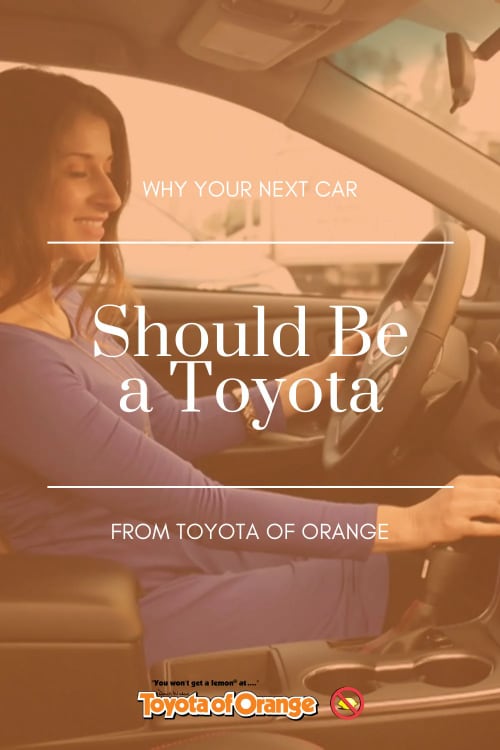 Safety is #1 at Toyota.
Safety is never something to worry about with a car, and with a Toyota, it's the last thing you have to do. Toyota has received numerous awards and commendations to demonstrate its models' safety and wants to ensure that everyone who enters one is safe. No matter which Toyota vehicle you choose, whether a brand new 2022 Toyota Mirai or a pre-owned Toyota Tundra, you can be sure that you will have a safe driving experience.
Guaranteed durability.
Did you know that 8 out of 10 Toyota vehicles sold twenty years ago are still in use? This results in savings because you'll know your new Toyota car or truck will last when you buy one. When you see numbers like these, you have to believe that these cars and trucks have something going for them that makes them a cut above. Toyota prides itself on keeping you on the road in a high-quality, safe, and durable vehicle.
Spare parts are readily available when you need them.
It's one of the most critical factors in choosing a Toyota. You don't want to buy a car and then have to wait months for a repairable part to arrive from the country of manufacture. The brand enjoys widespread acclaim on a global scale. Therefore, your dealers near Riverside, CA, will always have spare parts available. Furthermore, it's simple to locate mechanics who can get their start working on Toyota vehicles.
Toyota has had the highest resale value on Kelley Blue Book for years.
The price of a car is typically the first thing we consider when purchasing one, but we frequently overlook the value it will have when we decide to sell it. Toyota has been given the Best Resale Value for the Best Brand award by Kelley Blue Book for many years because of our rightfully-earned reputation for producing high-quality vehicles with excellent reliability and durability. Are you considering trading in your car? Check out our free tool to get a reliable estimate of the value of your vehicle.
Get your new Toyota car today!
No matter where your travels may take you, your Toyota dealer near Riverside, CA, wants to be the one to help you get there! We would love to see you come to our dealership to address any questions about choosing your next vehicle. Our qualified team is equipped to assist you with every process step carefully. You can also call our sales department at (714) 912-6636 or fill out the contact form directly on our website.
So let's go places!