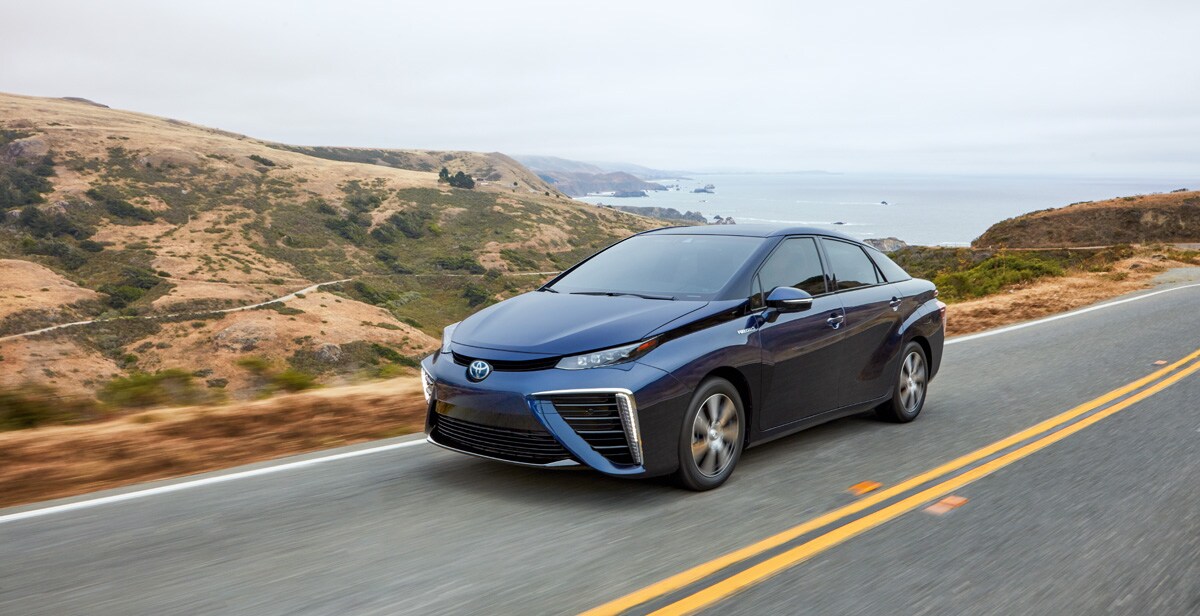 Learn More about the 2019 Toyota Mirai at Toyota of Orange
Utilizing hydrogen fuel-cell technology to achieve unparalleled efficiency, the 2019 Toyota Mirai has come to be recognized as the most exciting development in automotive technology in decades. Read on below to learn more about this futuristic sedan and all that it has to offer Orange area drivers, then visit our team at Toyota of Orange to learn more about how you can order your very own Toyota Mirai.




PURCHASE A MIRAI

$57,500 MSRP






3 Years worth of complimentary fuel

312 EPA-rated miles per tank

5 Minutes to refuel (approx)

0 Emissions
View Disclaimer

[2] Complimentary fuel for three years or $15,000 maximum, whichever comes first. The three-year period starts on the date of card activation or 90 days after vehicle sale or lease commencement date, whichever is earlier. Fuel card is nontransferable. The Mirai is a hydrogen-powered fuel cell vehicle that must be fueled at hydrogen stations conforming to the latest Society of Automotive Engineers (SAE) hydrogen fueling interface protocol standards or laws that may supersede such SAE standards. Refer to the Mirai Hydrogen Stations Locator App in Entune™, www.toyota.com, or call Toyota customer service at 1-800-331-4331 for information on hydrogen fueling stations available to Mirai.

[3] Standard ToyotaCare covers normal factory scheduled maintenance for two years or 25,000 miles, whichever comes first and also includes 24-hour roadside assistance for two years, regardless of mileage. The Mirai enhancement of ToyotaCare-a total of 3 years or 35,000 miles, whichever comes first-is valid only at authorized Mirai Fuel Cell dealers in the continental United States. See an Authorized Mirai Fuel Cell dealer for details and exclusions. Roadside Assistance coverage is 2 years unlimited mileage. Does not include parts and fluids, except emergency fuel delivery. See Toyota Dealer for details and exclusions. Valid only in the continental U.S. & Alaska.

[4] Current incentives for Fuel Cell Vehicles as of January 2019. Eligibility is based on income. Certain individuals may be eligible for $5,000 or up to $7,000 CA rebate and/or a CA HOV carpool sticker, allowing single-occupant use of HOV lanes in California. State incentives are for informational purposes only. They are subject to change without notice, and do not constitute tax or legal advice. Government incentives are not within Toyota's control and all persons considering use of available incentives should consult with their own tax professional to determine eligibility, specific amount of benefit available, if any, and further details. Please see cleanvehiclerebate.org for more details.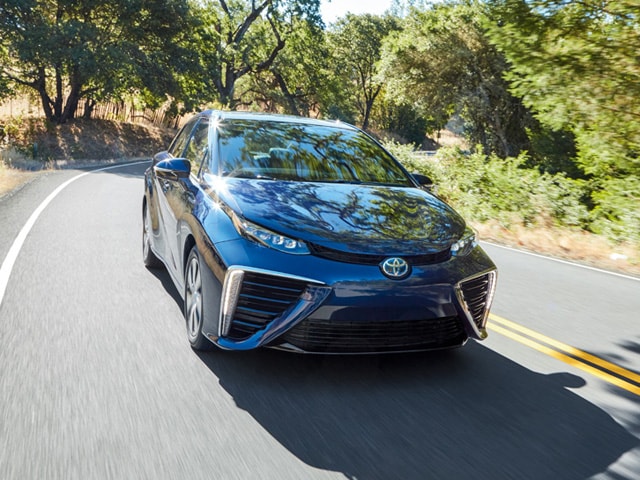 Performance
Utilizing revolutionary hydrogen fuel cell technology to power the Toyota Mirai, its two hydrogen tanks can be refilled at a local hydrogen fueling station near you. Taking only five minutes to refuel, and boasting a tank range of up to 312 MPGe, Toyota also provides Mirai drivers with three years of complimentary fuel or up to 36,000 miles worth of fuel. Not only that, but Orange area drivers are also able to take advantage of a $5,000 CA rebate when purchasing a 2019 Toyota Mirai.
Using innovative techniques to make eco-efficiency easier than ever before, the 2019 Toyota Mirai is a vehicle that you can drive with absolute confidence. Combining hydrogen and oxygen via a convenient fuel cell, the new Mirai utilizes air intakes on the front grille to create one of the most environmentally friendly by-products possible - water. Providing a tank range of up to 312 MPGe, the 2019 Toyota Mirai provides similar range to many gasoline fueled vehicles.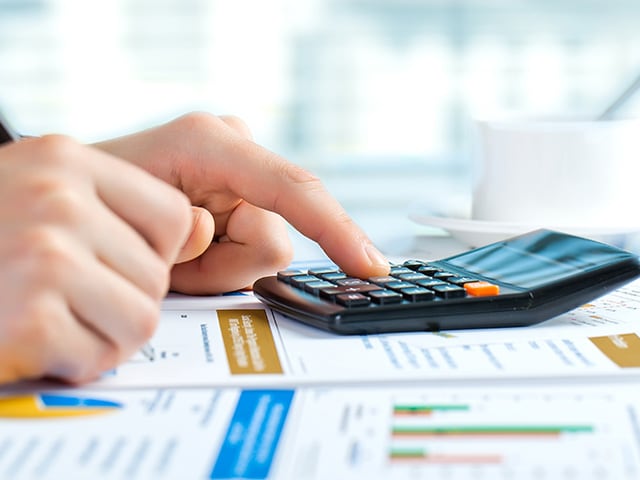 Trims and Pricing
Offered in one trim level and with an MSRP beginning at MSRP starting at $58,500 , the new Toyota Mirai boasts all of the latest tech features that you would find on other popular Toyota models, all while offering the most eco-friendly and efficient powertrain on the market today. To further sweeten the deal, the Toyota Mirai is available at a very competitive price.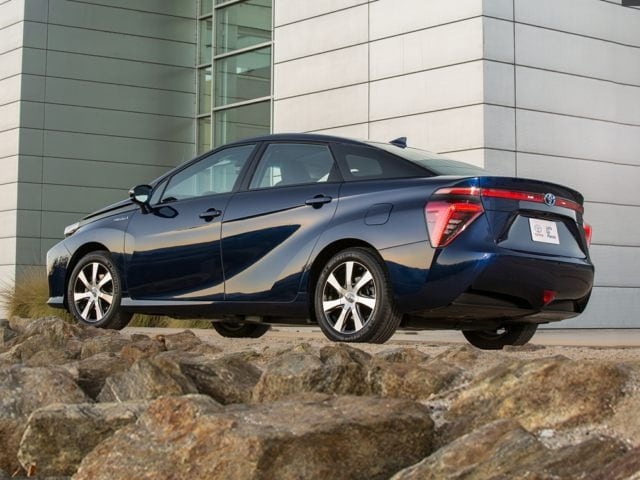 Exterior
When it comes to exterior styling, the 2019 Toyota Mirai doesn't make any compromises. Boasting a chic look that's both athletic and aerodynamic, the Mirai's distinctive styling also contributes to its overall efficiency and capability. To learn more about some of the many exterior design touches that make up the Mirai, we invite you to read on below...
Heated outside side view mirrors that offer power-folding capabilities
LED headlights that are mounted above the vehicle's air-intakes and offer an automatic high-beam feature
Standard fog lights that provide excellent visibility
Front and rear parking sonar are standard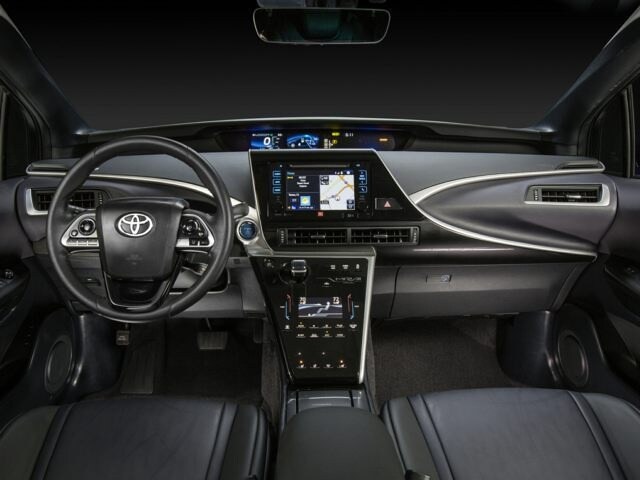 Interior Features and Design
The 2019 Toyota Mirai is also designed to ensure that every moment that you spend behind the wheel is an enjoyable one. Fortunately, with a focus on comfort, entertainment and luxury features, accomplishing such a thing is easier than ever before. Settle in to the driver's seat while enjoying 8-way power adjustable seats with power lumbar support, meanwhile passengers will find themselves enjoying Toyota's eco-friendly SofTex leather-alternative upholstery. Also featuring acoustic noise-reducing materials throughout the cabin, the new Mirai promises a ride that's as quiet as it is comfortable. Of course, there's no shortage of innovative tech features either...
Entune Infotainment System: Found within the vehicle's center console, this touchscreen display offers seamless smartphone connection, audio streaming, turn-by-turn navigation services, and mobile app access.
Dual Zone Climate Control: Providing both its driver and passengers with a remarkably comfortable driving experience, this feature is displayed on an easy to use touchscreen control center that allows both driver and passenger to elect the perfect temperature for their own comfort.
Steering Wheel-Mounted Controls: In addition to being both leather-wrapped and boasting heating capabilities, the Mirai's steering wheel-mounted controls allow you hands free access to features such as Bluetooth calling and audio controls.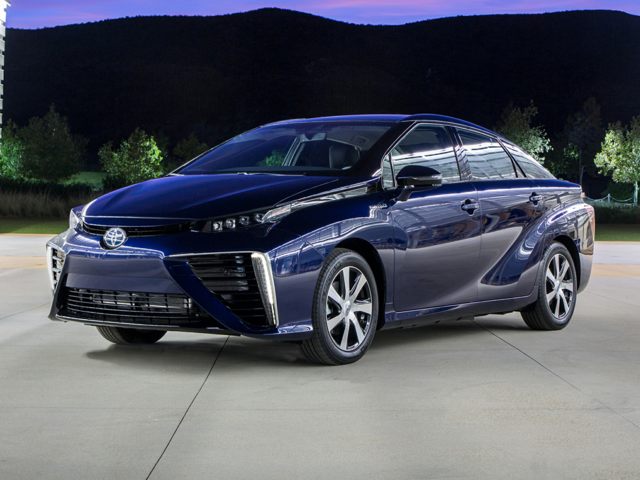 Innovative Safety Technologies
Because the 2019 Toyota Mirai is new to the automotive market, the NHTSA and IIHS have not yet been able to provide safety ratings for this year's model. It is worth noting, however, that a comprehensive suite of safety features will give you the peace of mind needed to take the wheel on a daily basis. Designed to keep you and your loved ones protected, this year's Mirai is brimming with all of the vital safety features that you need to take on the road ahead.
Active Safety System: This suite of safety features includes Enhanced Vehicle Stability Control, Traction Control, Electronic Brake-force Distribution, Brake Assist, and Smart Stop Technology.
Pre-Collision System: Utilizing a radar system, the Mirai's Pre-Collision System intuitively monitors the traffic ahead to determine whether or not an accident is imminent. If you're at risk of collision, audible and visual warnings are used, while automatic braking is applied.
Hydrogen Safety: In an accident does occur, sensors will intuitively stop the flow of hydrogen by shutting down the vehicle's output valve, therefore avoiding hydrogen build-up. In doing so, hydrogen is then safely dispersed outside of the vehicle.
View Mirai Inventory
Whether you have a few lingering questions about the 2019 Toyota Mirai or are ready to get behind the wheel and take it out for a spin, we invite you to visit our showroom in Orange, CA today. Just around the corner from Tustin, Santa Ana, Garden Grove, Anaheim, Fullerton, Villa Park, Yorba Linda, Brea and Placentia, we look forward to welcoming you in to our showroom soon.
2019 Toyota Mirai Reviews
As the 2019 Toyota Mirai has only just arrived in to showrooms, the critics have yet to review it. Though, our team members do anticipate continued praise for the new Mirai's zero-emissions, high-quality interior, and its innovative safety features. While you wait for the critics' to give their feedback on this year's model, why not begin by filling out the questionnaire below so that you can stop by to test drive and evaluate this innovative vehicle yourself?
Directions to Dealership
*See your dealer for details.