Whether you're buying your first automobile or your sixth, the experience of shopping for a new-to-you used car is exhilarating. There are many excellent reasons to purchase secondhand goods, but the selection is one of the finest. So many secondhand vehicles are available for purchase, and they all come in many brands, models, and fashions. Choosing just one favorite can be the tricky part. How, then, do you focus on it?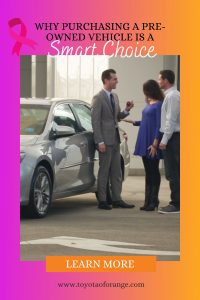 We want to recommend getting a used Toyota from our dealer near Tustin Toyota. Toyota is a popular option for used cars and frequently receives high marks in Consumer Reports' reliability assessments. Additionally, the variety of Toyota models allows you to select any type you desire, including the Hybrid, Sedan, SUV, pickup, luxury, and more. Here are just a handful of the factors that make many buyers choose Toyota when looking to buy their next used automobile.
Premiere Safety
Toyotas provide the security of a reliable car that breaks down infrequently since they are so dependable. This makes vehicles not only the safest option but also the most cost-effective. Toyota cars from dealers near Tustin auto center are unlikely to break down, lowering car maintenance costs and ultimately saving you money.
For example, Toyota's 1997 Prius debut paved the way for practical alternatives to gas-powered cars if you're looking for a hybrid automobile. Toyota hybrids have a long history and are well known for their high gas mileage and low environmental impact, which speaks to their durability, affordability, and safety.
Highly Reliable Brand
Toyota has been considered one of the top automobile brands for decades In evaluations conducted by J.D. Powers and Consumer Reports, they routinely rank among the highest-rated vehicles. Toyota produces cars that, on average, the last longer, so they can continue to function correctly even after putting plenty of miles on them. There is a reason why many people advise purchasing used Toyotas; the brand has a reputation for building reliable automobiles.
Why, then, are Toyotas so dependable? It's straightforward: Toyota dealers near Tustin auto center don't hurry production to outdo rivals with cutting-edge marketing strategies. Car manufacturers frequently hasten the production of the newest technology to attract consumers' attention. However, the hasty adoption of new technology means that some of these cutting-edge features aren't well-tested or long-lasting. Toyota makes sure to properly examine these new features before implementing them in its vehicles to ensure that they survive longer than the competition.
High Resale Value
Most of the time, older technology becomes obsolete due to the rapid growth of newer technology. This is occasionally just a company's attempt to sell and spark interest in the latest products, even when technology is developing quickly. However, this does not automatically mean the best or safest technology.
Instead of releasing automobiles with eye-catching new features, Toyota continuously tries to improve its most valuable characteristics. Cars made, as a result, last a long time. Toyota and your local dealer near Tustin Toyota have a reputation for building some of the most resilient automobiles on the market, which is one reason consumers think of the manufacturer when searching for a reliable used car.