Sales representatives at ‌Toyota‌ ‌near‌ ‌Fullerton‌ ‌can easily say that the Toyota Tacoma has been on top of America's best-selling pickup trucks for several years now, and it doesn't look like it's taking a break anytime soon. Predominantly, the Japanese car company manufactures updated versions that have huge improvements over the ones before it.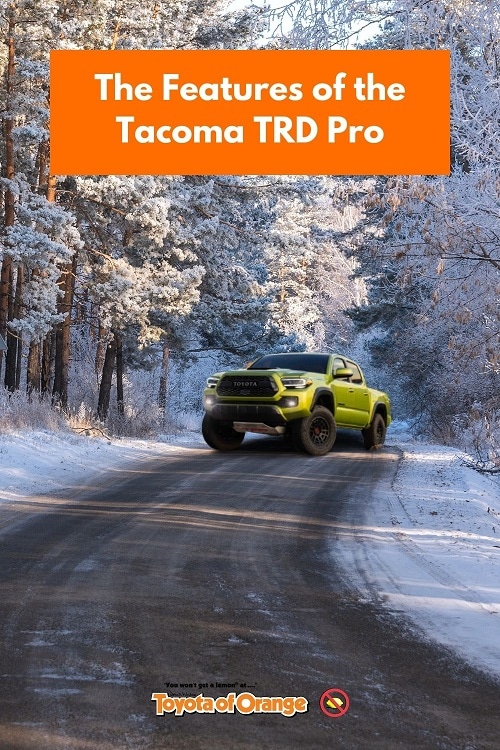 The Tacoma is victorious on any terrain because of its modified technology for comfort and convenience, along with advancements in off-road usability and assistance modes.
The new TRD Pro at ‌‌Fullerton‌ ‌car‌ ‌dealerships‌ is the most refined Tacoma in Toyota's lineup and features minor styling changes and some major-league off-road upgrades to help with exploration. Below are some of the best features that customers at ‌Toyota‌ ‌near‌ ‌Fullerton‌ ‌like about the Toyota Tacoma TRD Pro.
Appearance
The Tacoma TRD Pro's interior features have some notable additions to the standard version, such as the black leather seats with red accent stitching. Also, TRD logos are placed all over the cabin and even on the leather-wrapped steering knob.
Utility
The truck at ‌Toyota‌ ‌near‌ ‌Fullerton‌ ‌is primarily marketed as an off-roader, and it's a vehicle that is probably excellent when things get rough. Nevertheless, it still performs excellently when in more pleasant conditions such as everyday commutes or runs to the supermarket.

The utility of the TRD Pro is nearly incomparable, and this is due to its smooth ride and the nearly there noiseless cabin, giving a more refined and comfortable everyday driving experience. For a split second, you can lose sight that you're driving such a solid and sizeable off-road pickup truck.
Air Intake
Probably the first thing that's going to catch your eye about the Tacoma TRD Pro is the massive air intake that routes right out of the hood. This feature isn't only for appearance since it offers functionality when off-roading.
This is crucial because off-roading involves lots of mud, debris, or water that can damage your vehicle if it has more traditionally mounted air inlets.
Toyota's answer is to provide a way to let the Tacoma breathe properly if you want to drive through no man's land with a top-mounted air intake.
Storage Space
Seeing that it's a pickup, the TRD Pro prevails to assist with carrying cargo. The Tacoma was constructed with a sheet-molded composite truck bed, which can carry a maximum payload of about 1,170 pounds.
Besides this, the tow hitch can haul up to a colossal 6,400 pounds. Useful storage areas are peppered around the cabin as well, with rear seat pockets and even a couple of storage bins smartly hidden under the rear seat cushion.

Tuned Suspension And Skid Plate
One TRD Pro feature that makes it stick out from the rest of the competition is its TRD-tuned suspension. For instance, the included 2.5-inch FOX Internal Bypass shocks give the Tacoma an increased front height, whilst the huge shock shafts provide some added durability.
For steeper angles and large objects such as rocks, the included quarter-inch aluminum TRD Pro Skid Plate protects the underbody during more extreme off-road expeditions. Additionally, the rear suspension is made with progressive-rate leaf springs.
Wheels And Exhaust
One of the niftiest features of the TRD Pro is its set of black 16-inch TRD wheels and tuned black exhaust. Surprisingly, these wheels are actually lighter than those found on the previous models of the TRD Pro.
The TRD logo engraved exhaust gives a great sound under acceleration and helps lift the car slightly when it comes to status, although it may not have all that influence on the performance of the TRD Pro.
Infotainment And Technology
Moreover, Toyota has inserted many tech features for the Tacoma TRD Pro with DRL headlights, sequential turn signals, and even a passenger smart key that gives the passenger keyless access. Also, the Multi-Terrain Monitor and Panoramic View Monitor also give some much-needed assistance when off-roading too.
The 8.0-inch touchscreen is compatible with both Apple CarPlay and Android Auto. You can use the screen together with the Multi-Terrain Monitor and Panoramic View Monitor, which utilize the front and side cameras to help reveal a nearby view of the vehicle to help the driver navigate challenging areas with the best view possible. One of the handier comfort inclusions is the Tacoma's 10-way driver's power-adjustable seat with lumbar support and height adjustment.

Crawl Control
Crawl Control is very similar to an off-road cruise control system included on the Tacoma by Toyota. The reason being is that it has five different low-speed settings, which help to automatically make sure a good level of traction is attained so you can just focus on steering.
It's also convenient to use if you get your vehicle stuck in some awkward to move around terrains such as mud or sand. It can assist in providing you with the best possibility of removing the vehicle from the strenuous area.

Multi-Terrain System
The multi-terrain selects feature twins the crawl control system in many ways. Still, it lets the driver select specific powertrain calibrations for traveling through challenging areas with lots of sand, mud, rocks, and so on.
The selectable modes help control wheel spin boost traction, again helping the driver move forward. The system regulates everything from wheel spin to brake pressure and throttle response, eventually increasing traction. All you have to do is select the driving mode that matches the surrounding terrain.
Engine And Performance
In truth, the Tacoma TRD Pro has the same engine as other Tacoma models, with its 3.5-liter V6 engine producing 278 horsepower with transmission choices of both a six-speed manual or a six-speed automatic. The TRD Pro shouldn't have a problem with climbing obstacles because of its 9.4-inch ground clearance, according to Fullerton‌ ‌car‌ ‌dealerships‌.
There is a sufficient amount of power on the Tacoma; off-road driving and particularly city driving is a piece of cake. The Tacoma has a fuel tank with a maximum capacity of just over 21 gallons with EPA mileage estimates of 17 mpg in the city and 20 mpg on the highway.