For some of us, a new year means a new pickup truck. If you are one of these people, the Toyota dealer near Riverside Ca think it's worth checking out the Toyota Tacoma. Dealers near Riverside Ca don't find this surprising at all since the Tacoma has been the best-selling small pickup truck for the last sixteen years. The Tacoma has a reputation for sturdiness, reliability, and capability so you can handle any task that you may encounter.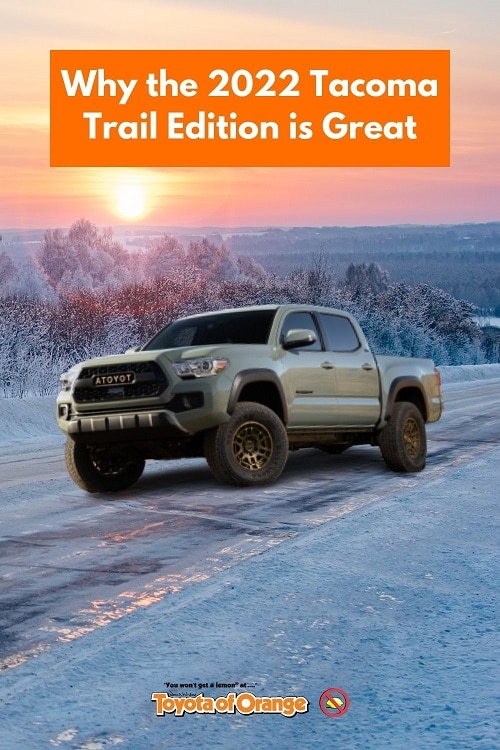 Also, the Toyota dealer near Riverside Ca tells us that the Toyota Tacoma comes in several trim levels, from the basic SR two-wheel-drive version with steel wheels all around to the tricked-out off-road version, the TRD Pro. The lineup is SR, SR5, TRD Sport, TRD Off-Road, TRD Limited, and TRD Pro, starting from the very basic trim to the highest level trim.
If you are a truck buyer who has a particular set of needs, you are going to have a lot of decision-making. You may want to consider equal parts off-road ability and certain creature comforts from basic to a no-frills four by four.
Based on the SR5 package and coming solely in a four-wheel-drive double cab, the Toyota Tacoma Trail Edition features an ideal combination of upgrades for enthusiasts who want a little bit of everything. The Toyota dealer near Riverside Ca tells us it was first introduced in 2021, and the 2022 edition received many new features that only enhanced its off-road ability and visual appeal.
The 2022 Tacoma Trail Edition has many features, such as stylish touches to a lifted suspension that improves capability. It is a trim level that only provides you with what you require.
The Trail Edition Offers Improved Off-Road Capability
Ground clearance is everything for off-roading since it is the key to measuring a vehicle's abilities. For instance, you want to know whether a certain truck or SUV can clear rock outcroppings or make it through bottomless mud without its undercarriage getting stuck.

Plus, the higher a vehicle rides on its suspension. When a truck or SUV faces a steep slope or has to gradually roll down a bank, you have to see whether the front and rear bodywork is sufficiently high to avoid scraping the ground.
The 2022 Toyota Tacoma Trail Edition utilizes a lifted suspension and other modifications for increased ground clearance when the trails get rough and rock-ribbed. In the front, the suspension is lifted an additional 1.1 inches through taller coil springs, and in the rear .5 inches by adding a spacer between the rear axle housing and leaf springs. Also, Toyota got rid of the stock air dam from the standard SR5 to force out every bit of extra ground clearance, getting to a 9.4 inches total. With these enhancements, the approach angle measures an extraordinary 34 degrees and the departure angle 23.6 degrees, both an advancement over the 2021 Tacoma Trail Edition.
Extra upgrades are a locking rear differential for digging in when the trail gets slippery and TRD (Toyota Racing Development) skid plates for underbody protection.
At the end of the day, you are left with a serious off-road machine that can drive up and over some of the most demanding trails out there while still delivering the reliability and utility Tacomas are known for.
The Tacoma Trail Edition Has An Innovative Bed Storage
The bed, by far, is the most distinct feature of a pickup truck when you compare it to another vehicle. The pickup truck's bed is so versatile since you can load and haul various items, and you can take a nap there if you're on a road trip. Almost any pickup truck bed has ample space, but the 2022 Toyota Tacoma Trail Edition offers something that other pickup beds don't have.
And that something is storage compartments along each side of its bed. Although both can be locked for safety, the driver's side compartment includes a cooler to maintain food and beverages at a perfect temperature for after adventure gatherings. Also, there is a 120-volt outlet for powering numerous devices when you are out and about on the trail.
A Stand Out Presence
Although the Toyota Tacoma is a beautiful truck, most people will agree that the TRD (Toyota Racing Development) trim levels are the most good-looking. With a cluster of unique styling cues, the TRD editions quickly catch the eye.
Even though the TRD Pro trim level is at the top of the list due to its Fox racing suspension, exclusive colors, and special badging, the Trail Edition strikes an ideal balance of understatement and visual appeal.
The TRD Pro is set apart from other trim levels with its grille and bronze Toyota Lettering. An exclusive bronze Trail badge is on the rear hatch, and bronze TRD wheels resemble something you would see on an award-winning truck.
The Tacoma Trail's raised suspension gives the truck an aggressive attitude that appears to be prepared for anything, and the Lunar Rock color option is extraordinary ad sophisticated.
Overall, the 2022 Toyota Tacoma Trail Edition at the Toyota dealer near Riverside Ca is a well-rounded package with a great combination of capability, convenience, and looks. When compared to the other trim levels in the line, it's a good combination of everything Tacoma has to bring to the table.