Nothing is more satisfying than exchanging your used car for a new one here at Toyota of Orange. You can avoid spending the time and energy it takes to advertise your car, find a buyer, and then complete the sale by trading in. Today's dealers work hard to make the trade-in process quick and straightforward, just like your trusty Toyota dealer near Irvine.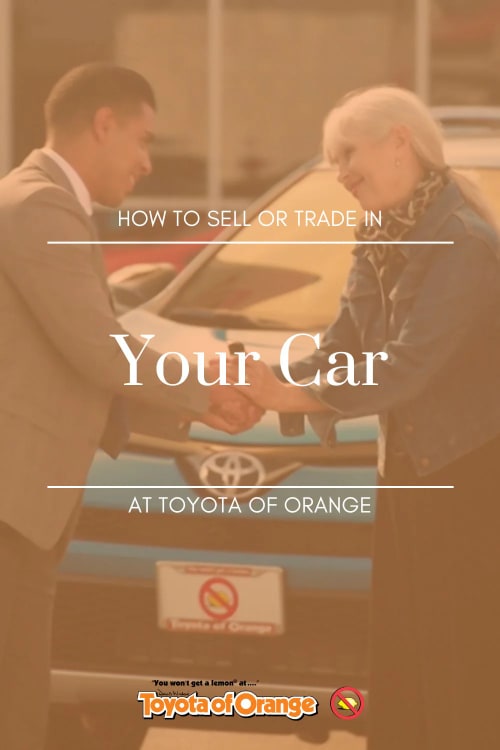 When is the right time to trade in or sell my car?
If properly maintained, today's modern cars can last a very long. Nowadays, getting to 100,000 miles is not a big deal; some drivers even get to a million. However, even well-maintained cars can indicate that it's time to buy a new one—or at the very least, a new one that's been used.
Most of the time, these indicators are non-obvious, and cars tend to murmur rather than express problems directly. A new vehicle must have significant issues fixed by the manufacturer during the first few years of ownership while still under warranty. However, you will be responsible for fixing any problems after 50,000 miles (unless you bought a car with an extended warranty). As a result, it's always a good idea to pay close attention to any issues your vehicle may be experiencing before bringing it into our Toyota dealer near Irvine to trade or sell.
How do I begin the process of trading or selling my Toyota vehicle?
You should prepare your car before bringing it to the dealer to be traded in. To increase the value of your trade-in, make sure the car is spotless and do your research on its value. Additionally, before trading in your vehicle, ensure you have all the required paperwork, especially the title and priceless extras like extra key fobs.
Let one of our salespeople that you plan to trade in or sell your car when you arrive at Toyota of Orange. They will almost certainly write down your information before they or a used car manager inspects your car visually, notes the VIN, and runs the number through a vehicle history database to check its records.
The dealer's service department will probably inspect the tires, brakes, fluids, and other mechanical components while this is going on. A worker might even give the car a quick test drive to see how it handles. After all, it will be time to dive into the specifics of the numbers.
Why choose Toyota of Orange?
Whether you are looking to buy or sell your vehicle, you can get an instant cash offer by simply sending information about your car on our trade-in offer page. Since we opened more than 50 years ago, we have assisted countless customers in discovering and acquiring outstanding Toyota vehicles. Customer satisfaction is our top priority, and we go above and beyond to ensure that every one of our customers has a fun and exciting time purchasing a car from us. As a result, "excellence" has come to be associated with our Toyota dealer near Irvine. That's precisely why our level of service has been recognized with many awards. So if you're interested in trading or selling your vehicle, give our sales department a call today!