Many first-time car buyers will opt to purchase a used vehicle to save money. Young adults typically do not quite have the finances yet to get a new car without having to take out a significant loan, and that's where our dealer near Tustin Toyota comes in to help you adequately finance a used vehicle that is anything but a lemon. You can learn more by reading below: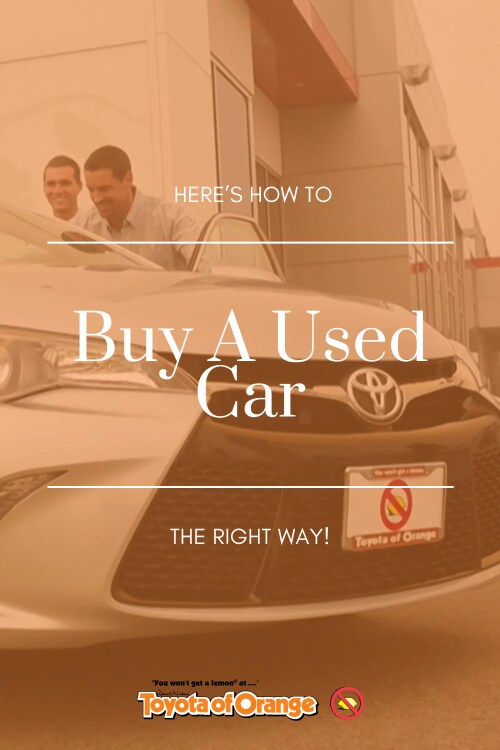 Budget, budget, budget.
Consider your budget before looking at used cars and beginning to fall in love with all the fantastic cars they offer. When it comes down to it, there is no point in wishing you could afford an expensive sports car when all you can afford is a standard car.
Consider purchasing a new vehicle if you already own one so that your monthly payments will remain roughly the same. If you're getting a new car, it's a good idea to carefully examine your monthly spending to determine how much you can afford to divert from other bills to a monthly car payment. Remember that you will most likely pay interest and other fees when you finance a car. Therefore, keep this in mind as you create your monthly budget.
Know your credit score
Check every essential credit score website to know where you stand. Suppose your credit score is very low to fair (typically 600 or lower). In that case, you may want to consider improving it before financing a car from dealers near Tustin auto center to take advantage of offers with lower interest rates.
Examine all of your funding options.
Do your homework if you decide to finance with a conventional loan instead of leasing. Similar to any other loan, different businesses will offer a range of rewards, interest rates, and financing conditions. The dealership might be able to provide you with favorable financing terms if you have excellent credit. Doing your homework before deciding if your credit rating has much room for improvement is crucial.
Online lenders are a good place to start, but community banks, credit unions, and large national banks like Bank of America are also viable options for financing. Comparing quotes from these various lenders is better than just focusing on the fundamentals.
Ask us about getting pre-approved.
If you're ready to roll on to our dealership so you can drive away with that car of your dreams, don't be shy and schedule an appointment to discuss getting pre-approved for a loan or a lease that works for you.
It can happen at Toyota of Orange.
Would you like to see the 2022 Toyota Camry in person? Visit Toyota of Orange, the best Tustin Toyota dealer! Our knowledgeable staff can help you find the ideal Toyota car. To ensure you leave our dealership with complete confidence in your purchase, we consider several factors, including your price range and personal preferences. No matter where life takes you, you can rest easy knowing that our devoted team has your back in the long term.