At Toyota of Orange, you are already familiar with our promise that you'll never find a lemon here. Many people in Orange County who purchase used cars at local Tustin Toyota dealers are concerned about accident history or buying a car with money owed. However, it is still crucial that you can identify when a used car salesperson is trustworthy, and unfortunately, the reputation of some of them has been rightfully earned. The information below, however, might be able to help you get through the car-buying process regardless of what is keeping you up at night.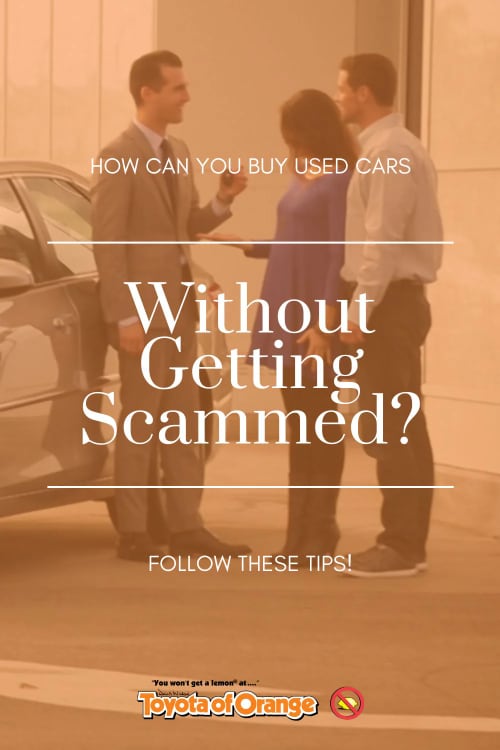 Call the dealer first.
Speak to a sales representative over the phone to get an idea of what they offer is up your alley. You can also get a feel just by the tone of their voice if they genuinely have your best interests in mind. Ask as many questions about the dealership as well as a few vehicles during your call.
Don't allow yourself to be pressured to go above your price range.
Decide precisely how much you are willing to spend before you go looking for used cars for sale in Orange County. As a result, you must decide on a number and stick with it! You must take a close, honest look at your finances to establish a budget for a car that makes sense to you. This will significantly assist you in your search and guard against being pressured by an obnoxious salesperson who might push you outside your financial comfort zone.
Always compare prices.
It is crucial to obtain the used car's complete history to ensure you've got a reasonable price at dealers near any Tustin auto center. Again, damage history does not necessarily have to be a deal-breaker, but it can be a useful negotiating tool.
Avoid purchasing any vehicle with a registered lien.
Almost 4 out of 10 vehicles have a registered lien. When you buy a car with a lien, you risk inheriting the previous owner's debt and having the vehicle repossessed. This is very likely to happen when you buy from private sellers, but when you buy used cars in Orange County, you have a better assurance that you won't be covering anyone else's debts.
Do not rush your decision.
There will always be another car available for purchase because vehicles are assets. So, take your time making a purchase. Take your time, even if it means renting a car for a few weeks to fill the time between your old and new vehicles. Taking another day or two to ponder your options might make a difference.
Allow us to become your go-to Toyota dealer.
Honesty is our best policy here at Toyota of Orange. We promise that whether you visit our dealership for the first time or have been a devoted customer for years, you'll leave with the confidence that we are among the top Tustin Toyota dealers in the region. Our top priority is our customers, and we couldn't be successful without you! Contact our sales department at (714) 907-4742 to schedule a test drive on any featured cars here on our website!