If you are looking for your next car at Toyota near Irvine, Ca, you need to feast your eyes on the new 2022 Toyota Corolla. Why? Because not only is the Toyota Corolla the best-selling compact car in the world, but it's also the number one car overall. If you are considering purchasing the Corolla from Irvine car dealerships, you should check out these four reasons why you should buy a 2022 Toyota Corolla.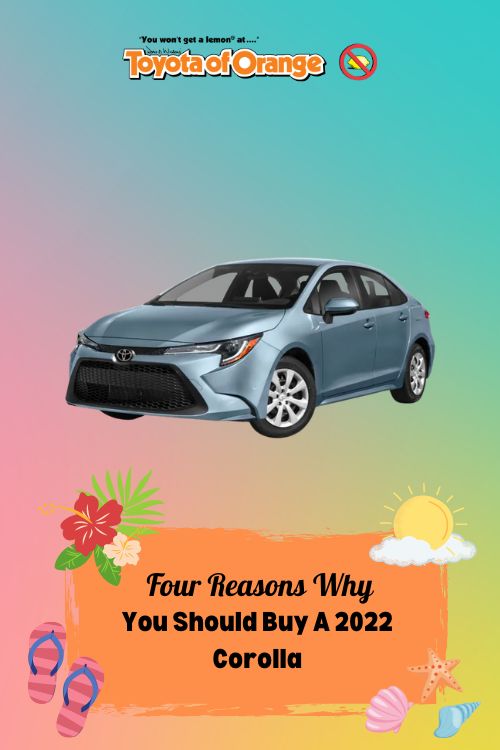 The 2022 Toyota Corolla Has A Hybrid Model In The U.S.
One of the main reasons to ride off in a 2022 Toyota Corolla from Toyota near Irvine, Ca, is because Corolla offers a hybrid model in the United States. If you think long and hard about the cost of gasoline nowadays, a fuel-sipping car such as the Corolla Hybrid is an outstanding choice.
The hybrid version has an estimated fuel economy of 53 mpg in the city and 52 mpg, so you can count on very few pit stops in the Corolla Hybrid.
The 2022 Toyota Corolla Is Very Reliable
The following reason to purchase a 2022 Toyota Corolla is for its reliability. A car is a major purchase. Bearing this in mind, you want this significant investment to have the reliability to be around for many years and miles. You want to depend on a car to have the reliability always to get you to your destination. Also, when you are driving a reliable car, you save a lot of money by not having to worry about constant repairs.
The Toyota Corolla Has A Free Maintenance Plan
The third reason you should purchase a 2022 Toyota Corolla is its free maintenance plan. A crucial element of ensuring a car is reliable is following the recommended guidelines when it comes to th car's maintenance. The 2022 Corolla comes with a complimentary ToyotaCare maintenance plan that helps you keep the car well maintained in a more affordable venture.
The 2022 Toyota Corolla Is Very Affordable
The last but certainly not the most minor reason to buy a 2022 Toyota Corolla is its fantastic value for money. The 2022 Corolla has a starting price of $20,175 MSRP.
Additionally, the Corolla offers better value and many standard features. Although it has a lower price, the base-level Corolla L has many features such as a Wi-Fi hotspot, Apple CarPlay, Android Auto smartphone integration, satellite radio, a telematics system, and a remote trunk release function.
The 2022 Toyota Corolla has benefits for an available hybrid model, reliability, a free maintenance plan, and a lower price with great value. These advantages give the 2022 Toyota Corolla an edge for buying it at Toyota near Irvine, Ca.
What's New For 2022 Toyota Corolla?
The Japanese car manufacturer made some changes to the 2022 Corolla line. The LE Hybrid includes a Premium interior package that consists of a leather-trimmed steering wheel, a power-adjustable driver's seat with lumbar support, leatherette upholstery, and heated front seats. The sedan has two new paint colors (Ruby Flare and Windchill Pearl), and the hatchback now comes with a Finish Line Red paint job.
The 2022 Toyota Corolla's Performance, Performance, And Transmission
Except for the sportier XSE and SE models, the 2022 Corolla sedan pumps out 139 horsepower with its 1.8-liter four-cylinder engine that transmits power to the front wheels through a continuously variable automatic transmission (CVT). The punchier versions generate 169 horsepower with a 2.0-liter four-cylinder that matches with a CVT or optional six-speed manual. Even though all hatchbacks have a larger engine, only the sedan offers a hybrid powertrain.
The Corolla SE and XSE differentiate themselves with a solid sport-tuned suspension and the latter's larger 18-inch wheels (all the other models ride on either 15- or 16-inch rims).
The 2022 Toyota Corolla's Interior, Cargo, Comfort
Within the Corolla hatchback and sedan's interior, you will notice they share a streamlined dashboard and soft-touch materials. Most models have push-button start and passive entry. Also, others can be upgraded with ambient interior lighting, dual-zone climate control, and heated front seats.
Those who regularly have back-seat passengers should go for the sedan over the hatchback since it has much more legroom behind the front seats. The Corolla hatchback has 18 cubic feet of cargo space behind its back seat, but you can only place two carry-on bags back there. Nevertheless, the new no-cost Enhanced Cargo Space option expands that area by six cubic feet (23 total) by replacing the spare tire with a tire repair kit. Although the sedan only has 13 cubes of trunk volume, you can squeeze eight bags inside. Also, there's a convenient tray at the front of the center console and a useful bin below the armrest.
The 2022 Toyota Corolla's Technology
Every Corolla has a touchscreen infotainment system with Android Auto, Apple CarPlay, and a subscription-based Wi-Fi hotspot. The large touchscreen bezel looks down on the dashboard, but its various hard buttons, rotary volume, and tuning knobs help keep the driver focused on the road when in use. The best options include wireless charging and an upgraded JBL audio system.