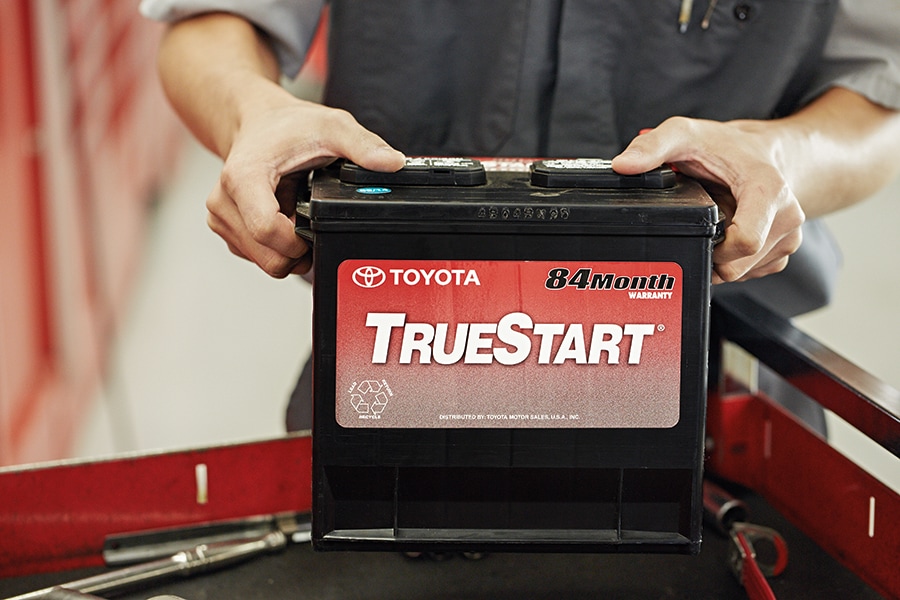 Keep your Toyota Model Running Dependably with Toyota TrueStart™ Batteries in Orange, CA
The battery that powers your vehicle underneath the hood is important, as you rely upon its functionality in order to start your car, utilize all of the electronic appliances inside and to remain comfortable on your commutes. And here at Toyota of Orange, we always recommend Toyota TrueStart™ Batteries to drivers that may be considering installing a new battery into your vehicle sometime soon here in Orange, CA.
Why Toyota TrueStart™ Batteries
Designed to match your Toyota model and deliver a consistency of performance that you can always count on, Toyota TrueStart™ Batteries here in Orange come with respective warranty coverage, quick recharge capabilities, extended battery lives and a stronger flow of power that proves to be tremendously dependable. These genuine Toyota parts have been meticulously tested by engineers to confirm their elite quality, so that you can feel good about your vehicle running as intended for a very long time.
We feature Toyota battery specials from time to time to help you save and enjoy value when this does become an investment that you need or choose to make. Check back frequently to see the offers that we currently are extending, and be sure to reach out to our team for more details.
Indicators you May Need a Battery Inspection
If you notice any of the following signs, then it may be a strong indicator that you need our factory-trained Toyota technicians to take a look and test your battery's strength here in our Orange service center:
Dimmed or unresponsive lighting
Difficulty starting your engine
Dashboard indicators
Vehicle that powers down unexpectedly
Purchase Toyota TrueStart™ Batteries here at our Orange dealership today and enjoy peace of mind on the open road for a long time to come!
Service Hours
Monday

7 AM - 7 PM

Tuesday

7 AM - 7 PM

Wednesday

7 AM - 7 PM

Thursday

7 AM - 7 PM

Friday

7 AM - 7 PM

Saturday

7 AM - 6 PM

Sunday

Closed