Choose Professional Brake Service and Genuine Parts for your Toyota Model Here in Orange, CA
Driving on the open road out around Orange, CA, you depend upon your vehicle's brakes for safety and performance every time that you pull out of the driveway. Worn or damaged brakes put this security and your overall peace of mind at risk, and you need to make sure that your brakes are being serviced by factory-trained technicians using genuine Toyota parts to ensure that all problems are corrected and you are set up for stress-free driving in the future.
Toyota Brake Parts are Engineered with Meticulous Concentration
Toyota engineers have dedicated immense resources and research in order to fine-tune the brake system inside of your Toyota vehicle and the parts used for installations and repair. These brakes are free from asbestos and excess dusting, are proven to last longer and promote an improved ride quality that will give you plenty to look forward to when it comes to the time you spend seated at the wheel.
Brake Service and Parts Specials in Orange, CA
We encourage you to schedule a service appointment with our team here in Orange, CA if your brakes are due for routine servicing or you want our team to take a look. If you need to order a genuine Toyota brake part here at our dealership, we even offer specials to help you save and enjoy a nice value on your purchase.
The Danger of Damaged Brakes and Some Warning Signs to Keep in Mind
Damaged or worn brakes can put you in danger of a potential collision or accident due to a lack of responsiveness and functionality. Warning signs such as a smell, noise, or stuck acceleration pedal are indicators that you should stop into our service center for some brake maintenance and an inspection by our team of factory-trained technicians here in Orange.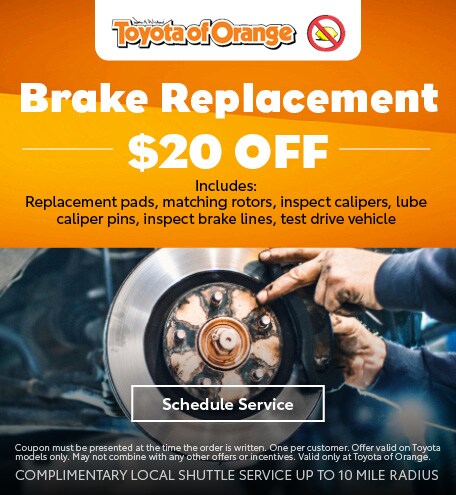 Service Hours
Monday

7 AM - 7 PM

Tuesday

7 AM - 7 PM

Wednesday

7 AM - 7 PM

Thursday

7 AM - 7 PM

Friday

7 AM - 7 PM

Saturday

7 AM - 6 PM

Sunday

Closed