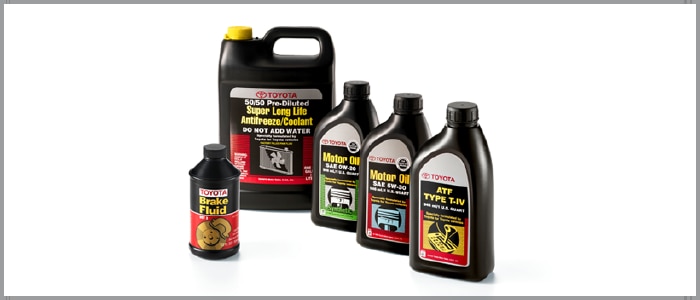 Toyota Fluid Flush and Replacement
When it comes to maintaining your Toyota vehicle, one of the easiest and least expensive ways to keep it running at a high level is to regularly fill and replace the fluids under the hood. Fluid replacement is easy an easy to diagnose issue and it only takes a few moments to perform. When you regularly change and top off your vehicle's fluids, you're ensuring that each fluid is at the proper amount and purity to perform its job the way it was engineered to. Whether it's motor oil, coolant, battery cleaner, transmission fluid, brake fluid, or power steering fluid, if your Toyota vehicle is in need of a fluid flush, we can take care of it in a fast and convenient manner using the fluids that were designed and recommended for your specific vehicle, allowing you to put your full confidence in your vehicle to continue performing at the highest level far into the future.
Choose between genuine Toyota motor oil or synthetic motor oil during your next oil change. Clean motor oil is imperative to protecting your engine from intruding dust and debris as well as being responsible for lubricating and cooling the many moving parts to ensure the greatest efficiency and performance. The coolant prevents your radiator and or engine from overheating by moving through the engine and cooling the excess energy that's been turned into heat. We can use battery cleaner to remove any corrosion or dirt that may have built up on the terminals to ensure optimal performance. Automatic transmission fluid is in charge of ensuring that your transmission is operating smoothly and quietly. Brake fluid provides you with the superior performance you need to quickly and smoothly brake every time, making it safer for you and everyone on the road.
Whether you're in need of one fluid changed or you need them all, we welcome you to schedule an appointment online or come see us in our service center at Toyota of Orange today and we'll diagnose and address any fluid changes that need to be made in no time!
Parts Hours
Monday

7 AM - 7 PM

Tuesday

7 AM - 7 PM

Wednesday

7 AM - 7 PM

Thursday

7 AM - 7 PM

Friday

7 AM - 7 PM

Saturday

7 AM - 6 PM

Sunday

Closed