Are you looking for a vehicle that will truly resonate with you and the path you're looking to follow in your life? Do you want to truly start enjoying driving again, whether it be for work or for leisure purposes? If you said yes to either of these questions, then our Tustin Toyota dealer, to have the pleasure of introducing you to the 2022 Mirai Limited Sedan. Mirai (??) means "future" in Japanese, and this vehicle is just the thing you need to get launched into your astonishing prospective future.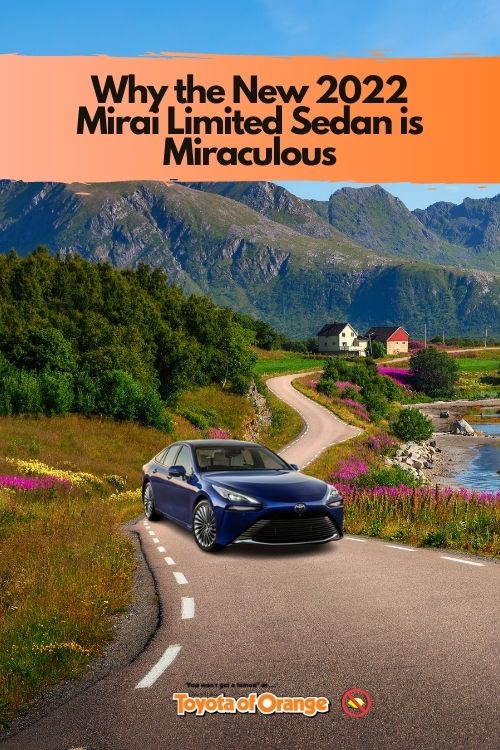 With its multiple exterior colors to choose from this car will have you feeling like the slickest ride on the road. Your choices include:
Black

Heavy Metal

Hydro Blue

Oxygen White

Supersonic Red
It complements the black with copper interior quite perfectly, truly embracing a fresh atmosphere within the car and ensuring your maximum comfort for up to 5 passengers. It's just perfect for all of your mid-size car needs! And with a battery warranty of 120 months (that's an entire decade!)/150,000 miles, you will feel a lot less stressed in case you ever need a replacement.
In addition, the 2022 Mirai Limited Sedan comes with a variety of accessories and packages that are competitive with local dealers near Tustin Auto Center! Including:
50 State Emissions

Instrument Panel Black

Owner's Portfolio

Premium Paint

Quick Charge Cable

Rear Bumper Applique

Toyota Teammate Package

Wheel Locks
Nothing truly screams "proud California style" quite like the Toyota Mirai.
Real Customer Testimonial and Professional Review
"I've had the car now for 6 months and have put in almost 5000 miles. It's the best car I've ever had. The ride and comfort are outstanding and there is plenty of power on hand when you need it…I've saved a lot of money not having to put gas or charge my car at home. They have some great incentives on them to lower your cost of ownership. Lastly, they are also cheaper to insure than Teslas, another saving and money back into my pocket." - Joe C.
"Price notwithstanding, there's a lot to like about the Toyota Mirai, starting with its sleek and curvy exterior…The Toyota Mirai is an excellent vehicle from a design, performance, comfort, and features perspective, whether you choose the XLE or the Limited trim level. Additionally, not only does the Mirai offer a significant range and a charging time of just 5 minutes, but Toyota is also offering an incentive to new buyers or lessees that may alleviate the sticker shock. Those who buy or lease a new Toyota Mirai XLE or Limited will receive up to $15,000 of complimentary hydrogen." - MotorBiscuit.com
At Toyota of Orange, we are focused on the future ahead of us and all the opportunities it can bring us. That is precisely why it is called the Mirai. Go ahead and enhance your future with this cutting-edge vehicle. If you would like to come down to see it for yourself, then you're welcome to show up at Toyota of Orange, our prestigious Tustin Toyota dealer, whenever you like or you may schedule an appointment. You can also contact our sales department by phone by calling (714) 907-4742.