If you're looking for a hot new ride this summer, whether it be your birthday, a special anniversary, or it's just time for an upgrade, we firmly believe that you will find the 2022 Toyota Corolla to be that perfect vehicle you have been looking for! While all of our cars truly stand out above our competitors, you would be doing yourself a great disservice if you didn't check out all of what our bestselling compact vehicle has to offer! To say that there are a variety of 2022 Sedans for you to choose from would be an understatement. Just check out all the models from our new inventory only at our Toyota near Irvine!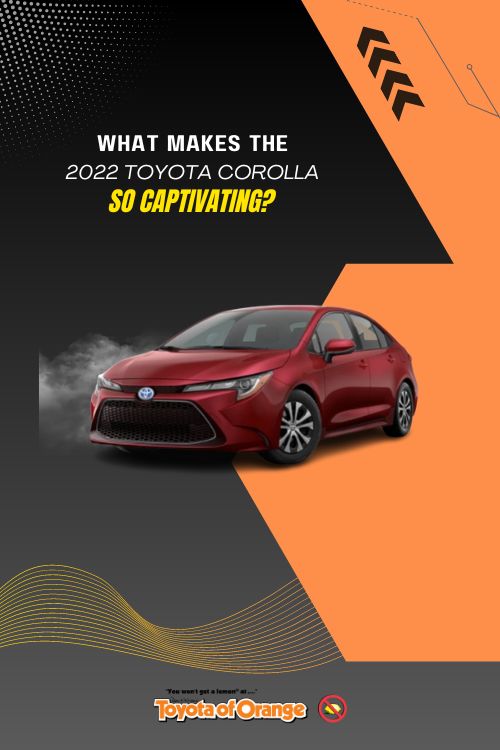 The New Toyota Corolla APEX SE Sedan
Exterior: White with Black Sand Pearl Roof

Interior: Moonstone

Trim: APEX SE

Exceptional 2.0L 4 Engine

31/38 mpg City/Hwy
The New Toyota Corolla APEX XSE Sedan
Exterior: Cement with Black Sand Pearl Roof

Interior: Moonstone Interior

Trim: APEX XSE

Exceptional 2.0L 4 Engine

31/38 mpg City/Hwy
2022 Toyota Corolla LE Sedan
Exterior: Ruby Flare Pearl, Celestite, or White

Interior: Light Gray

Front-Wheel Drive

Variable

Extraordinary 1.8L 4 Engine

30/38 mpg City/Hwy
What exactly can the Toyota Corolla do for you?
Outside of some of its awesome features, which we have already presented you with, you may still be wondering what some of its other key components are and what sort of activities it would be best for. Personally, due to its high reliability, we can say with confidence that the Corolla would definitely be a good choice if you are planning a cross-country road trip before the summer ends. No need to worry about parts breaking down so quickly during the long haul because our experts have checked to ensure everything is working as smoothly as possible so that they can last as long as possible! Your safety and satisfaction are our top priority for everyone in our family at our Toyota near Irvine. In addition, the Corolla is also adequately spaced, so you can be sure that your entire family has enough leg room, whether it be a trip to grandma's house or even just for a grocery run across the street.
4th of July Deal
As a part of our Independence Day special, we're offering 2.75% financing for 60 months (that's five years!) if you purchase a 2022 Toyota Corolla LE this summer! This is a bargain you certainly won't want to pass up on!
Real Customer Testimonials
"And so far, I like it. I was able to get a 2022 with leather seats, heated front, adjustable driver seat (lumbar support), stitching on the steering wheel and weather mats… I needed a reliable and safe car, and I owned a Corolla in the past - this one fit the bill. No more belts to change either. So far, so good!"
"Personally, I was searching for a car that has a nice, sporty look to it, but most importantly, a car that I would feel safe driving. The exterior has a great, sporty and aggressive look compared to older Corolla models, while the interior is well-designed and comfortable—The dashboard has a clean, futuristic feel to it."
Are you ready to hit the road?
If you think the 2022 Corolla is a match made in heaven for you, then please come on down to our Toyota near Irvine today! It's so easy to schedule an appointment with our Toyota experts, Monday through Saturday, from 7 am to 7 pm. Just give our sales department a call at (714) 907-4742 to get started!