Toyota is a car company that, throughout the years has proven itself as a reliable car manufacturer that makes decent and reasonably priced vehicles, and the RAV4 at Toyota Irvine Ca is no exception. Yes, some customers at Irvine car dealerships have to admit that having a classic muscle car is great, but nothing beats a comfortable ride in a cushy cabin.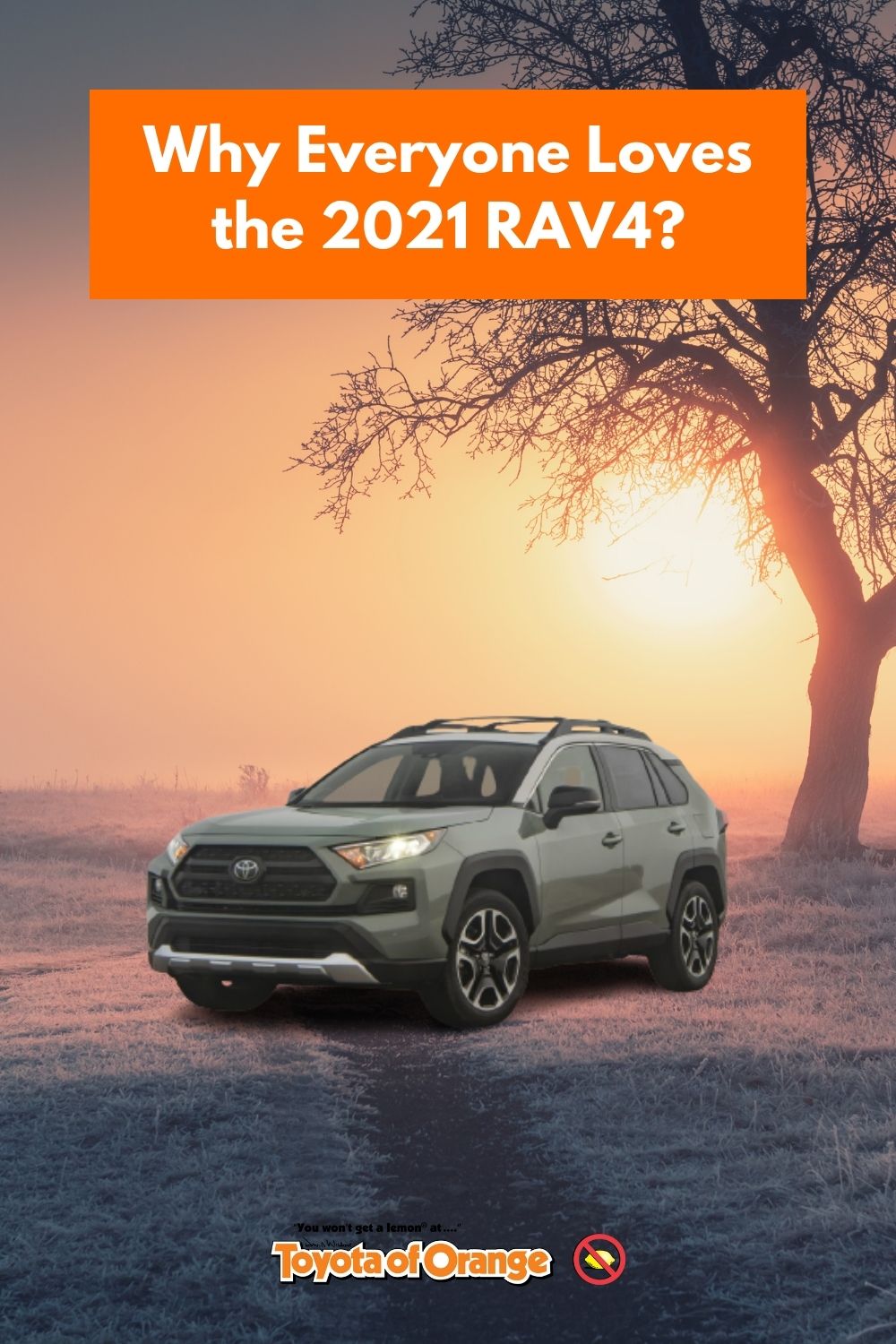 The people at Toyota Irvine Ca can tell you that the SUV market is flooded with numerous brands and models that offer sport utility vehicles. However, it was Toyota that started it all when it introduced the RAV4 to the whole world.
The Japanese carmaker produces trustworthy vehicles and they made sure to accommodate off-road enthusiasts with the RAV4. The vehicle offers six unique trims, the 2021 RAV4 has your back in any condition. The vehicle is good-looking and has a spacious cabin with two rows of seats enough to hold five passengers.
Toyota debuted the Rav4 with a plug-in hybrid sibling, the Rav4 Prime, which delivers more power of around 302 horsepower in swap for a higher price. Regardless of this, Toyota Irvine Ca tell us that they both have the same safety and technology features.
Rav4's Engine
Toyota specifically made the V6 for the 4Runner and agreed to fit out the RAV4 with a 2.5 liter four-cylinder engine, which sends power to the front axles. An all-wheel-drive system is also on hand if you want to jazz things up, but it is only available as standard for the Adventure and TRD Off-Road trims. These trims are suitable for the outdoorsy types.
An eight-speed automatic transmission is installed on all variants. The all-wheel-drive RAV4 generates about 203 horsepower and 184 pound-feet of torque. It does 0 to 60 mph in 8.1 seconds, which is enough time, but the Hybrid Prime does the same distance in only 6.0 seconds.
RAV4's Interior
If you want heads to turn when driving your RAV4, we suggest you select the Ruby Flare Pearl color and let the RAV4's body do the rest. The 2021 RAV4 exterior is a well-defined vehicle, and the low roofline is one of the reasons for this.
Even though all the models appear sporty and almost have the same characteristics, the Adventure and TRD Off-Road trims have a more spirited and stylish appearance, with slightly taller roof rails, fender flares, and all-terrain tires.
The RAV4 has a spacious cargo area that offers 37.6 cubic feet, however, you can have an additional 32.2 cubic feet with the rear seats folded down, and there's a lot of head and legroom for rear passengers.
The RAV4's interior is decked out with premium materials. A 4.2-inch driver display is found right behind the 14 ½" button-loaded steering wheel, which comes leather-wrapped in higher models. The Center console enjoys an appealing design, armrest, and two cup-holders.
The higher trim model, the XLE, provides dual-zone automatic climate control, but if you care about getting more fresh air from the sunroof and want your dashboard to possess soft-touch materials, you have to upgrade your selection to XLE Premium. Moreover, you can find a digital rearview mirror, heated front seats, and ambient lighting on Limited trim. You can add a panoramic sunroof, heated steering wheel, and wireless charging pad as optional features.
RAV4's Tech Features
The amount of modern features car companies add to vehicles can be astounding, but the most recent RAV4 has got you all covered. A smooth and glossy 7.0-inch touchscreen is located in the middle of the dashboard to make up part of the entertainment system. However, the 8.0-inch touchscreen that is available on XLM and higher trims is more enticing.
You can place Apple CarPlay, Android Auto, and 4G LTE mobile hotspot no matter which one you go for. The high-end Limited trim goes another level offering a Navigation system and the premium 11-speaker JBL audio system. Nevertheless, a 6-speaker sound system setup for the basic variants still sounds groovy, and the Scout GPS Link would help you navigate unexplored roads.
RAV4's Safety Features
The Insurance Institute for Highway Safety (IIHS) is in favor of Top Safety Pick+. This is not surprising since the RAV4 has loads of Driver Assistance features, and you don't have to pay extra cash to enjoy them all. Also, Toyota Safety Sense 2.0 Suite maintains basic trims as well.
Adaptive cruise control and lane-keeping systems are available with each model. There are automated emergency braking with pedestrian detection and automatic high beams as well. Also, you can take advantage of the traffic sign reader when necessary. Many people agree that the Rav4 deserves the NHTSA five-star rating.
Toyota did us proud with the 2021 RAV4. The Japanese car company made sure that we got all the vital features as standard, and then you can adore your vehicle in elegant items if you wish to do so. Since the RAV4 has a price range that starts at around 27,000, the 2021 Toyota RAV4 is quite reasonable and is a strong competitor with rivals in the SUV market.
2021 RAV4 Overall
The 2021 RAV4 provides you with the following:
Quiet interior and comfortable ride quality

Abundant cargo and passenger space

Easy-to-use controls
Undoubtedly, it is one of the best-selling passenger vehicles at Toyota Irvine Ca today, and It's easy to figure out why. It is a small SUV with a smooth ride, lots of space for passengers and cargo, and many standard advanced driver safety features. Toyota debuted the vehicle in 1996 as one of the first crossover SUVs.