The sales reps at Toyota near Irvine can honestly tell you that the Toyota Tacoma is a competent pickup truck, which is probably why it is America's favorite truck. Its popularity comes from its durable design, high-tech features, and reasonable price. The Toyota dealer near Irvine informed us that the pickup truck's included features make it one of the most competent off-roaders you can purchase nowadays. There are a massive variety of options and model variants to select from to accommodate the specific needs of each customer.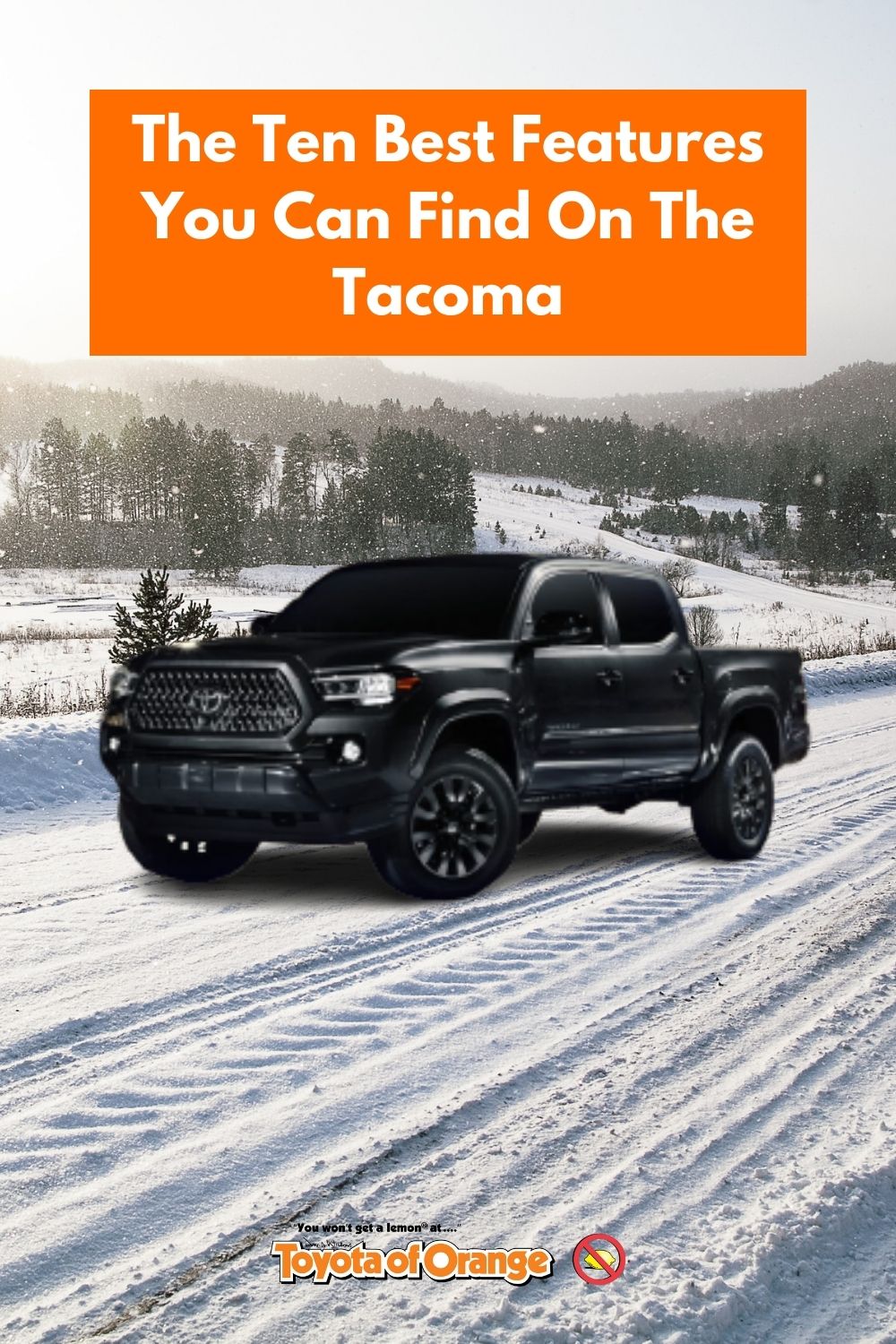 The Toyota Tacoma has some extraordinary features from its towing capacity to its outright off-roading performance of one of America's best-selling pickups are all available down below.
Crawl Control
To start off with, the Crawl Control feature gets customers buzzing at Toyota near Irvine. It is the perfect feature to have for off-roading. On the Tacoma, it is an advanced multi-terrain system that automatically modifies the throttle and brakes for enhanced off-road navigation.
The Tacoma's Crawl Control has five low-speed settings to allow the driver to only concentrate on steering. These settings should be chosen depending on what type of surface the driver is on and range from rock and gravel in a downhill direction to snow and sand on an uphill level and everything else that falls in between.
Electronic Locking Rear Diff
Toyota has also equipped the Tacoma with an electronically locking rear differential for better off-road use. It is primarily used for navigating rougher terrain with some extra stability.
When driving on low traction conditions, The Tacoma's rear diff can evenly distribute the engine power equally to both rear wheels, which is a handy feature for individuals navigating sandy areas and requiring the extra grip.
Multi-Terrain Select
Staying with the off-roading features of the Tacoma at Toyota near Irvine is the Multi-Terrain Select aspect or MTS in its abbreviated form. This is made up of five modes to choose from, a little similar to the Crawl Control feature but works a little differently.
This feature works with the throttle control and the vehicle's traction control, reducing wheel spin and assisting the driver to remove itself from challenging situations without getting grounded. It helps stop the wheels from spinning a lot which could cause the vehicle to sink into the terrain.
Hill Start Assist
When it comes to navigating severe inclines in hilly or mountainous areas, Toyota has implemented a hill Start Assist feature to the Tacoma. For individuals navigating specifically tough terrain, this feature is necessary.
Its function is to lessen the vehicle's roll on steep inclines when the driver is switching their foot from the accelerator to the brake. If the Tacoma didn't have this feature, the truck could roll backward, causing an accident.
Multi-Terrain Monitor
To enable Tacoma drivers with a better view of their surroundings, a Multi-Terrain Monitor has been included as a feature. It is also best used in more complex areas with challenging terrain.
With the eight-inch display, Tacoma drivers can push a button to reveal the front, rear, and side-mounted cameras, offering the user a quick view of any possible obstacles in the surrounding area.
Bilstein Shocks
Let's face it. All of these off-roading features and supportive tools would be unnecessary if the Tacoma on its own wasn't very competent at off-roading. Fortunately, Toyota has gone to Bilstein for the shocks on the Tacoma.
These shocks help bring consistent high performance for when situations get tough and help absorb pressure and impacts in rough areas. This is slightly because they are developed specifically with off-road use in mind.
TRD Pro Version
The TRD Pro is one of a few different variations of the Tacoma and is the most costly and most likely the best version. The Tacoma TRD Pro features a signature style and unrivaled performance.
The TRD Pro includes a ¼-inch aluminum TRD Pro skid plate, Rigid Industries LED fog lights, a Toyota heritage grille, 2.5-inch FOX Internal Bypass shocks, 16-inch TRD Pro black alloy wheels, and Goodyear Wrangler All-Terrain tires.
Towing Capacity
Storage options for the Tacoma are mainly in the rear since it is, of course, a pickup truck. Nonetheless, you can also use it to tow anything that can't fit in the back, as well as any trailers you may want to transport.
Because of its powerful engine and the available tow package, the Tacoma can easily tow up to 6800 pounds of whatever you want or have to haul. Furthermore, it can hold a payload of around 1440 lbs for anything you can fit in the back.
V6 Engine
While on the topic of powerful engines, the Tacoma has a 3.5-liter V6 with about 278 horsepower. This is more than ample for overall use and some basic off-roading.
This engine is sufficiently robust and very energetic, which is maybe the most crucial aspect for an off-roader built mainly for navigating harsh terrain and isn't meant for track use.
Price
Although the Tacoma is chock-a-block with some cool features and high-tech equipment, the price is shockingly low. This is one of the reasons the Tacoma is so popular with customers looking to purchase a pickup truck at Toyota near Irvine.
The SR model is the entry-level truck and only starts at $26,400, which is amazingly low, and the top of the line edition, the TRD Pro, is priced at $44,325 which when you weigh in all the added extras that come with the variant, you are really getting your money's worth.