The car dealerships serving Garden Grove Ca recognize Toyota as a car company that has a vast range of vehicles, which come in various models at reasonable prices. The 2021 Toyota Lunar Rock RAV4 is one of the Japanese car company's latest car designs, and it's a reputable compact SUV that completes the task at hand in more ways than one. The sales reps serving Garden Grove car dealers say that the distinct features make sure that the 2021 RAV4 benefits you in several ways and is very budget-friendly compared to rival vehicles that have the same capabilities but retail at a higher price tag.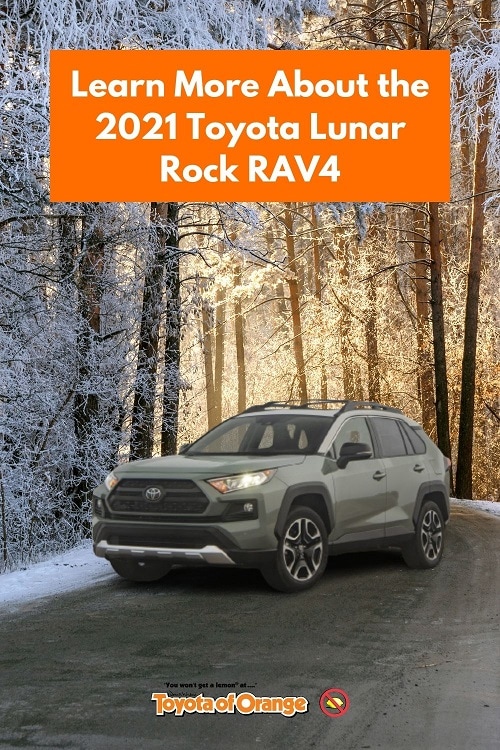 One of the best features of this vehicle that customers at car dealerships serving Garden Grove Ca can't get enough of is its off-road capability, which boosts its functionality and reputation as a vehicle that's not only competent on tarmacked roads but also on rugged terrain. The interior and exterior are very eye-catching with their modern design. The safety measures on hand give the drivers and passengers a lot of reassurance and give this family car a good rating.
These are just a few features you should anticipate to find on the
2021 Toyota Lunar Rock RAV4.
Improvements In Performance
The 2021 Toyota Lunar Rock has some interesting performance enhancements. Depending on what you're up for, there are three different drive modes to select from. You have SPORT mode, which contributes to sharper acceleration, NORMAL, which helps with combining fuel economy with performance, and ECO mode, which accentuates fuel efficiency. The Multi-Terrain Select (MTS) on the All-Wheel Drive (AWD) increases the driving performance on different surfaces.
Many buyers at car dealerships serving Garden Grove Ca like to compare the Toyota RAV4 to the Toyota Highlander, but it all depends on preference. Ultimately, both vehicles have some appealing and impressive features. Another interesting feature of the 2021 Toyota RAV4 is the Dynamic Torque Vectoring All-Wheel Drive (TV-AWD). Then again, the Rear Driveline Disconnect guarantees that the power stops going to the rear when necessary.
Off-Road Capability
The fact that the 2021 RAV4 has amazing off-road capabilities makes this vehicle a crowd-pleaser to everyone. This isn't the first time many of us have seen this feature on these vehicles, for instance in the 2020 Model. Nonetheless, the 2021 Toyota Lunar Rock RAV4 has an all-wheel-drive system, which is a huge upgrade. The dynamic all-wheel-drive system with a rear driveline disconnect lets drivers use their Rav4 in a way that will permit them to benefit from the best gas mileage during normal conditions.
The all-new skid plate comes in handy when taking on gravel-covered roads as they protect the underside. Exploring a remote and uneven trail or a mountain pass road can transmit additional power to the individual left and right wheels as required. You could compare the Toyota Rav4 with the Toyota 4Runner when it comes to its off-road capability, and they do turn out to be quite similar. The Toyota Lunar Rock Rav4 is a great option if you favor a smaller car but have enough power when you need to drive an off-road route.
Interior Transformation
If the aesthetics of a car is a big deal to you, the 2021 Toyota RAV4 has you covered. This vehicle comes equipped with an eight-way power-adjustable driver's seat that has memory function and softex-trimmed comfortable seats. Plus, the interior has ample space for cargo, which makes it an ideal car to use when setting out on an adventure and you're bringing along a lot of luggage. And the RAV4's interior doesn't stop there with its dual-zone climate control with rear vents, which let front-seat passengers set their preferred temperature.
The rear vents behind the console make sure back seat passengers remain comfortable and have appropriate air circulation. The panoramic glass roof opens up from the stunning interior that is very well-done and pays attention to every detail. Toyota took the effort and time to make this splendid interior, ensuring to incorporate technology and make it even easier to use.
Safety Features
The safety of a vehicle is very important to think about when purchasing a vehicle, and Toyota didn't overlook that with the 2021 Lunar Rock RAV4. The crossover has Front and Rear Parking Assist with automated braking that helps with an audible and visual warning when it detects stationary objects or vehicles. The system lowers the engine's power and applies brakes if there is a risk of colliding with a detected object or vehicle.
Additionally, there's Blind Spot Monitor that warns you when a car in a different lane enters your blind spot on either side. Also, you can't overlook the eight airbags that are available on this vehicle to make sure the driver and the passengers remain safe. The Toyota Safety Sense feature is also perfect for preventing harm.
2021 Toyota RAV4 Models
The 2021 RAV4 is available in six trim levels: LE, XLE, XLE Premium, Adventure, TRD Off-Road, and Limited. Every model has a 203-horsepower four-cylinder engine matched to an eight-speed automatic transmission. Front-wheel drive comes standard on most of the trim levels, and those have all-wheel drive as an available option. The Adventure and the TRD Off-Road has an upgraded all-wheel-drive system to improve traction on loose and slippery surfaces that comes as a standard feature.
What's New For The 2021 Toyota RAV4?
Overall, there are no significant changes for the 2021 model. It makes up part of the fifth RAV4 generation introduced for 2019. The Toyota RAV4 is one of the most popular passenger vehicles on the market today. It isn't surprising since this small SUV provides:
A smooth ride.

Ample space for passengers and cargo.

Lots of standard advanced driver safety features.