Dealers near Tustin auto center got an exciting sneak peek at the new generation Toyota Tundra when Toyota officially debuted it last September. The dealers of new and used cars near Tustin Toyota tell us the new Tundra was designed, manufactured, and put together in the United States. This massive truck is ready to compete with American brands and crush the large truck segment.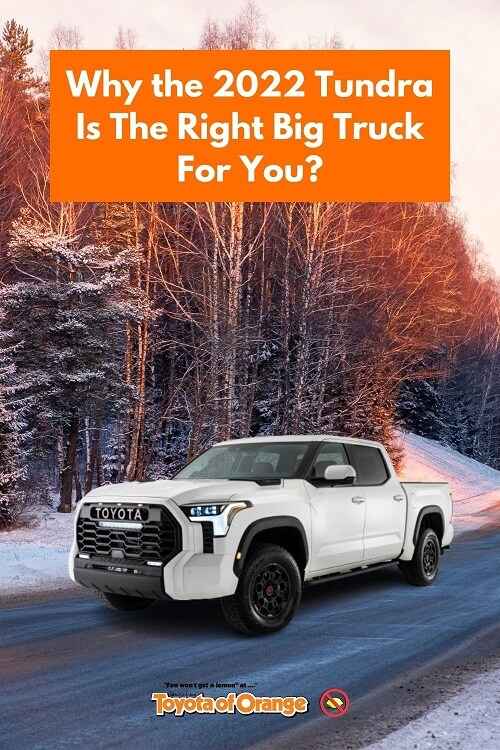 The brand new Tundra has features and performs to show that this pickup truck was built to serve the North American market purposely. As a result of this, we all get to enjoy the most capable and advanced Tundra that Toyota has ever released yet.
Presently, the 2022 Toyota Tundra is built on a new ladder-type structure made of high-strength steel. Furthermore, the truck has an aluminum-reinforced composite material and a completely redesigned multi-link rear suspension. Dealers near Tustin auto center believe these features make the vehicle more robust. This up-to-date Tundra is one of the large pickups with the most modifications and enhancements for 2022.
Plus, this pickup truck has an extraordinary maximum payload capacity of 1,949 pounds and can tow about 12,213 pounds. Besides its new chassis and capabilities, the truck comes with two V6 engine options, and one of them is a hybrid.
Regarding the powertrain options, the 2022 Tundra has a new standard engine that is the 3.5-liter V6 bi-turbo that pumps out 389 horsepower and 478 lb-ft of torque. Additionally, Toyota offers an i-Force Max hybrid system that includes an electric motor to produce an eye-opening, combined power of 437 horses and 582 lb-ft of torque.
Dealers near Tustin auto center love the new Tundra's sportier design, making the truck look more aggressive, which is a nice shift from the more rounded and older than the hills aesthetic.
The 2022 Toyota Tundra Is A Great Competitor
Most brands from American have the upper hand when it comes to the US truck market. Nevertheless, international brands like Toyota have placed themselves as hefty competitors in the large truck segment.
The Toyota Tundra pickup truck debuted in 2007, and among all the features that made it the truck, its V8 engine stood out in previous times. Nonetheless, the truck segment arena has become more and more competitive with the appearance of newer rivals.
Regardless, the 2022 Toyota Tundra debut has revealed new elements that give it specific benefits against these and other powerful competitors in the segment. There's the chassis, a more attractive cabin, a renewed infotainment system with an improved 14 ″ touch screen, and two V6 engine alternatives.
The New Tundra Is More Sturdy And Tough Than You Think
A primary detail is a front grille visually linked to the ground through a C-shaped radiator shell, as well as a panel on the bumper. It also features chiseled wheel arches for a far better side profile and an integrated rear bumper that sets aside the more conventional separate steel unit.
The Tundra's side profile is now fiercer with its blacked-out B-pillars to give the roof a canopy-like shape. Additionally, the CrewMax pickup will feature a rear window that lowers the bulkhead, and the Double Cab features a horizontal slider. The CrewMax pickup will feature a rear window that reduces the bulkhead, and the Double Cab has a horizontal slider.
The 2022 Toyota Tundra comes in SR, SR5, Limited, Platinum, 1794, and TRD Pro trims. Plus, there are TRD Off-Road and Sport packages available on some trims. Double Cab models are available with either a 6.5- or 8.1-footbed. The Crew Max models have more interior space and are equipped with a 5.5-footbed. On the contrary, you can also decide on a 6.5-footbed for a lot more functionality. Inside it has a no-frills 8.0-inch infotainment system. At the same time, the high-end models will include a 14-inch touch screen located high on the dash.
A Tundra With Tons Of Tech
The 2022 Toyota Tundra brings a new multimedia suite, more intuitive and responsive than in the last model, operated from the touch above screens. Apple CarPlay and Android Auto are standard features on every model. Still, significant enhancements like built-in Amazon Music and Apple Podcasts will be available. The interior displays a thick piece of metal-toned trim stretched throughout the width of the dash to visually support the HVAC vents and infotainment system. Furthermore, it has lots of space in the front row, both for passengers and paraphernalia.
Again, a deep center console offers room for a handbag or laptop. Side-by-side cup holders and a vertical wireless charging pad allocate a place to sit and keep the front row organized.
New Characteristics Of The 2022 Tundra
Even though the rear seat occupants have less headroom, the legroom seems reasonable because of the optional panoramic sunroof. On the flip side, the pickup truck has 6.35 cm Fox internal bypass shocks with piggyback tanks and TRD-tuned springs for a 2.79 cm lift, as well as a unique TRD anti-roll bar and an extensive underbody anti-slip coating.
Also, it features a standard LED headlight bar, multi-terrain pick, and drag control. Simultaneously, the digital camouflage accents show up in the centers of the seats and the wheel arches to give it an extra dash of style.
When dealing with hybrid attributes, it comes standard on the TRD Pro. Equivalently, a TRD Off-Road package will be available on most trim levels, with Bilstein monotube shocks, drag control, and multi-terrain selection.
The Tundra Has Improved Safety
Every 2022 Tundra comes standard with the Toyota Safety Sense 2.5 assistance package, with several types of technologies. These include the automatic emergency brake with pedestrian and cyclist detection, turn assist at intersections that monitor oncoming traffic, rear cross-traffic alert, blind-spot monitoring, and automatic high beams. It is good to remember that all these security features are present in each version, including the basic SR. The new Toyota Tundra 2022 at the dealers near Tustin auto center will come in six versions: SR, SR5, Limited, Platinum, 1794, and TRD Pro.