If you are visiting a dealer of used cars in Orange County, looking for an SUV that is easy on the environment, the 2017 Toyota Highlander Hybrid is the way to go. The Highlander Hybrid is so fuel-efficient that all the money you saved on gas will enable you to pay back the Hybrid's price premium.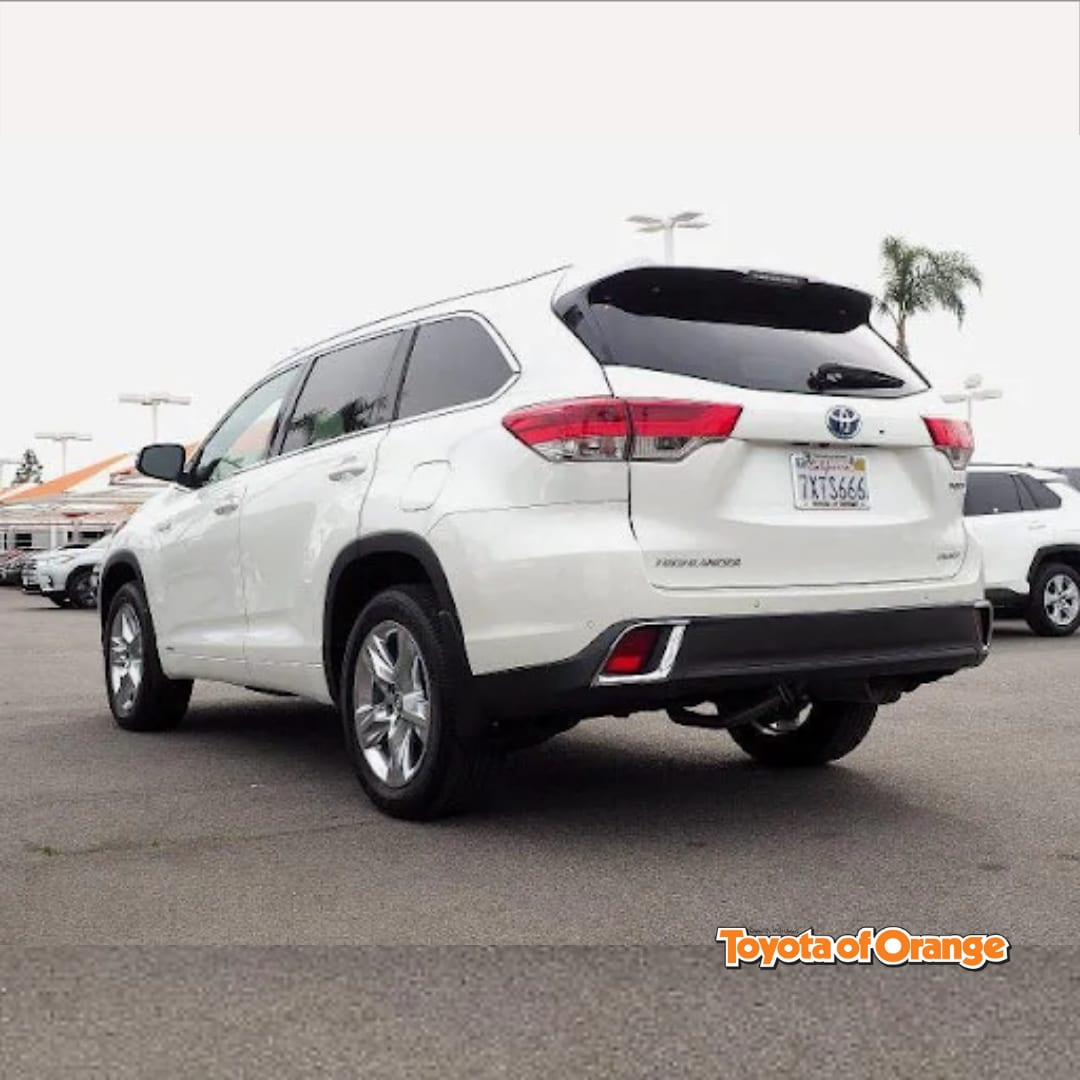 What makes the Toyota Highlander unique for 2017 is that it has new powertrain and styling tweaks. Furthermore, the hybrid model gets an updated engine and a new face, but it still has the same transmission as the 2016 model. What is even better is that the hybrid is now available in LE and XLE trim levels, which was only available before in the top Limited and Platinum trims only.
Driving
Customers of used cars for sale in Orange County are excited by the 2017 Toyota Highlander Hybrid because, besides the gas money you save, it is a three-row SUV that comes standard with eight or seven-passenger capacities, depending on its trim level. The 2017 Toyota Highlander comes in LE, XLE, Limited and Limited Platinum trim levels. The 2017 Highlander Hybrid is around 16 feet long. Its curb weight ranges from 4,825 to 4,965 pounds. It has a gross vehicle weight of 6,260 pounds and can tow up to 3,500 pounds.
The 2017 Highlander Hybrid at a used cars Orange County dealership comes standard with a 3.5-liter V6 engine matched with three electric motors. It pushes out 306 horsepower and comes with all-wheel drive. If you were wondering, the 2017 Highlander is also available in a LE model with 185 horsepower 2.7-liter four-cylinder that transmits power to the front wheels through a six-speed automatic transmission.
If you have a bigger budget, you can go for the 295 horsepower V6 with 8 speed automatic that provides 110 more ponies and better highway fuel economy. All Highlander V6 models, including hybrids, have all-wheel drive (AWD) as an option, but if you do not need the extra traction for driving in poor weather conditions, you can skip it to opt for better fuel economy in the front-wheel-drive (FWD) option.
The Highlander Hybrid has a proficient hybrid powertrain, able brakes, and intuitive steering. Furthermore, it drives well on the highway, has excellent towing capabilities, and good off-road abilities.
The 2017 Toyota Highlander at a used cars Orange County dealership has excellent emergency braking effectiveness and fade resistance. The Highlander has great handling around corners and is stable when driving straight on the highway.
The Highlander Hybrid provides better fuel economy than other three-row SUVs, even though it costs a little more. The 2017 conventional Toyota Highlander gets new powertrain and styling tweaks; the hybrid model has the updated engine and fresh face, but its transmission carries over from 2016. What is really exciting for the 2017 Highlander model is that the hybrid is now available in LE and XLE trim levels, rounding out a lineup previously made up of the top Limited and Platinum trims only. These come standard with all-wheel drive.
Technology
Apart from the fact that the Highlander is a great people carrier, it comes standard with a suite of accident avoidance technology, which is why family-oriented customers go for this affordable and safe SUV. Every Highlander comes standard with forward collision warning and automatic braking (including pedestrian detection), adaptive cruise control, lane departure warning, and steering assist. Blind-spot monitoring and rear cross-traffic alert systems are optional.
The 2017 Toyota Highlander Hybrid comes standard with tri-zone automatic climate control, a rearview camera, Bluetooth, push-button start, five USB ports, a 6.1-inch touch screen, voice recognition, Siri Eyes Free, and Toyota Safety Sense. Available options include a Blu-ray entertainment system, a 360-degree camera, and Driver Easy Speak, which lets the driver communicate effortlessly with rear-seat passengers via the vehicle's speakers. The Highlander Hybrid's infotainment system is easy to use, with uncomplicated knobs and buttons as well as a responsive touch screen.
Comfort
One of the main reasons that customers purchase a Toyota Highlander is for the large carrying capacity. It can seat about eight passengers in the two lowest trim levels (LE and XLE) with a second-row bench seat.
The Highlander's comfortable seating, smooth driving capabilities, and extremely silent cabin are as good as luxury vehicles. The heated front seats on the XLE and above trim levels make the seating almost as cozy as your living room and have vast adjustments, such as extendable thigh support. The second row is more stationary but can also slide and recline in a certain range. The Highlander drives exceptionally smooth since the suspension easily absorbs road bumps.
The two upper trims (Limited and Limited Platinum) can accommodate seven passengers with second-row bucket seats. The first two rows will comfortably fit a group of adults, while the third row is best used for children.
Cloth upholstery, a tilt-and-telescopic steering wheel, adjustable front seats, and sliding and reclining 60/40-split second- and third-row seats are standard. Available features include leather seats, heated and ventilated front seats, and an eight-way power-adjustable driver's seat.
If you drive around with many passengers, you most likely have to transport a large amount of goods. The 2017 Toyota Highlander Hybrid has 13.8 cubic feet of cargo space behind the third-row seats, 42.3 cubic feet behind the second-row seats, and 83.7 cubic feet behind the front seats. These measurements are very common for a three-row midsize SUV.
Many families have abundant room and storage space. There is a special built-in shelf on the dashboard that provides a resting place for phones and other personal items. Also, there is a lot of space under the sliding armrest cover, which has ample space to store a laptop or large handbag.
Overall
At the end of the day, if you are looking for a non-luxury, hybrid SUV that comes equipped with adequate safety and technology features, the Toyota Highlander Hybrid is the way to go. The 2017 design provides a wider trim level availability with a reasonable price that makes it even more exceptional!