Tustin Toyota service representatives have a 2017 Toyota Prius V wagon available. It is the most spacious and largest member of the Prius hybrid family. The 2017 Toyota Prius is an efficient, no-frills family carrier. This is what makes the Toyota Prius V the perfect family wagon to consider.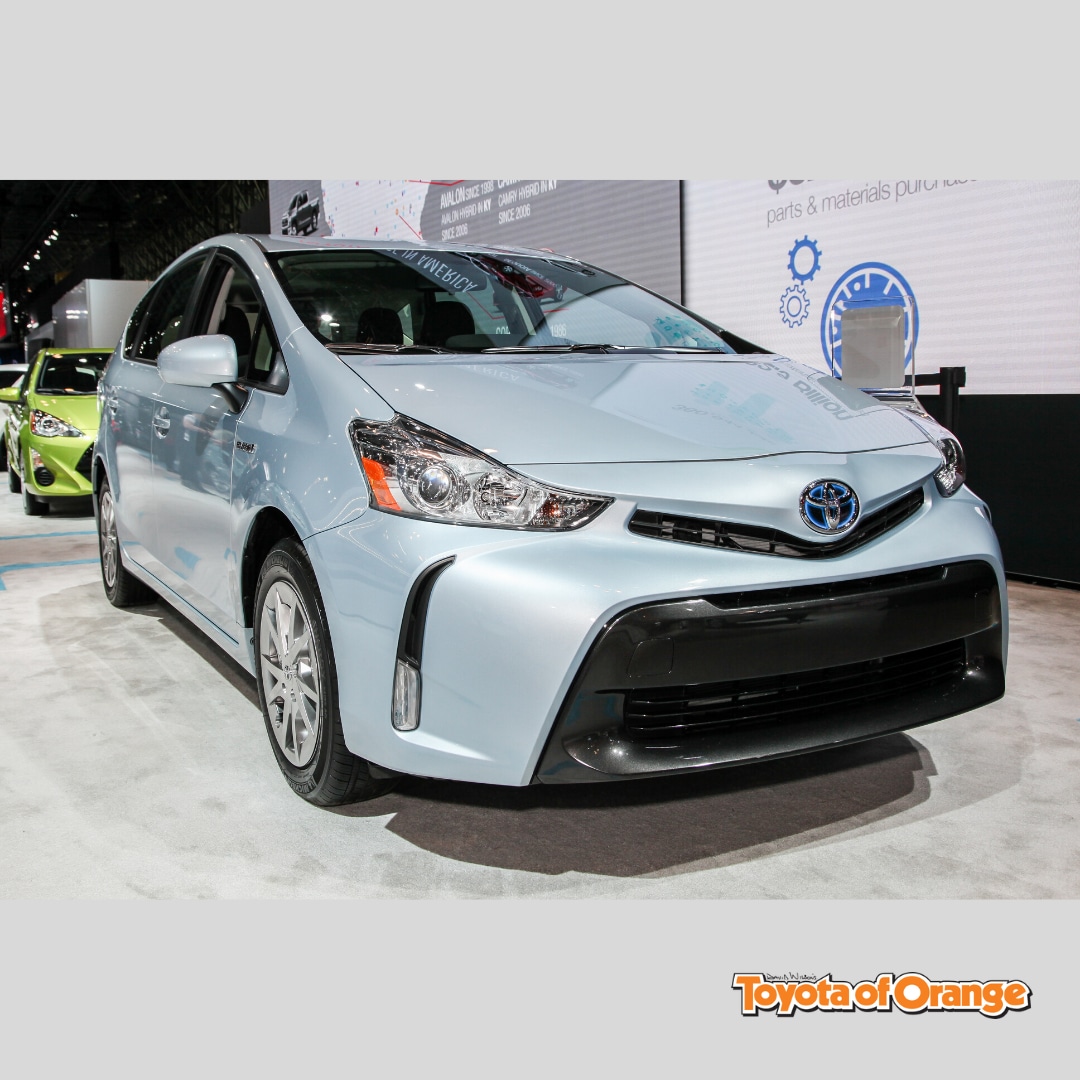 The 2017 Toyota Prius V (the V represents "Versatility") is a five-passenger compact hybrid wagon available in four trim levels: Two, Three, Four and Five. The vehicle is a great choice for shoppers who want optimal fuel economy, a larger backseat, and more cargo-hauling capability than is possible in a normal Prius.
Driving
Dealers near Tustin auto center inform us that the popular Prius liftback was redesigned for 2016; however, the 2017 Prius V still kept the same powertrain that was used in the preceding generation. Tustin Toyota service mechanics explain that under the hood of the 2017 Prius V, there is a 98-horsepower, 1.8-liter gasoline engine that works with two electric motors and a nickel-metal hydride battery pack.
The main (60 kW) motor pushes the vehicle, while the smaller one primarily provides electric power. The car's total system output is 134 ponies, which is transmitted to a continuously variable transmission (CVT) and front-wheel drive.
There are three drive modes which supplement the vehicle's default hybrid mode. The EV mode provides electric travel, the Eco mode saves on fuel, and the Power mode allows the hybrid wagon to keep up with fast-moving traffic.
Now, most of you are here to find out how the 2017 Toyota Prius V Wagon scores in fuel efficiency. The EPA rates the Prius V at 44 mpg in the city, 40 mpg on the highway, and 42 mpg combined. These numbers are amazing compared to competing vehicles, which have much lower ratings. The Prius wagon provides more interior room as well.
Because the 2017 Toyota Prius V has a long wheelbase, it provides a delightful ride around town as well as on the highway. The 2017 Prius is an easy vehicle to drive and keeps environmentally friendly owners very happy.
Even though the wagon looks very similar to the previous generation of Prius, it uses entirely unique body panels. It has a more slab-sided shape and taller body than the latest Prius liftback, which gives it lots of space for passengers and cargo.
The Prius V's rear window is a single piece of vertical glass instead of the split panes of the Prius hatchback, making rear vision more convenient. The Prius received a styling update for 2015 that includes a more aggressive front end, vertical lines that almost look like elephant tusks, and new headlights.
Technology
The standard equipment on every Prius V model includes keyless entry, automatic climate control, fabric seats, and Toyota's Entune cloud-based media and connectivity system.
From the base trim level (known as Two) to the Three models, there is audio and climate controls on the steering wheel, Bluetooth a navigation system with voice control that displays on the 6.1-inch touchscreen in the center of the dash, and even a 4.2-inch color information screen in the instrument panel.
When you go for the Prius V Four, you get the added luxury of SofTex upholstery, heated front seats, and an eight-way power driver's seat with adjustable lumbar support, along with an auto-dimming rearview mirror. The Prius V Five is a top of the range vehicle and includes 10-spoke 17-inch alloy wheels and LED headlamps, as well as other add-ons.
The options, whether you go for packages or something individual, are abundant. For instance, the Advanced Technology Package includes a panoramic moonroof and electric sunshades, radar-based dynamic cruise control, a lane-departure warning system, an HD-based navigation system, and automatic high beams.
Comfort
Once inside the Prius V, all passengers can sit higher and more upright compared to the regular Liftback model. The rear load bay provides a good 34.3 to 40.2 cubic feet of cargo volume. If that is not impressive enough, there is a width of 39 inches between wheel-well housings, which supports space for large boxy items to slide effortlessly across the flat load floor.
Tustin Toyota service customers appreciate the fact that when you flip the 60/40 split rear seats back down, the cargo space increases to 67.3 cubic feet. Toyota indicates that it is more cargo space than any of the other new small SUV ad crossover entities that came out during 2017.
If you do not need that extra cargo space, the rear passengers can still stretch out their legs. Also, tall passengers have a good amount of headroom so they won't be crouching down during journeys.
Additionally, all around the vehicle, there are many trays, cupholders, and cubby holes. There are two stacked gloveboxes and a large center console bin, along with an open nook beneath the center stack.
When it comes to safety, the Insurance Institute for Highway Safety (IIHS) gave the Prius V a Top Safety Pick+ and it earned the institute's top "Good" rating on all tests. Furthermore, there is an optional Advanced Technology package that adds lane-departure warning, automatic high beams, radar-based adaptive cruise control, and a pre-collision system. A rearview camera comes standard. This vehicle also earned a "Good" score for the side-impact, roof-strength, head restraints tests, along with seat (whiplash protection) tests.
Last but not least, the vehicle has large and clearly labeled controls and an easy-to-use high-mounted shift lever that makes the Prius V cabin a very comfortable place.
Overall
The 2017 Toyota Prius V appeals to car buyers that are attracted to the tall wagon's SUV like space and versatility. Furthermore, the vehicle's interior is very spacious and flexible, which makes it an ideal family car, or haul carrier.
The fact that occupants can sit higher than in a regular sedan or hatchback means that they are going to have a beautiful scenic view on car journeys. Make sure to check out the 2017 Toyota Prius V Wagon at Tustin Toyota service!