After a successful debut year for the 2020 GR Supra, Toyota has raised the bar with its 2021 model, adding a power boost, retuned chassis, and an available four-cylinder turbo engine. Toyota has promised 1,000 new A91 Editions of the Supra, which will feature the 3.0-liter inline six-cylinder engine and two dazzling paint shades to choose from, Nocturnal and Refraction. The matte black wheels, C-pillar graphics, carbon fiber mirror caps, and rear black carbon fiber lip spoiler finish off the incredible sports car aesthetic.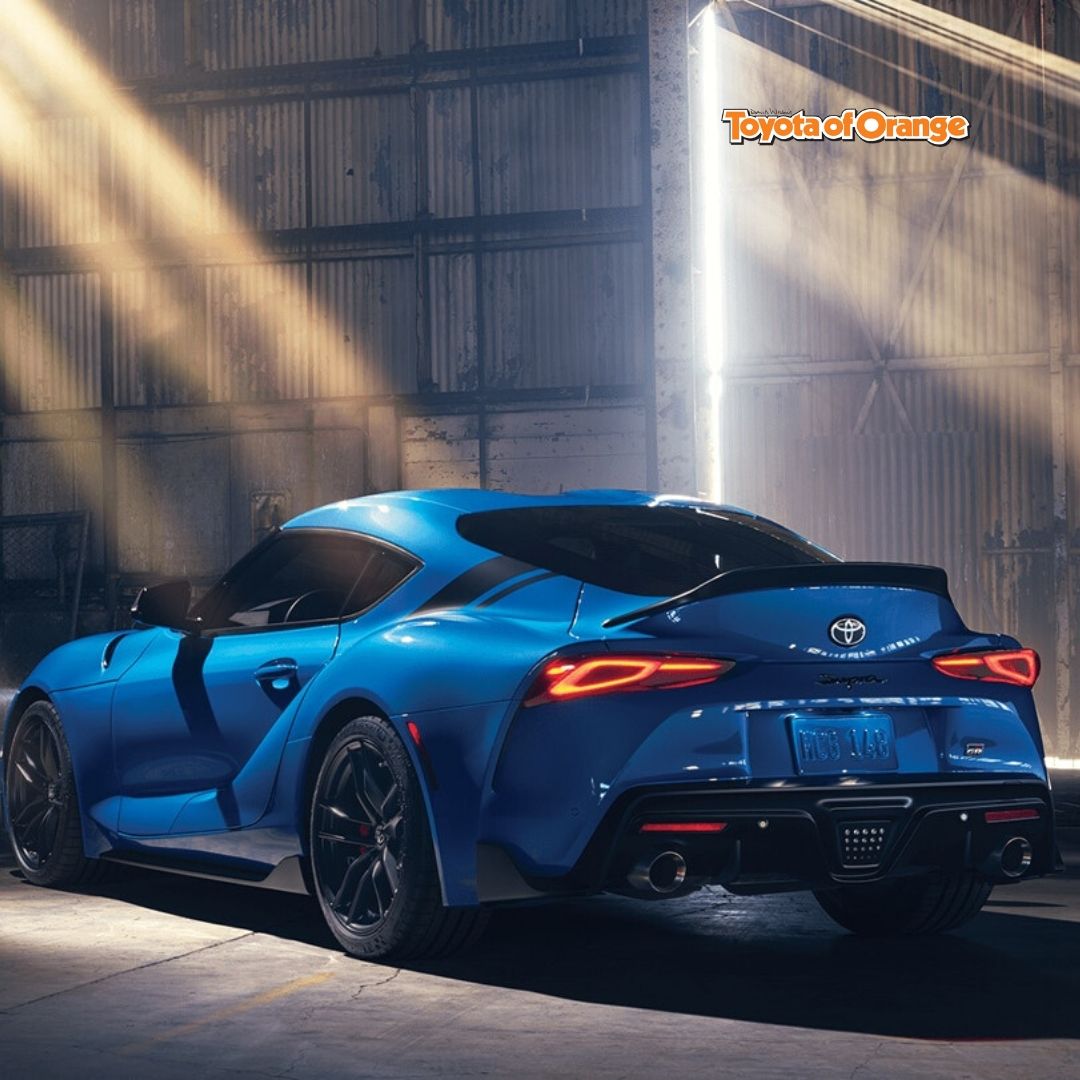 The 2021 GR Supra has achieved a 14% increase in engine output at 382 hp at 5,800-6,500 rpm and a torque of 368 lb.-ft. at 1,800-5,000 rpm. These incredible numbers are all thanks to the dual-branch exhaust manifold, which now has six ports to optimize heat management and airflow. The piston design helps to minimize the engine compression ratio in order to avoid abnormal combustion. Toyota manufacturers project an acceleration from 0 to 60 in 3.9 seconds for the new Supra 3.0 model. The 2021 GR Supra will offer 22 mpg in the city, 30 mpg on the highway, and 25 mpg combined.
With the new 2021 Supra Model, Toyota revised its electric power steering, vehicle stability control, and adaptive variable suspension programs. Toyota also focused on retuning the Supra 3.0 chassis to improve roll resistance and cornering stability. All of these changes work toward making the 2021 Supra faster, better, and stronger.
Both the 2.0-liter inline four-cylinder engine and the 3.0-liter inline six-cylinder engine share a twin-scroll turbo, continuously variable timing on the intake and exhaust camshafts as well as direct fuel injection. However, the 2.0 delivers 255 hp at 5,000-6,500 rpm and 295 lb.-ft. peak torque at 1,550 to 4,400 rpm. It uses an 8-speed automatic transition and is projected to reach 60 mph in 5 seconds with a lower fuel consumption than its 3.0 counterpart. Toyota made the 2021 Supra 2.0 a lighter, less expensive alternative to the 3.0 with incredible weight distribution features.
Not only is the 2021 GR Supra an upgrade to its previous ancestor, but the price increase is relatively small in proportion. The starting prices of each model are as follows: $55,990 for the A91, $54,490 for the 3.0 Premium, $50,990 for the 3.0, and $42,990 for the 2.0.
Both the 2.0 and 3.0 grades will offer the available Safety & Technology Package, which includes the following features:
Blind Spot Monitor System

Navigation

Rear Cross Traffic Alert System

Dynamic Radar Cruise Control

Wireless Apple CarPlay

A 12-speaker 500-watt JBL Audio System

Parking Sensors with Emergency Braking Functions

Supra Connected Services (Includes Automatic Emergency Call, Stolen Vehicle Recovery, Remote Maintenance, Remote Services, Map Updates, Concierge, and Real-Time Traffic Information)
The 3.0 Premium and A91 models will offer the Driver's Assist Package which includes:
Blind Spot Monitor System

Rear Cross Traffic Alert System

Dynamic Radar Cruise Control

Parking Sensors with Emergency Braking Functions
With enhanced sports car performance and style, Toyota customers can't wait to get behind the 2021 GR Supra.