If you have just had a baby, or you are thinking about raising a family very soon, you may want to trade in your 2017 Toyota 86 Base Coupe (even though it is a sweet ride) for something more family-friendly at a Toyota dealer near Anaheim.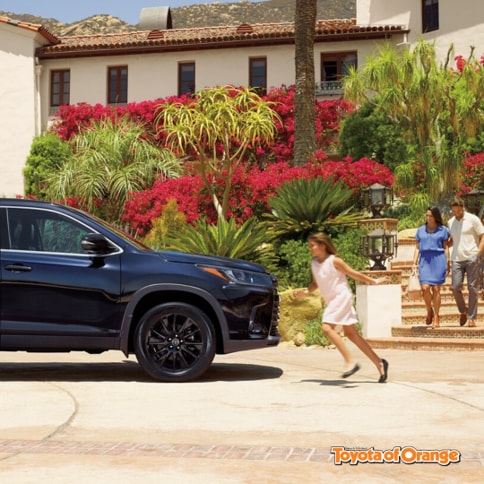 Obviously, when you have a family to consider, your priorities begin to adapt to that. It does not matter whether you are a newbie parent expecting your first child, or you are expecting your second, third or even fourth!
Also, when your family is a priority, you want to meet the special requirements to make sure your children stay comfortable, happy and safe. These are the most important features to look for when you are looking for a new car at a Toyota dealer serving Anaheim.
Fortunately, a Toyota dealer near Anaheim will have several Toyota models that meet your family's needs and demands. So, if you are thinking about an SUV, minivan, or even a sedan, Toyota will have a model that performs extremely well for a family, regardless of the size. If you need advice on selecting the model that is perfect for your family, a Toyota dealer near Anaheim can recommend the best Toyota models for you.
2019 Toyota Highlander
For years, the Toyota Highlander has been a family favorite. It isn't surprising either since the Highlander provides reliability, lots of safety features, a spacious interior, and a selection of full-efficient powertrains, including a hybrid! All of these characteristics make the Highlander one of the best family vehicles.
The Highlander provides laid-back comfort, and a selection of bench seats in the second and third rows for 8 passenger seating, or captain's chairs in the second row, so you can fit up to seven occupants. The Highlander's seats are comfortable so that you and your little tots feel good during your long journey. The two rear rows fold flat, which makes it a breeze to load massive items, and there is a lot of cargo area for all the baby gear, even when the seats are up or tucked away.
Additionally, the cargo area comes equipped with four tie-down hooks and lights. Toyota was considerate enough to include storage solutions in the cabin, along with an in-dash shelf designed to contain small electronics which makes it easy to maintain cables in an organized manner, with a 24.5-liter roll-top center console and eight cup holders as well as four bottle holders.
2019 Toyota Sienna
The Toyota Sienna is the perfect family minivan and is available in the all-wheel-drive system, which is a blessing when winter comes rolling in. The engine is Toyota's top-notch 3.5 liter V6 that sends a powerful 296 horsepower to the wheels through an eight-speed automatic transmission.
When you get inside, the second-row captain's chairs, which have adjustable ottomans, are available instead of the removable 3 seat middle bench, and there is also a system called Driver Easy Speak that allows the driver to communicate with rear passengers through back speakers. It is an effective, stress-free and fun way to talk to the youngsters in the rear, especially when they are deep into the Disney channel.
The 2019 Toyota Sienna has easy-to-clean seat fabric in the LE model, six cupholders, five USB ports onboard, 4G LTE WiFi, and a 360-degree camera system that is advantageous when having to back out of your driveway with the distractions of rowdy children. Also, the Sienna comes standard with Toyota Safety Sense which is a standard suite of safety-enhancing technologies that consists of pre-collision braking with pedestrian protection, lane-departure assist, and adaptive cruise control.
2019 RAV4
If you are looking for an affordable SUV that is the ideal family vehicle and provides you and your family with all of your desired creature comforts, then look no further than the 2019 RAV4.
The Toyota RAV4 comes equipped with a 2.5 liter, four-cylinder engine that produces 176-horsepower and 172 pound-feet of torque. This is sufficient juice to take this SUV above its competitors and let it provide 23 mpg in the city and 30 mpg on the highway. If you want to go slightly lighter with fuel consumption, Toyota can offer the 2019 RAV4 in a hybrid version. It also has a 2.5-liter engine and provides 34 mpg in the city and 30 mpg on the highway.
If you are planning a family getaway and want to bring a small recreational vehicle with you, you will be happy to learn that the 2019 RAV4 can tow up to 1500 pounds. Additionally, the Toyota RAV4 is a compact crossover that can seat five passengers. There is a folding bench seat in the second row which makes this an innovative, configurable solution for small to medium-sized families.
There is a six-way adjustable driver's seat that comes standard in the LE and lumbar support that comes with the Limited model. This way, you can stay comfortable while you drive many hours with your children as you shuttle them to and fro their activities. Furthermore, the RAV4 has loads of cargo space for the average family. When all five seats are occupied, there is 38.4 cubic feet of space in the back. When you fold down the second row of seats, you increase the cargo area by up to 73.4 cubic feet of cargo space.
The RAV4 comes with other goodies such as a rearview camera, front and rear parking sensors, and a 350 degree Bird's Eye monitor. Also, the RAV4 comes equipped with a rear cross-traffic alert and blind-spot detection - efficient tools that help keep you safe even when your mini passengers are distracting you.
Plus, the 2019 RAV4 has lots of passive safety features that can keep you and your younger passengers safe on your journey. Furthermore, the 2019 RAV4 is considered the safest compact SUV on the road because of its abundant list of safety features such as the standard Toyota Safety Sense (TSS 2.0) suite that includes Automatic High Beams, Pre-Collision System with Pedestrian Detection (also available with Bicyclist Detection), and Dynamic Radar Cruise Control.