Unfortunately, many automakers forgot about sedan lovers because they are simply focusing on SUVs and neglecting midsize sedans. Thankfully, Toyota is still thinking about its mid-size vehicle clientele. When you visit Toyota dealers in Orange County, you can check out the 2020 Toyota Avalon.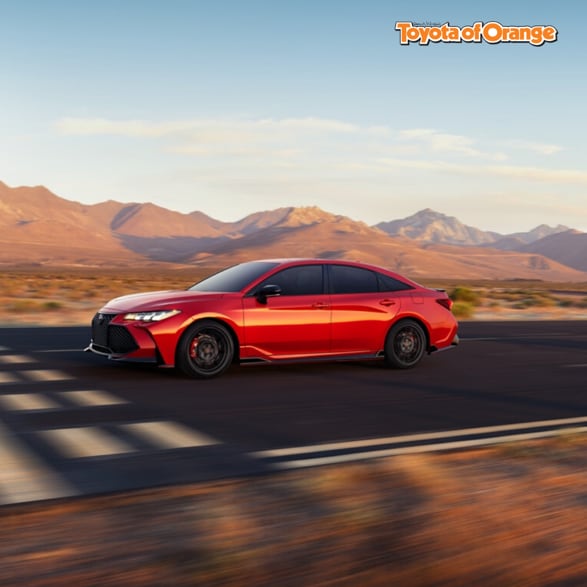 Driving
Everyone at Toyota of Orange can't get enough of the 2020 Toyota Avalon's powerful 301 horsepower V6 mated to a smooth-shifting transmission. The Avalon has a good "get up and go" force. Also, it is comfortable to use in many situations from long road trips and afternoon cruises to everyday commutes and small errands around town. The vehicle has good braking, which results in comfortable daily use.
The 2020 Avalon has enjoyable handling and drivability. Although Toyota dealers in Orange County remind us that the 2020 Avalon is technically not a sports sedan, this vehicle handles twisty roads with great ease considering a vehicle of its size.
The Avalon's agile handling and quick steering are up for the challenge of dashing and zooming along a curvy road. Also, the TRD model for 2020 has a sport-tuned suspension.
If you want a relentless combination of performance and comfort, you should think about getting the top Tour trim. It comes with adaptive dampers that cam the ride or sharpen the handling at just the press of a button, which is a rare and much-appreciated feature for this kind of cruiser.
The 2020 Toyota Avalon features tangential vents on the sides of its front bumper, an available rear spoiler as well as a rear diffuser and even underbody panels to shave off some drag to 0.27 which results in better fuel efficiency and improves vehicle quietness.
The Adaptive Variable Suspension gives instantaneous dampening adjustments to help maximize handling. This is amplified in Sports Mode with a higher range of damping force to provide more stability no matter what road you are on.
The Sports-exclusive sound is found on the Avalon Touring and XSE. The Engine Sound Enhancement (ESE) increases the engine's voice through the vehicle's audio system. Also, the Intake Sound Generator and sport exhaust generate an aggressive sound during acceleration.
Technology
The 2020 Avalon comes equipped with Toyota's Entune system with a 9-inch touchscreen. There is Apple CarPlay but Android users are unfortunately left out. With Apple Carplay compatibility you can hook up your iPhone with Avalon's audio multimedia system to get directions, make calls, send and receive messages, and listen to music while you keep your hands on the steering wheel and your mind focused on the road.
Additionally, there is Toyota Remote Connect that helps you control the Avalon from your Apple Watch or compatible smartwatch. Just by using touch or voice commands, you can find your vehicle, lock or unlock the doors, and even start the Avalon's engine!
The infotainment system's display is bright and responds well to inputs. Also, the vehicle has one USB for data and four 2.1 amp power only USBs - there are two in the front and two in the rear. The front console also has a wireless charging pad.
The JBL Premium Audio System has 1200 watts, 14 speakers, 7.1 channel and high-quality hardware, software and structural engineering for awesome sound that makes every drive amazing.
The 7-inch Multi-Information Display provides all the important information you need in a glance. The information cluster is easy to use and can be customized to show how much fuel you have left, check your current mpg, get turn by turn directions and lots more on one display!
There is signature lighting with sequential turn signals that you and fellow drivers will enjoy. The sophisticated LED front lights and rear taillights on the Limited and the Touring feature sequential turn signals that give the Avalon a premium experience.
Comfort
When it comes to comfort, the 2020 Avalon is probably the main reason why you would even consider such a large sedan at Toyota dealers in Orange County. No matter what seating position you settle for, they all give enough cushion and support for long drives or short cruises. The leather upholstery is extremely soft and provides the sensation that you are sitting in a luxury car but didn't have to pay exorbitant prices.
You will notice right away on your test drive that the 2020 Avalon has an insulated ride that protects you from harsh roads. Also, the car cabin is nice and cozy because of the climate control's rapid heating and cooling.
Everybody loves the Avalon's roomy and user-friendly cabin. Tall occupants will appreciate the abundant legroom, the driving position is excellent because of its slew and depth of adjustments, and visibility is good in the front and reasonable to the sides and over the shoulder.
The Avalon's cargo space has a wide trunk opening, broad floor, and convenient loading height. There are many small cubbies, lots of cupholders, and a center console that's sizeable and deep. You might think the door pockets are average, but there are enough options that those shouldn't be a concern to you.
If you are traveling with a young child, you will appreciate the fact that the vehicle comes with child safety seats. The car seat anchors are a snap to access, and the enormous rear bench has enough room for just about any kind of seat.
If having too many wires around annoys you, the Avalon features an available Qi-compatible wireless smartphone charging station. All you have to do is place your Qi-compatible device underneath the center stack's non-slip surface to easily charge it up. And don't forget, that the 2020 Toyota Avalon is equipped with four USB 2.0 ports which lets anyone find a connection from any seat.
Overall
The 2020 Toyota Avalon is a great mid-size car that provides an uncompromising blend of performance, comfort and nifty gadgets. Tons of legroom and cargo space, the smooth acceleration and the high-class quality materials throughout the vehicle within the Touring trim makes you wonder why so many people are lining up to get an SUV, when they can settle for a sedan like the 2020 Toyota Avalon!