Cars for sale in Orange County like the 2020 4Runner and the 2020 Tundra are both available with some cool updates and additions that will make you want to buy one of them. They come in various trim levels, but perhaps the trim that stands out the most for both models is the TRD Pro. Let dealers of cars for sale in Orange County take you through the similarities and differences between these two models.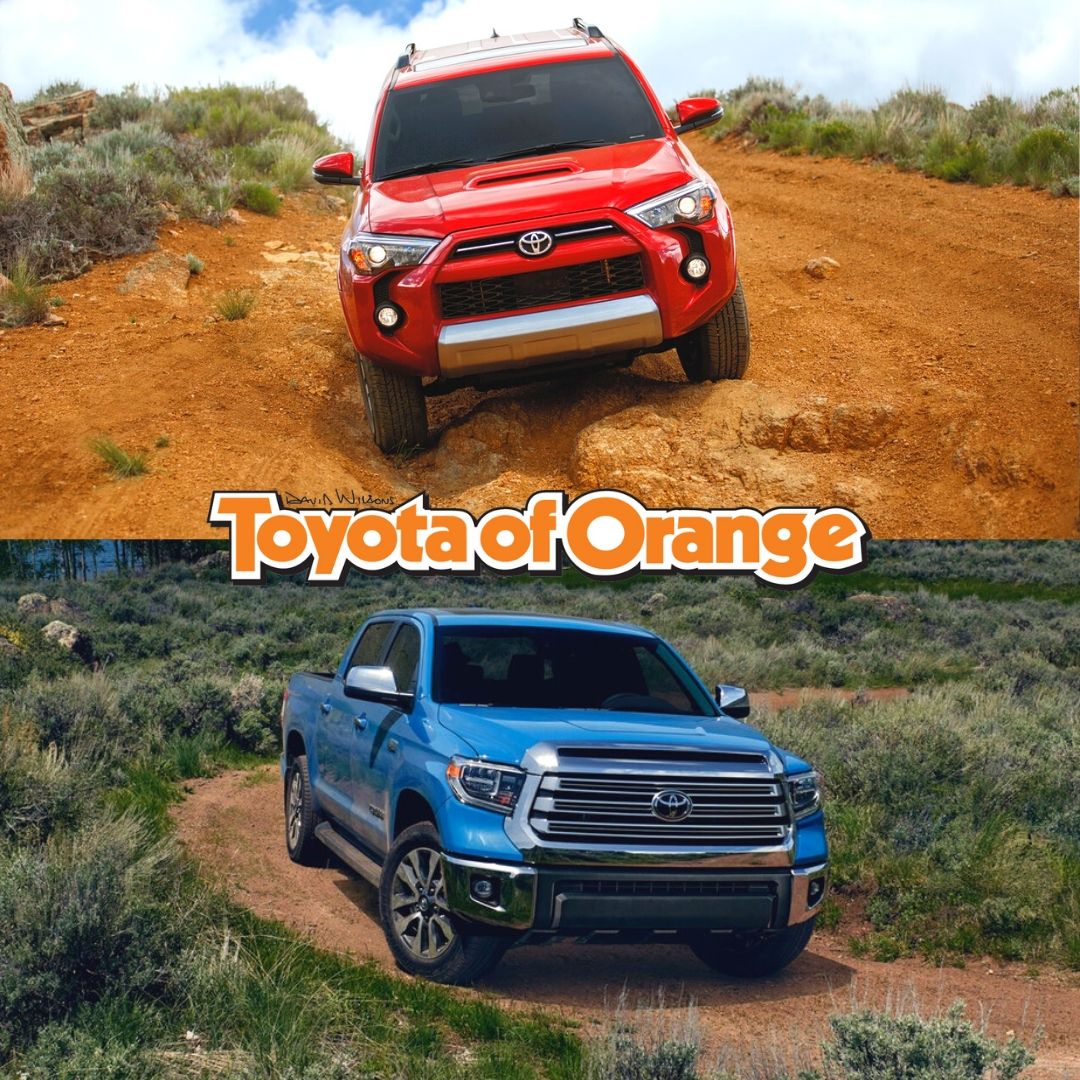 Performance:

2020 4Runner versus 2020 Tundra
Performance is the first aspect to consider, especially when you are potentially seeking cars for sale in Orange County like the truck or SUV. Customers want to know how the vehicle drives on and off the road. To begin with, the 4Runner pairs up to a 4.0 Liter V6 engine with a 5-speed automatic transmission. Additionally, the vehicle produces 270 horsepower and 278 pound-feet of torque.
However, if you are looking for a vehicle with a lot of muscle, then the 2020 Toyota Tundra is probably more your style. It provides an incredible 381 horsepower and 401 pound-feet of torque that comes from the Tundra's 5.7-liter V8 engine and 6-speed automatic transmission. As a matter of fact, experts of cars for sale in Orange County say that the Tundra is the most reliable and trustworthy engine in Toyota's fleet.
Although the 4Runner and the Tundra are two models that were built to handle off-roading or rocky inclines, the 2020 4Runner TRD Pro provides a few tools that the Tundra does not have available.
The 4Runner includes multi-terrain select, which allows the driver to choose the type of ground they are traveling on. These driving modes can account for loose gravel, mud, sand, rock, dirt, and more. Furthermore, the 4Runner's crawl control is a low-speed cruise control that allows the driver to concentrate on steering through each hazardous obstacle.
Cab Configurations:

2020 4Runner versus 2020 Tundra
For 2020, the Tundra TRD Pro is available as a CrewMax, just like in previous years, and also as a Double Cab configuration. The CrewMax offers a very spacious back seat area with 42.3 inches of legroom and a five and a half bed length. On the other hand, the Double Cab provides drivers with a longer bed length and a little less legroom.
The 2020 4Runner has two rows of seating with 32.9 inches of rear-seat legroom. Toyota offers third-row seating configurations for many of its trim levels; however, keep in mind that this is not an option for the TRD Pro.
Towing Capacity:

2020 4Runner versus 2020 Tundra
Towing capacity is what you should really focus on if you have some significant items to pull and one of these vehicles might tempt you because of their remarkable towing capacities. The 2020 4Runner TRD Pro has a towing capacity of 5,000 pounds just like all other 4Runner trim levels.
As you can imagine, the full-sized 2020 Toyota Tundra is set to pull much heavier things like larger trailers, boats, and campers. The Double Cab TRD Pro has a towing capacity of 9,900 pounds, whereas the CrewMax has a towing capacity of 9,200 pounds.
Interior Highlights:

2020 4Runner versus 2020 Tundra
Both models have standard smart key push-button start with an auto-unlock feature on the front driver as well as the passenger sides. This provides an extra layer of convenience and safety.
The multimedia enhancements to the 4Runner and Tundra make it enticing enough to upgrade to the 2020 model year, just to get your hands on all the cool tech features. Both have systems that feature Toyota Premium Audio with 8-inch touch screens and dynamic navigation.
There is a big demand for Android Auto and Apple CarPlay to be in every Toyota model. Fortunately, the Japanese car manufacturer has been listening to its customers' wishes and has placed these applications in both the Tundra and 4Runner across all trims.
There are some differences when it comes to seating styles. The 2020 4Runner's seats are made with SofTex, which is synthetic leather. Also, the 4Runner has heated front seats, an 8-way power driver's seat, and a 4-way power passenger seat.
The 2020 Tundra comes equipped with heated leather seats, a 10-way power driver's seat, and a 6-way power passenger seat. Both the 4Runner and Tundra have black seats with red contrast stitching that feature "TRD Pro" logos.
What To Expect For the Tundra and 4Runner in 2021?
If you are a die-hard truck and SUV buyer, you are going to love the special editions that are coming out in 2021. The Chicago Auto Show has six new offerings for the Tundra and the 4Runner. Besides the darkened and mysterious looking Nightshade Editions, there are the intriguing Trail Editions.
As the name implies, Trail Edition packages are marketed to people who are outdoorsy. All are based on SR5 models with available exterior colors such as Army Green, Cement, Midnight Black, and Super White. All models will have black badging outside and inside the vehicle as well as black seats with tan contrast stitching.
The Tundra Trail Edition has a chrome grille, which is found on the upscale 1794 model. It has unique wheels and features a lockable bed storage with insulation on the driver's side so it can function as a cooler. Also, it is available in either two-wheel or four-wheel drive.
If you go for the 4Runner Trail Edition, you will be happy to know that it comes with its own set of TRD Wheels. Although it does not have a pickup bed for cargo, it utilizes a Yakima roof-mounted cargo basket. Inside, there is a sliding cargo tray and a 40-quart cooler that is custom-built for the 4Runner. It features a lockable lid, tie-down straps, integrated bottle openers, built-in drain, and comes color-keyed to the exterior on select models.