At Toyota dealerships in Orange County, you will find that the 2018 Toyota Camry sticks out from the rest. It is Toyota's most iconic midsize sedan to date. In 2018, the Camry went into its eighth generation and its 35th year in existence. Over the years, the Camry has managed to stay relevant in an ever-changing market and the 2018 edition is no exception.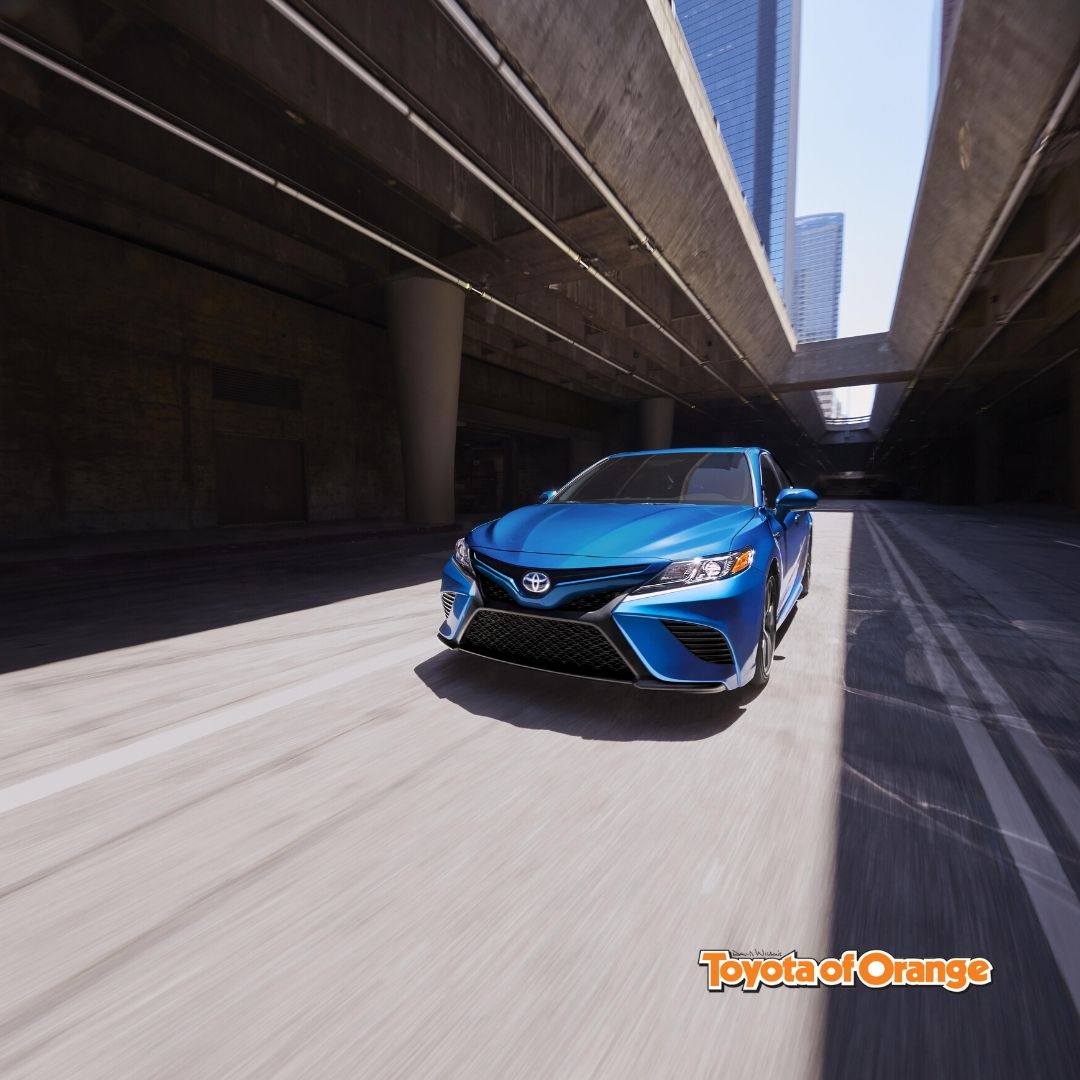 Driving
The 2018 Camry has three available powertrains. The most popular is the standard 2.5-liter 4-cylinder that has 203 horsepower (206 in XSE models) and earns up to 41 mpg. The most powerful Camry is the V6, with 301 horsepower. Both of those engines are mated to a new 8-speed automatic transmission.
The 2018 Camry Hybrid pairs a 2.5-liter 4-cylinder gasoline engine and a battery-powered electric motor for superior fuel economy of up to 53 mpg. Camry Hybrid LE models actually use a premium-priced lithium-ion pack, while the higher-trim Camry Hybrid SE and XLE variants use a nickel-metal hydride battery. Additionally, all Camrys are front-wheel drive.
The 2018 Camry at used car dealerships in Orange County has a lot of energy and attitude, which is very evident in the vehicle's steering and handling capabilities. The sales staff at Toyota dealerships in Orange County explain that the 2018 Toyota Camry has a 2.5-liter cylinder engine that has a good push in many conditions and the eight-speed automatic transmission also works well with the system.
When it comes to acceleration, the four-cylinder engine provides athletic power in the upper rev range to give the vehicle good pep and zip when you have to step it up to keep up with highway speeds. During a few test drives at Toyota dealerships in Orange County, sales representatives found that the Camry takes 7.9 seconds to reach 60 mph, which is a good average time for a midsize sedan.
The brakes are easy to regulate, and the pedals have excellent pressure since they do not feel too firm or too spongy. Also, if you have to make a quick stop, the brakes have a notable response time. On average, the Camry stops from 60 mph in 122 feet.
The steering wheel in the 2018 Camry is conveniently designed with a well-weighted pull and a good on-center feel. The car's steering allows drivers to smoothly navigate around corners exceptionally well, especially for a midsize sedan. There isn't much body roll and it has a reasonable tire grip.
Technology
The 2018 Camry SE models have sportier exterior aesthetics, 18-inch wheels, paddle shifters, sport front seats, and a sport-tuned suspension. XSE and XLE models have dual-zone climate control, 7-inch configurable instrument display and 8-inch central touch screen, leather seats, selectable drive modes (Eco, Normal, Sport), blind-spot monitoring, panoramic glass roof with a moonroof, and electric parking brake.
Among the various options, there is a JBL premium audio system with navigation, bird's-eye camera, Qi-compatible wireless phone-charging cradle, and a head-up display. The standard Entune 3.0 infotainment system has built-in Wi-Fi and offers Siri Eyes Free and Google voice control.
If listening to tunes on the road is important to you, you will be glad to learn that the audio system layout is easy and effective. There are robust, well-labeled buttons and a clear display that you can view even with direct sunlight.
You can pair your phone through the vehicle's Bluetooth, which is a fairly straightforward process. All you have to do is connect your phone's Bluetooth to the car's Bluetooth feature and connect a cord to the car's Entune 3.0 system to get access to many technological features.
The vehicle has impressive safety and driving aids that come standard with each model. Even the most reasonably priced model has dynamic radar cruise control, the ability to detect pedestrians or objects and apply the brakes, the lane-keeping system to keep the car from drifting, and automatic adjustable high beams.
Comfort
Inside the 2018 Camry, you will be welcomed with its large and comfortable seats, pleasant ride, and impressive climate control. These features make the Camry suitable for many kinds of drivers and ideal for long trips.
The seats have a good combination of bolsters and medium-firm leather padding with stiff leather. The rear seat is vertical, with a flat bottom and contoured seatback.
Also, the vehicle provides a smooth ride as it does a great job of dampening large and small bumps. Overall, the vehicle feels steady and sturdy.
There are two knobs to help you adjust the temperature. If you want to manage other controls, there are buttons that correlate. This gives the car a clean, simple, and effective layout. The digital display doesn't fade, so it is always easy to read. The climate control system works effectively even in sweltering heat and you won't even hear it since it is so silent. If you go for the option package, the passengers in the back will also get to enjoy the cooling effects with the addition of two vents.
When you glance at the car's interior, you will see that the Camry incorporates the basic elements very well in the cabin. It accommodates passengers of many sizes and shapes with ample space, has convenient knobs and buttons to control automatic functions, and is a piece of cake to drive on a daily basis.
The Camry's cargo area gets the hauling job done. There is a large space in the back that opens up wide, which makes fitting bulky items a breeze. Also, the rear seats can fold down to fit longer items. The 2018 Camry provides enough storage options to cater to everybody's needs.
If you travel with small items, the Camry comes equipped with a forward center console bin, which is good at concealing precious items. The console bin that is located near the driver's elbow is a relatively good size. Furthermore, the door pockets in the front and rear are perfect for small water bottles.
The car's sizable trunk and 60/40 split-folding back seat with trunk-mounted release handles make it a cinch to carry around your goods.
Overall
Many people want to buy a Toyota Camry since it is a classic sedan with a long history of keeping customers happy. If you need a car for your daily commutes that can provide many functions, a 2018 Toyota Camry may be the vehicle to meet your driving needs.