If you are looking for a truck that can handle some serious off-road terrain, head on down to Tustin car dealerships and hop in a 2019 Toyota Tacoma TRD Sport V6 Truck Double Cab for the ultimate test drive. A vehicle that can adapt itself on all terrains, is perfect for towing as well as hauling.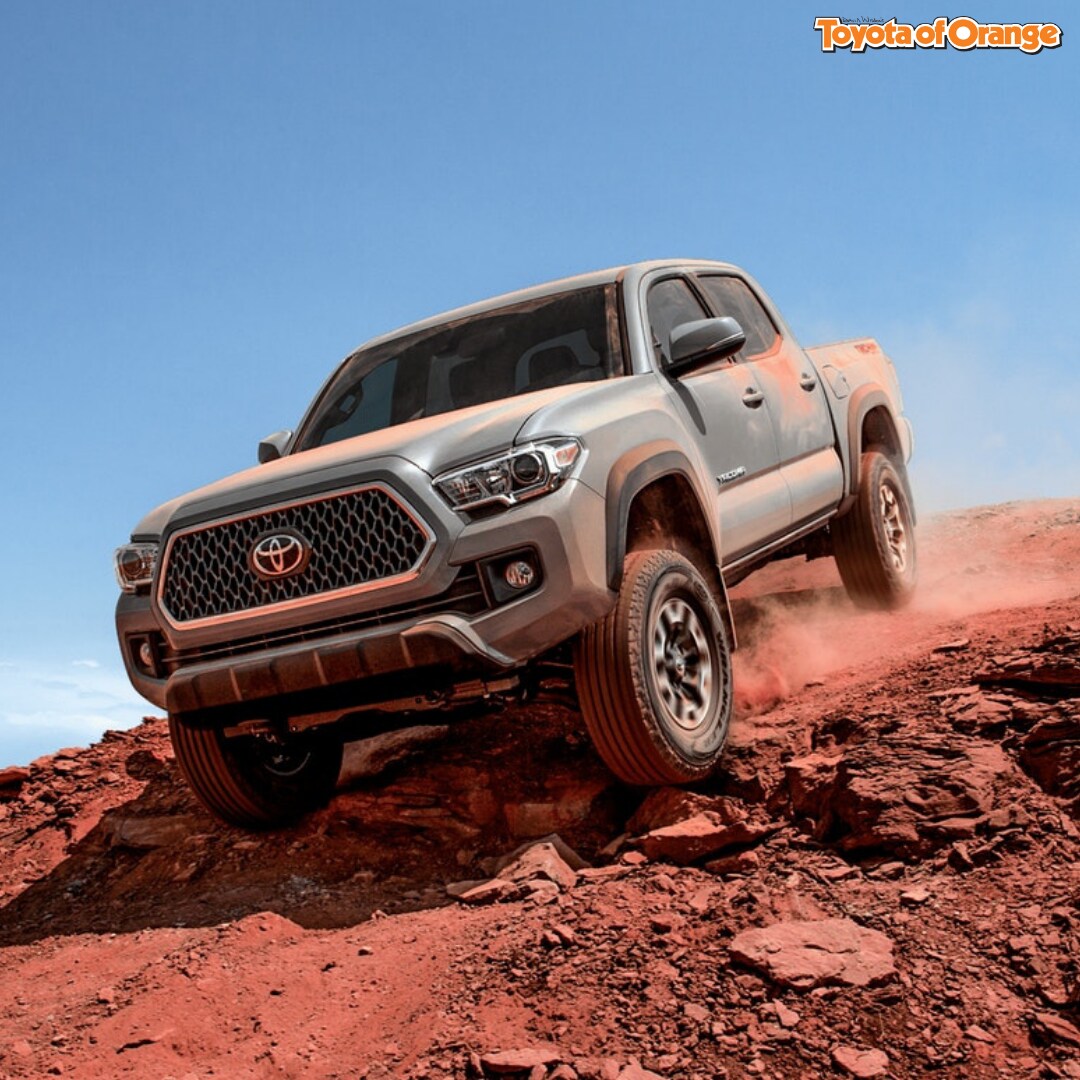 Driving
When Tustin car dealerships open up the hood of this compact pickup truck they find a 3.5-liter V6 engine, which produces 278 horsepower and 265 pound-feet of torque. A six-speed automatic transmission comes standard; however, a six-speed manual is available for those who prefer a sportier drive. That extra muscle you get from the V6 engine makes towing, passing, and driving uphill a lot less challenging.
It has an EPA estimation of 19 mpg in the city and 24 mpg on the highway. The car handles the road well considering its class of a vehicle and it remains under control on highways as well as twisty roads. A standard feature is a rear-wheel drive, but four-wheel drive is optional. The Toyota Tacoma can haul up to 1,620 pounds and tow up to a colossal 6,800 pounds.
Technology
Toyota didn't short change the 2019 Toyota Tacoma TRD Sport V6 Truck Double Cab on technological features with its integrated navigation to help you find where you have to go and a 7-inch touch screen entertainment system, Toyota Entune System, to keep you stimulated and happy while you are on the road. There is an optional JBL audio system in case you want the ultimate truck-based system for your on the road tunes.
It has sport-tuned suspension and wireless key charging to provide maximum convenience. There are indicators on the side mirrors and blind Spot Assist. The smart key system allows you to just place your finger on the door's handle where the two slots are located to lock the car door. Placing the hand inside the car's handle will unlock the door. Also, the 2019 Toyota Tacoma TRD comes with Siri Eyes Free, a six-speaker stereo, push-button start, three USB ports, and Bluetooth. There are power windows as well as window adjustment buttons to control these features with ease.
You will be happy to hear that Toyota didn't skimp out on safety features either. While competing models make driver aids such as the ones listed below optional, exclusively for higher trims, or they left them out completely; Toyota made them a standard feature. Tustin car dealerships are proud to announce that the 2019 Toyota Tacoma TRD Sport V6 Truck Double Cab comes with a safety suite that consists of automated emergency braking, lane departure warning, a drowsy driver warning system, adaptive cruise control, and automatic high beams.
Comfort
The 2019 Toyota Tacoma offers some epic height with its 17-inch wheels, which provides the driver a great view of the road. The driver's seat has manual adjustment with lumbar support and the car can seat five adults. The seats are made of embossed leather and there is a sunroof, that is controlled by the center panel above, for some hits of vitamin D!
The driver's instrument panel has some soft blue lighting which makes it easy to see in the dark and won't hurt the eyes. There is a cluster of buttons on the right-hand side of the steering wheel to help the driver navigate through some options such as readouts on lane departure assist, compass, radio, tire pressure, messages and other settings without any distractions while driving.
The steering wheel also provides easy access to the Lane Assist as well as dynamic radar cruise control. The left side has the hands free calling button to allow the driver to make spontaneous calls when driving, mode change for AM/FM and Sirius XM radio, voice command, and radio changer with volume control.
You will always feel comfortable in the Toyota Tacoma's cabin with dual-zone climate control and heated seats. There is a button located on the bottom of the dashboard to allow you to open the back window with ease and without any annoying and time-consuming fidgeting. The Qi wireless charger to charge your phone while you are on the move.
In the front, there are two adjustable cup holders so you can place either large or big cups/bottles. If two cup holders were not enough there is another one in between the driver and front passenger seat along with a good-size center console that opens up to provide some great cubby space to store your belongings and two more USB ports. Yet again, there are another two cup holders in the back of the driver and front passenger seat.
The back of the vehicle has a locking tailgate and a rear back up camera to help you ease out in reverse without any hassles or extra stress. There is an adequate towing hitch with a 4 and 7 pin connector. The gate is easy to lift and doesn't slam down. There is a 5-foot or 6-foot-1-inch bed that has four tie-down points and you have the possibility of having adjustable tie-down points all around the box. There is a plugin, small enclosed storage space, and overall, ample space to transport items.
Overall
If you consider yourself a maverick, a non-conformist and someone who likes to take chances, perhaps you should purchase the 2019 Toyota Tacoma TRD Sport V6 Truck Double Cab. Why? Because for starters you don't have to follow the same path that everybody else is taking. Thanks to the car's off-road drive feature you can make your own path and find roads that are tougher, undiscovered, more challenging as well as exciting for you.
Its V6 engine gives ultimate performance when you test it out on its towing capabilities. It doesn't lack on safety because it has all the safety features you need. When you are uncovering new territory with your 2019 Toyota Tacoma TRD Sport V6 you can stay rest assured that the safety package is designed to keep driver's awareness on the road. Make sure to check what you are missing out on at Tustin car dealerships.