Tustin Toyota service thought they had seen every type of car that Toyota could have dreamt of developing, but that was until they came across the 2019 Toyota Mirai Base Sedan. Why has this car boggled their minds? Well, because the 2019 Toyota Mirai is an automobile that runs on hydrogen and its only emission is water! Well, how can anybody not want to know more about this extraordinary automobile?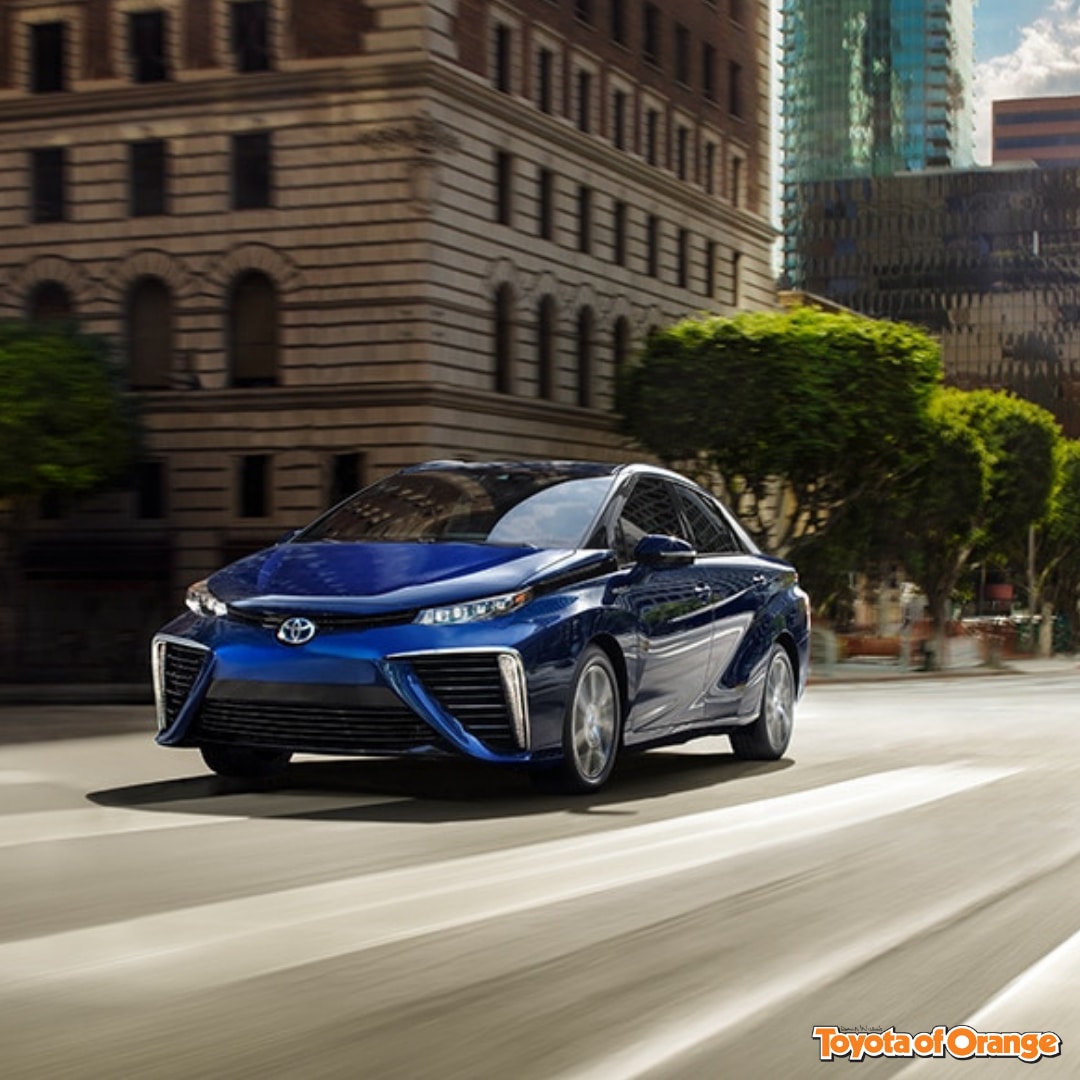 Driving
When you think about a vehicle that operates on hydrogen, you have a sense that living the "Jetsons" life is not too far of a reach. For some it can be scary, for others, it's pretty cool! If you are a person who can't make a decision on which trim you like a car in, the 2019 Toyota Mirai has taken that burden right off from your shoulders because it only comes in one specification. All you have to do is choose your preferred color.
Many of you out there are probably asking, "do hydrogen power points actually exist?" For drivers in the Golden State (that is California's nickname because of all the gold found in 1848) there is a hydrogen fueling infrastructure already in place. Therefore, if you are considering the 2019 Toyota Mirai from Tustin Toyota service all your bases are covered in California.
Driving a 2019 Toyota Mirai is a very futuristic experience because it is powered by a hydrogen fuel cell that switches it over into electricity and water. The electricity travels towards a small battery that operates the motor while the water exits from the tailpipe as moisture.
When you try to match battery electric vehicles with the 2019 Mirai, it's like comparing apples with oranges. There is no comparison since battery electric vehicles need lots of charging to keep them in operation, whereas the Mirai's hydrogen fuel tanks can be replenished at a similar quantity of time that it takes to fill up a traditional car's gasoline tank.
Filling up at the station just got more interesting and easy too because all you have to do is swipe your payment card that Toyota has so graciously made available for Toyota Mirai buyers. Toyota has provided three years' or $15,000 worth of fuel for 2019 Mirai customers. So, once you get into your revolutionary car, don't be shy to grab that nozzle and let your new ride soak up all the hydrogen it needs!
When you get past the fact that the Mirai has a futuristic powertrain, the car basically drives like any other sedan. It has 151 horsepower, 247 pound-feet of torque and weighs a hefty 4,097 pounds. The EPA provides the Mirai a 66 miles per kilogram of hydrogen (mpkg) estimate. You will definitely hear some ticks and whirring sounds from the fuel cell, but that is it.
Other than that, the 2019 Toyota Mirai is an extremely quiet ride, just like a battery-electric vehicle. If you are looking for a car with a lot of fire in its belly that can offer some speed, then this is not the car for you. It may not be the fastest car to drive, but it is very suitable to commute you back and forth to work, errands and other necessary appointments.
Technology
Tustin Toyota service likes how well-equipped the 2019 Mirai is. It has driver-assist features, a JBL audio system, and Toyota's Entune System which provides integrated multimedia navigation and telematics. Also, you can't have a car of the future without keyless ignition and entry, blind-spot monitoring with rear cross-traffic alert, adaptive cruise control, parking sensors, and a navigation system.
The technology keeps on rolling with Toyota's Star Safety System, which is a suite of safety features for braking, stability and traction control. This consists of Enhanced Vehicle Stability Control (E-VSC)1, Traction Control (TRAC), 4-wheel Anti-lock Brake System (ABS), Electronic Brake-force Distribution (EBD), Brake Assist (BA)2 and Smart Stop Technology® (SST)3.
The car's Blind Spot Monitor (BSM) can detect a vehicle and illuminate a warning indicator on the corresponding side-view mirror to help let the driver know when it is safe to change lanes. When reversing out of a driveway or parking spot, the Rear Cross-Traffic Alert (RCTA) gives audible and visual indicators to warn you of vehicles heading your way.
Comfort
The 2019 Toyota Mirai Base Sedan drives like any other traditional car. However, it provides a quieter drive, good handling, comfortable for four adults and is very unpretentious. There is a heated steering wheel, an eight-way power-adjustable and heated as well as synthetic leather seats.
Many go as far as to say that the interior of the 2019 Toyota Mirai Base Sedan gives that "Prius Cousin" vibe since it has a similar electronic shifter and two-tier dashboard. There is a button marked H20 which conveniently purges the water vapor from the car's exhaust system. This prevents you from fetching your car in the morning and slipping on a puddle of water that your Toyota Mirai has left behind overnight.
Overall
If the future excites you and you want to be ahead of the game, the 2019 Toyota Mirai Base Sedan might be the car you are looking for. This car provides the driver with a small snack size bite of what is to come in the future of the hydrogen cell vehicle.
The size of the car is similar to a Camry, and overall even though it is a hydrogen cell car, it unbelievably drives like any other regular car. It has a 300-mile range and is an interesting alternative to electric cars. The Toyota Mirai may not be the fastest and most attractive car you have ever driven, but it promises to deliver. It's a car that leaves absolutely no carbon footprint, can move at least two tons of people, and all the gear they come with. How can anybody fault a car like that?
As soon as you are ready to drive the future of automobiles, swing by Tustin Toyota service for a test drive of the 2019 Toyota Mirai Base Sedan!