At Irvine car dealerships, the name "Corolla" signifies a sensible, reliable, and fun to drive vehicle. The Toyota Corolla Hatchback can offer this and a few other welcomed surprises. Over the past 50 years, the Toyota Corolla has managed to morphe itself into many different forms. Nonetheless, it has stayed as a tried and trusted economy vehicle that is well-known for its long-lasting durability.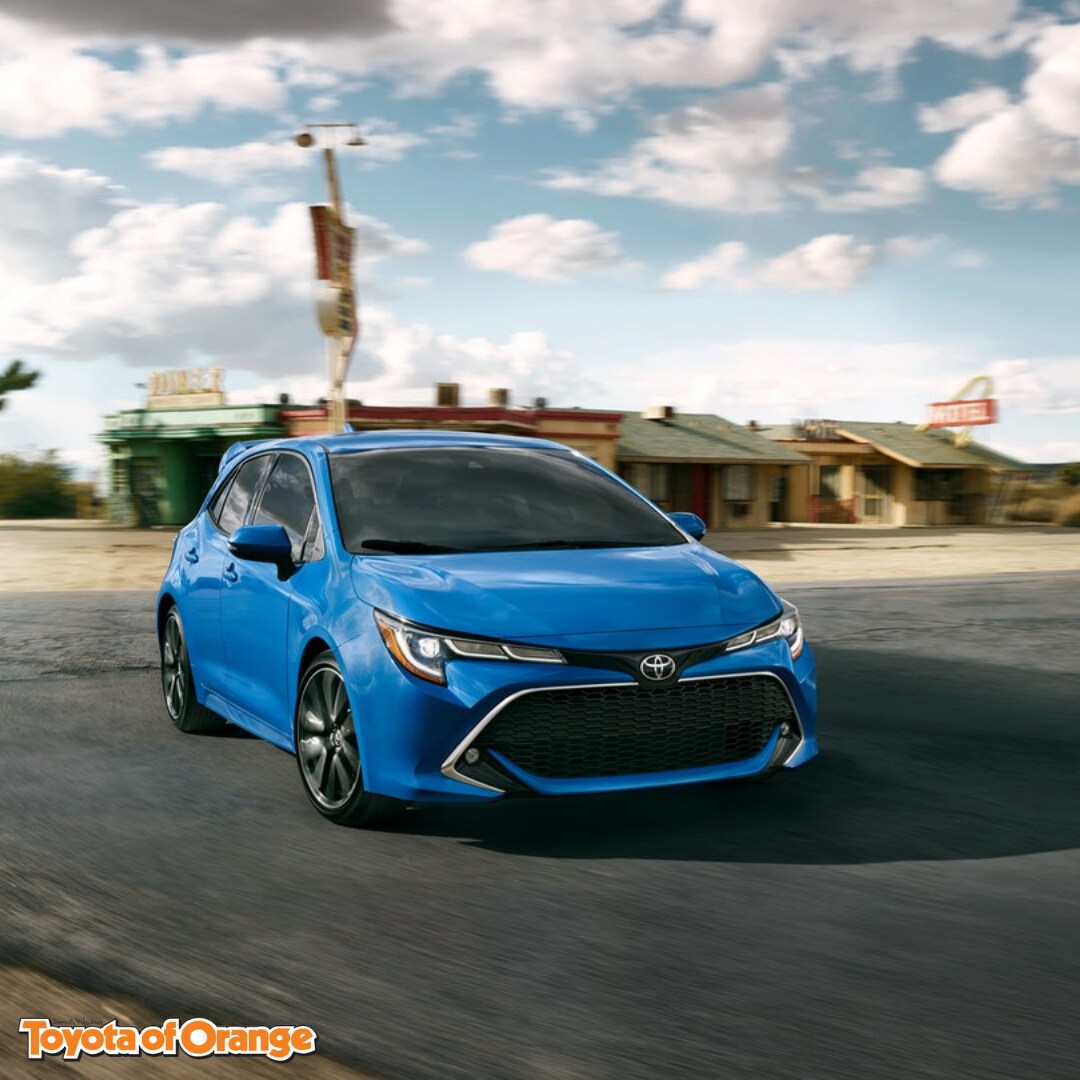 Driving
Toyota wanted to add more flair and fun to an average compact car, so they came up with their compact car formula - the 2019 Toyota Corolla hatchback. The hatchback is offered in two trim levels: SE and XSE. All Corolla Hatchbacks carry a powerful 2.1-liter four-cylinder engine under their hood. It makes 168 horsepower and 151 lb.-ft. of torque through the gearbox. The standard transmission is a 6-speed manual with sports car-like downshift revving abilities.
There is an optional continuously variable transmission that makes stop and go commutes a lot less complicated and straightforward as well as increases the fuel economy. CVT models have blind-spot monitoring available and provide full-speed performance to the dynamic cruise control. This implies that the Corolla can slow itself down in traffic to a complete stop. However, the ultimate feature of the CVT model is that there is no absence of delay at any speed. Therefore, as soon as you press the throttle, the driver immediately gets energetic acceleration. The manual SE model has a fuel economy of 28 mpg (city) and 37 mpg (hwy), whereas the CVT model has a fuel efficiency of 32 mpg (city) and 42 mpg (hwy).
Technology
The SE trim includes automatic climate control, LED head and tail lights, seven airbags, push-button start with a smart-key so you don't have to hassle with looking around your pocket or handbag to unlock your car; especially when your hands are already full. Also included is a standard 8-inch Entune 3.0 infotainment screen that features six-speaker audio, 2 USB ports, and (wait for this) Apple CarPlay! Many customers at Irvine car dealerships find Toyota's infotainment system very user-friendly and has well-organized screens with physical buttons that surround the frame of the screen.
There is an indicator in the gauge cluster to make the driver aware of which of the rear seatbelts have been fastened and are secure. This is a feature that many concerned parents traveling with children can appreciate. The Corolla hatchback has the Safety Sense 2.0 technology that consists of pre-collision warning with pedestrian detection, daytime cyclist detection, roadside detection, dynamic cruise control and lane departure alert with steering assist.
Rather than beeping to alert the driver, the system gives a visual in the gauge cluster, but for very critical lane departure warnings it will alert the driver with a beeping sound. The CVT models get a little extra automation with the lane tracing assist, that keeps track of lane markings and the car in front to keep the Corolla Hatchback in the center of its lane.
Comfort
The car's interior is made from a soft and stylish material. Buyers of the Corolla hatchback's XSE trim can enjoy stitching on the dashboard and doors. In between the front seats, there is a center armrest that slides far enough to allow the driver to rest his or her elbow while driving with both hands on the wheel. There is a leather steering wheel that has adjustable driving positions. The front seats have good lateral support and the power driver's seat includes adjustable lumbar support. The rear seats provide adequate leg and headroom for average-sized adults.
The car's interior storage includes a USB, adjacent phone corral, a typically normal-sized glove box, bottle storage located in the doors, two cup holders in between the front seats and a small cubbyhole in the center console. The trunk has 18 cubic feet of cargo space with 60/40 split seats that effortlessly fold down flat and the headrests fold forward, so you don't have to remove them. When driving there is a clear view going forward, and the extenders on the sun visors help block the view of the sun. The infotainment system is conveniently located near the driver's sightline which prevents the driver from having to look away from the road when driving.
If you want to have a better than superior Corolla Hatchback experience, the XSE trim offers upgraded infotainment with an 8-inch color touchscreen display, front seat heaters, heated steering wheel,dual-zone climate control, LED headlamps and fog lamps, LED turn signals, push-button start, an eight-way power-adjustable driver's seat, and 18-inch wheels that replaces the base SE car's 16-inch alloys.
Overall
The car handles corners well and gives a sharp and defined ride thanks to its rear suspension constructed from a sophisticated multi-link configuration. Therefore, taking the 2019 Toyota Corolla hatchback on shoddy roads won't make anyone hold on for dear life. The car has tight and stable handling as well as responsive braking.
It has an abundance of safety features and the car's Entune 3.0 audio system can work completely with voice commands too! Also, if the keys to the Corolla hatchback are going to be handed over to a younger and less-experienced driver, you will breathe a sigh of relief to find out that the 2019 Toyota Corolla also has Siri's Eyes Free System.
The appearance of the Corolla hatchback is very striking and Toyota is doing a fine job of making cars that are less boring. The car performs better in a CVT transmission, which might be a drawback for keen motorists who like the feel of a stick shift and sportier drive. Irvine car dealerships can confirm that the 2019 Corolla hatchback has nothing in common with the Corollas of yesteryear and has many amazing improvements.
Although the car has a more powerful 2.0 liter engine and is larger than its iM predecessor, it provides better EPA fuel efficiency that goes beyond many driver's expectations. In general, this car brings a fresh, clean design and provides many creature comforts and safety features that you probably didn't know you were missing out on until now!