Used cars Orange County dealership reminds us that the 2019 Toyota Sequoia TRD Sport SUV makes up part of the second Sequoia generation that started the ball rolling for the 2008 line up. The mid-noughties were the days when gas was cheap, and the sight of a smartphone made you go 'ooh and ahh". So, back in those simpler times, efficiency and technology weren't part of an influential decision to car consumers like it is today. The Toyota Sequoia of yesteryear was perfectly adequate. Luckily, Toyota has come through with its 2019 version of the Sequoia and it carries itself well in its newfound environment!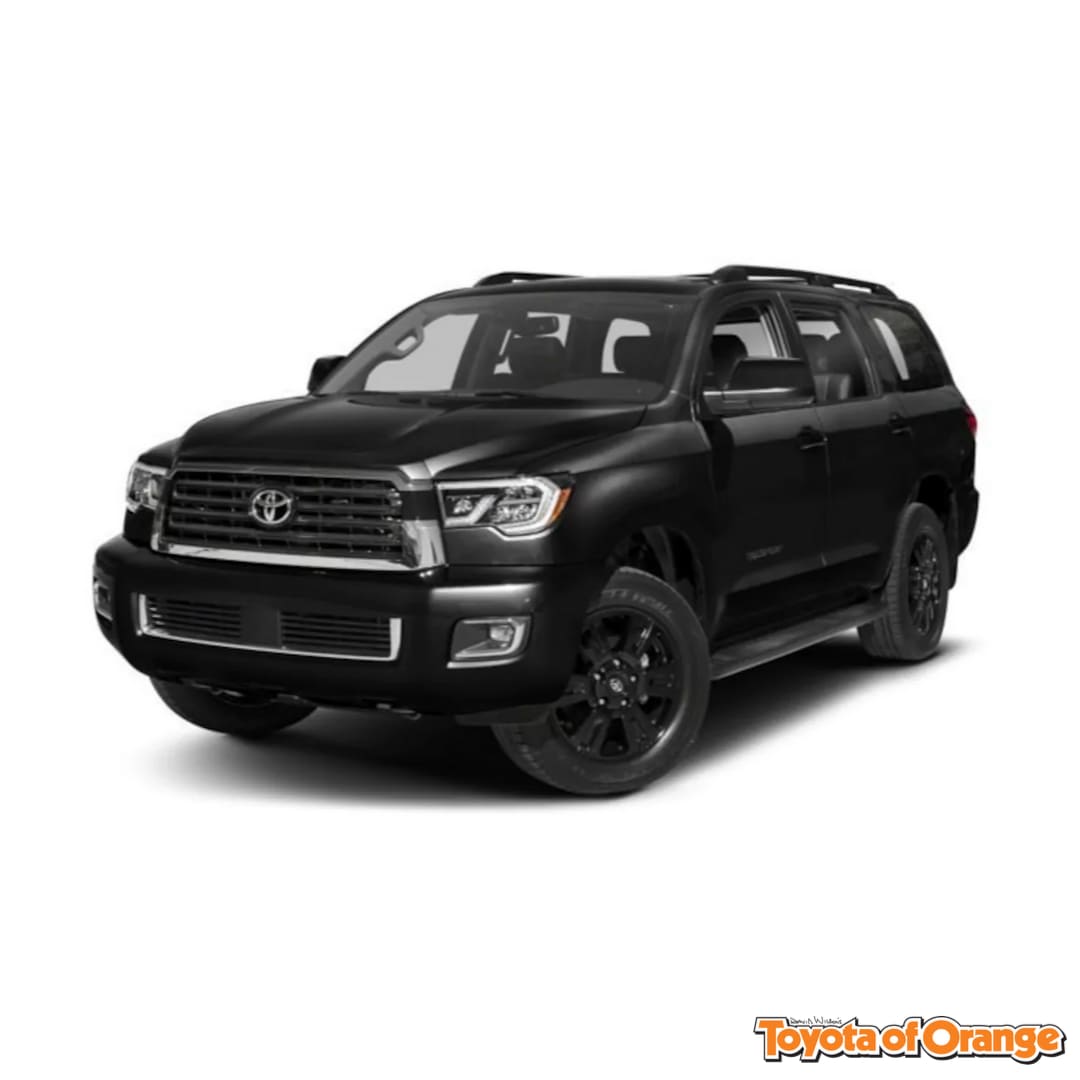 Driving
Under the hood of the 2019 Toyota Sequoia, it's carrying a 5.7 liter V8 with a six-speed automatic transmission. This vehicle doesn't stop there with 381 horsepower and 401 pound-feet of torque. It can tow around 7,000 pounds, which is good news because the car's curb weight is six thousand. Its acceleration time from 0-60 mph in 7.2 seconds, which isn't too shabby.
Considering the weight of this vehicle, it has light steering without a lot of road feel. However, it isn't going to win any competitions for being the "best automobile on a winding road", it is however very agile for its size. Now that the Toyota Sequoia has upgraded to the TRD Pro, its suspension makes hill climbs and descents a lot more stable and there is an added assurance when it comes to braking in these situations. It has a fuel economy of 13 mpg in the city, 17 mpg on the highway and 14 mpg combined.
Technology
You might be shocked to learn that you start up the 2019 Toyota Sequoia with a key, rather than the modern-day approach of keyless ignition. There is nothing wrong with that, but if you like gadgets and gizmos, the Toyota Sequoia might be a let down for you. As the people at used cars Orange County dealership mentioned, the car has everything you need for a safe and comfortable drive, but in today's car world some people are looking for more widgets and doohickeys at their disposal. On the other hand, there are some car consumers, who just want a car that is practical, safe and can tow large objects, and this is the car for that.
The 2019 Sequoia TRD Sport SUV has an instrument cluster and infotainment screen. The infotainment screen is a 6.1 screen which is quite small for such a huge car and can feel very far away from the driver and isn't centered for easy to reach while driving. If you are happy with the off the shelf Toyota home screen and graphics, then you will be fine since the Sequoia's infotainment system doesn't come with Apple CarPlay or Android Auto.
It has other basics such as Bluetooth, one USB port and one auxiliary audio jack. However, if you are still bummed out about not having any Apple CarPlay or Android Auto support, you can easily use the car's Bluetooth feature to browse your device's audio library. The back passengers can leave their iPads at home or switched off for a while as they keep entertained with the single screen DVD entertainment system.
When it comes to safety features, the 2019 Toyota Sequoia is one of the used cars in Orange County that has standard, but comprehensive safety tech features. These include automatic emergency braking, blind-spot, and cross-traffic monitoring, front and rear parking sensors, lane departure warning and adaptive cruise control.
Comfort
The 2019 Toyota Sequoia TRD Sport SUV is one of the used cars for sale in Orange County that has three rows for passengers to sit in comfortably. It can easily haul you and your family around plus any additional cargo. So, if you are looking for a car that has ample room, this SUV is the right way to go.
Starting in the front row, you have a generous amount of legroom with 42.5 inches. The second row has a little less, but still great at 40.9 inches of legroom, and the third row provides 35.3 inches of space which is ideal for stretching out in as you enjoy the comfy ride. Another plus about the third row is that it has enough space for adults, not just children or the most hooligan passengers.
Apart from all that space and big comfy chairs, the Sequoia's other strength is its ability to provide a serene ride because it can suppress the tire and wind noise. The vehicle does a good job of absorbing impacts and smaller bumps, which mainly luxury SUVs have an issue with. When you have to haul heavy loads, your comfort will not be hindered since the height-adjustable suspension helps maintain comfort.
You can imagine getting into a big vehicle such as the Toyota Sequoia is not an easy feat, but its running boards and grab handles help out a lot. The fact that the second-row seats tilt and slide make entry into the third row very accessible.
When it comes to utility, the Sequoia doesn't play any games. The second and third row can fold flat to give you the largest amount of space for its class. In total, this vehicle can provide 120.1 cubic feet of space. When the third row is just folded, you are still good with 67 cubic feet and you have space for groceries when the third row is up with 19 cubic feet. There is a power gate lifter to help you move your gear into the Sequoia. There are also a lot of cubbies in the vehicle itself to stuff and hide your belongings.
Overall
Considering the last time the Toyota Sequoia was last redesigned in 2008, it is still kicking butt and taking names in the SUV world. This is a running theme for many of Toyota's models because if it'snot broken, why fix it?
The Toyota Sequoia has a lot of space and comfort which is always great when driving on long hauls, and since it is a Toyota it will just keep driving you around till the cows come home. At the end of the day, sometimes that is all that really matters!