The 2019 Toyota Camry XSE Sedan is one of those cars that gives you tons of fun kicks while you drive! At Orange auto sales, we recognize this vehicle as an exceptional midsize automobile. It has agile handling and an energetic engine that makes it a blast to drive. Besides that, it has a comfortable ride and great fuel economy, which makes the Camry a winner in many people's lives.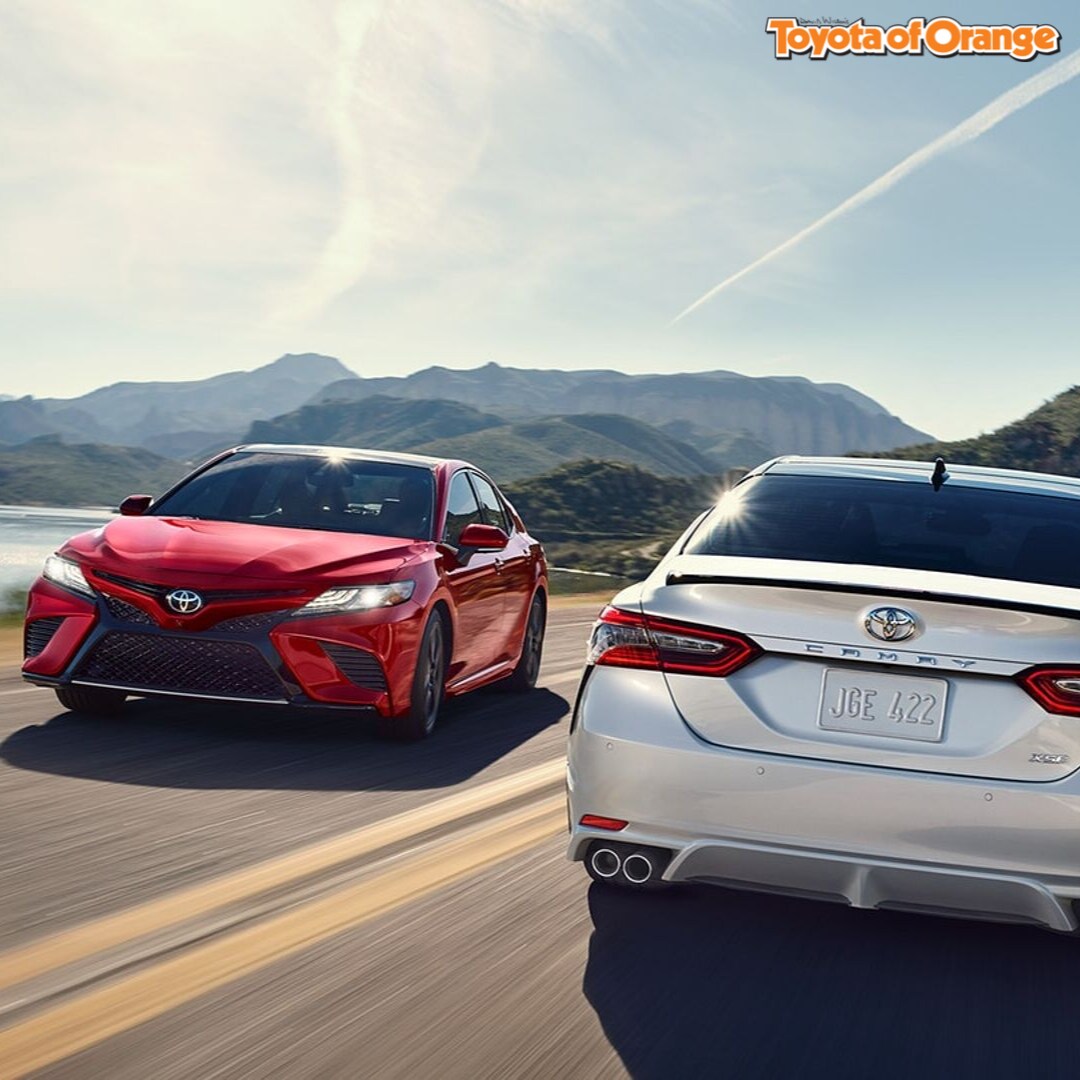 The Camry brand is still young to Toyota since the first generation started with the 2018 model year. Apart from the very welcomed standard Apple CarPlay, there are some updates to the 2019 Camry. In this model, they brought over the features that they built in the 2018 redesign such as more powerful engines, better fuel economy, improved handling, and a whole range of standard driver assistance features.
Driving
When you open up the hood and take a gander at the 2019 Toyota Camry's magnificent vital organs, you will find a 2.5-liter four-cylinder engine. Additionally, it has 203 horsepower, but there is 206 horsepower in the XSE trim.
The 2019 Camry comes with an eight-speed automatic transmission as a standard feature. Many test drivers at Orange auto sales say the engine delivers acceptable acceleration and doesn't feel like it is struggling to give you power and oomph. The car has a smooth transmission and well-timed shifts, but it can sometimes take its time to downshift.
If you want something more powerful, select a higher trim of the Camry to avail yourself of the 3.5-liter V6 engine that produces 301 horsepower. It doesn't really matter which you choose, because both come with an excellent powertrain that moves this vehicle very well in various driving conditions. However, the V6 engine provides better acceleration, but it ultimately can't compete with the base engine's fuel economy.
That being said, the Camry's base engine provides amazing fuel economy considering it isn't (nor does it try to claim to be) a hybrid sedan. It has earned an EPA estimation of 29 mpg in the city and 41 mpg on the highway. The V6 engine option can't match that fuel efficiency, but it doesn't perform shabby either with 22 mpg in the city and 33 mpg on the highway.
Customers who have taken the 2019 Camry for a test run at Orange County auto sales have commented on its smooth ride and think it is a wonderful commuter car. It shows great handling and composure on winding roads and is a joy to drive compared to many other midsize sedans on the market. There is also a drive mode selector that allows you to choose between three driving modes, which are Normal, Eco, and Sport. Depending on how you feel like driving on a particular day, you can easily change the sedan's driving performance to suit your wants and needs. Additionally, the car comes standard with front-wheel drive.
Technology
The Camry does not fall short when it comes to modern-day gadgets either. It comes standard with the Entune infotainment system, which includes a 7-inch touch screen, a six-speaker audio system, a USB port, Bluetooth, Wi-Fi hotspot, Siri Eyes Free, and Apple CarPlay.
Orange auto sales emphasize that the Camry's available features include a moonroof, wireless smartphone charging, and an upgraded infotainment system with an 8-inch touch screen, two additional USB ports, satellite radio, and a nine-speaker JBL audio system.
If you are not familiar with Toyota's infotainment system, you can rest assured that the Entune's touch screen has crisp graphics. This makes it easy to see, and it responds quickly to the user's inputs.
Also, The Entune system's menu is very intuitive which makes the system easy to navigate, but there are redundant physical controls for some functions. If you are an Apple user, you will be happy with the Apple CarPlay feature that is in the 2019 Camry; but if you are loyal to Android, you will have to wait for Toyota to install Android Auto to the Camry.
Comfort
When you are going on a long car ride, don't hesitate to take the Camry along for the epic journey. You can easily fit five people inside the Camry. The front seats have a lot of room and support, and while the rear seats have loads of legroom, if you are over six feet you might feel that the headroom is a bit inadequate.
If you are traveling with young children, you will appreciate the convenience of the two full sets of LATCH car-seat connectors the 2019 Camry comes with. The Insurance Institute for Highway Safety has given the system high ease of use rating. Therefore, you won't be struggling anymore trying to fit in car and booster seats.
Inside the Camry's cabin, it can be slightly noisy from time to time, but in general, the cabin is very nice to sit in. Throughout the cabin, you'll notice the high-quality materials, and you will find that the smart design Toyota has used is not only appealing to the eye but also very functional. The car has around 15 cubic feet of trunk space; but if you go for the base trim, expect to lose 1 cubic foot. It isn't a whole lot of space, but you can still effortlessly fit in a good shopping haul.
Overall
Another point about this car that we thought we should mention is that it is not only good for small children since it comes standard with two full sets of LATCH car-seat connectors, but it is also good for teen drivers. The 2019 Toyota Camry was named the "Best Car for Teens" because it was awarded high marks in its crash test and predicted reliability ratings along with the long list of safety features the Camry has.
So, if you are looking for a good midsize car that is great value for your money, makes an excellent family car, is fuel-efficient, has good technology as well as safety features and is made of high-quality materials, look no further than the 2019 Toyota Camry XSE Sedan!