We live in an age when it is possible to walk into a Toyota dealer near Anaheim and drive out with a car that runs on water! Yes, you heard right. Toyota has brought fuel cell technology to the masses with the 2019 Toyota Mirai. The "Mirai" is Japanese for "the future". This vehicle that runs on hydrogen fuel is advanced and innovative as well as great for the environment during your daily commute!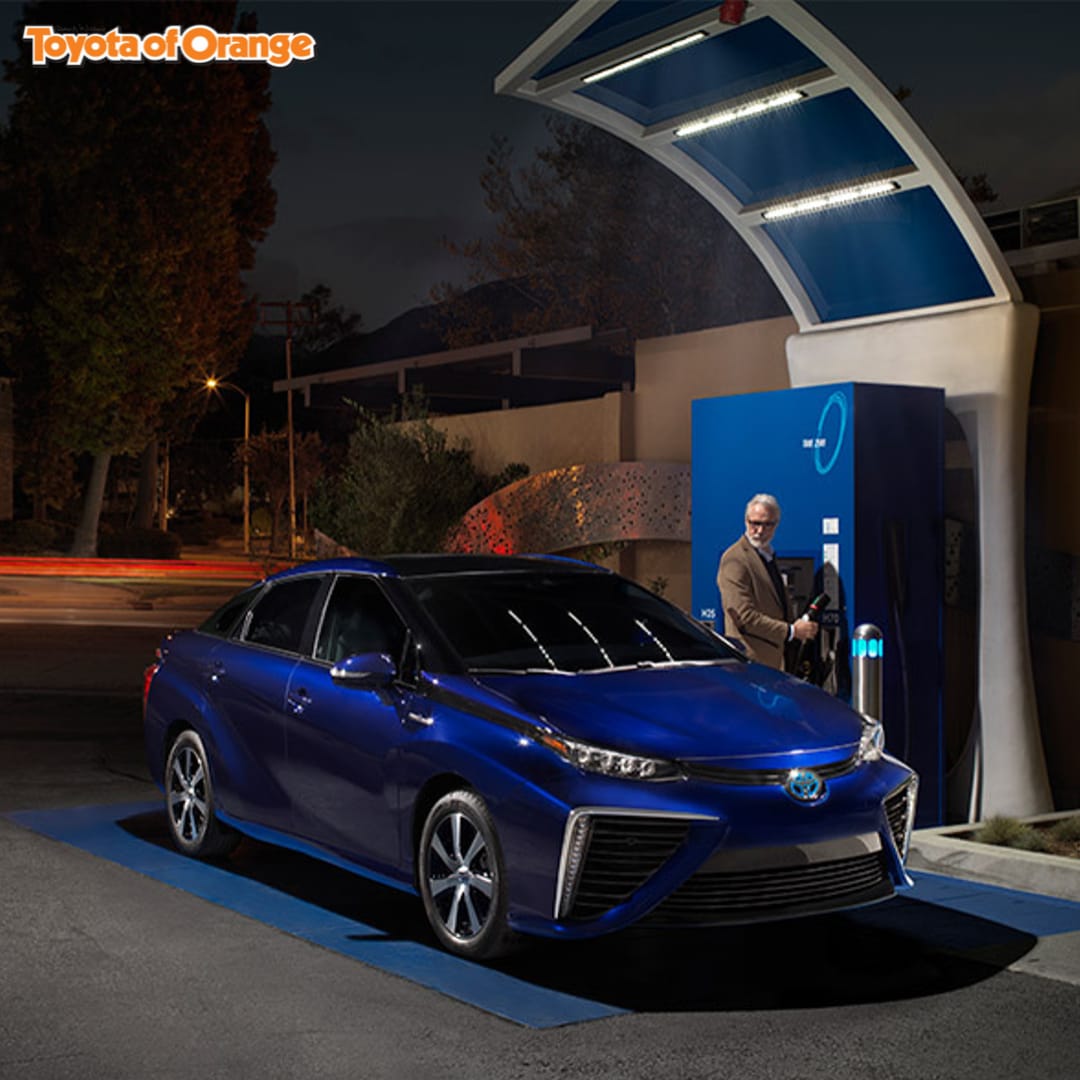 Driving
Many customers at your local Toyota dealer serving Anaheim have claimed that driving the 2019 Mirai is a very futuristic experience. The Mirai is powered by a hydrogen fuel cell that converts hydrogen into electricity and water. This electricity travels towards a small battery that drives the motor while the water it produces emits from the tailpipe as vapor.
Toyota's Mirai's hydrogen fuel tank can also be filled up in the same amount of time as a traditional car's gasoline tank, so you don't have to take too much time out of your commute.
The Mirai is also the first commercially available hydrogen fuel cell car for sale to the public, so you're able to exclusively experience the future. The Mirai drives well as a green-emission vehicle and has a swift torque delivery.
The Mirai is perfect for your commuter needs as a Toyota dealer near Anaheim tested the 2019 Mirai from 0 to 60 mph and clocked it in at 9.3 seconds.
In general, the Mirai's performance is great and has a familiar chassis dynamic as other Toyota hybrids. It has a very elegant and adequate combination of use and quiet comfort. This car also has swift and responsive steering capabilities and a supportive suspension so you can have a worry-free and comfortable drive!
Technology
The Mirai also comes equipped with several infotainment displays. The ones in the front provide detailed information about how the hybrid drive battery is coping and the source of the power that's driving the vehicle at any stage. You might even notice that the trip computer, which includes average speed, average fuel economy, current fuel economy and range for remaining fuel, is familiar and easy to interpret!
The technology in this car gives you other handy details such as a fuel economy diary that goes months into the past history so you're always well-informed about how your car is functioning. You can gain access to it and control it using the thumb consoles on the steering wheel, and the menu scrolling feature is also pretty straightforward and very easy to use!
The touchscreen interface is simple to use and the navigation map display and audio quality are perfect for your needs! The Mirai also comes equipped with a wireless charger for a Qi-compatible smartphone which is located under the armrest.
Safety is of the utmost importance in the Mirai, so Toyota has included all of the standard and necessary features such as a pre-collision system with pedestrian detection, ABS braking, front parking assist sonar, front radar parking distance sensors, rear parking assist sonar, rear camera, with radar parking distance sensors, electronic traction control (TRAC), front and rear curtain airbags, anti-theft protection, intelligent driver and passenger front and side airbags. So you can rest assured that you'll be as safe as ever in this futuristic car!
Comfort
The Mirai is a very comfortable car and you're sure to be driving everywhere in style. The interior of this car is similar to one of Toyota's high-end luxury vehicles and most of the cabin is even soft to the touch!
The driver and passenger both get a heated bucket seat with a 10-way power memorized height, lumbar, and tilt. Also, there is a heated synthetic leather tilt-telescoping steering wheel, front cup holders, four grab handles, instrument panel, outside air temperature indicator, SofTex upholstery with synthetic leather, and front and rear seat center armrest.
There is also an innovative double-story dashboard, which stores the twin information displays. The car's cabin is also very spacious with enough legroom for basically everyone.
Overall
If you're looking for a "greener" way to travel around and want a safe, innovative car, then the Toyota Mirai is perfect for you! If you have any questions and want to take "the future" on a test drive, head down to a Toyota dealer near Anaheim so they can show you what your future holds.