Dealers near Tustin Auto Center and Tustin Toyota service are noticing an increasing trend of drivers who are looking for a three-row crossover but still want to go green and be kind to the environment. The first thing most people will think about is a hybrid; but if you don't have the budget for luxury brand cars, you might be confused on where to find the perfect car for you. Fortunately, Toyota came through for us with the 2019 Toyota Highlander Hybrid.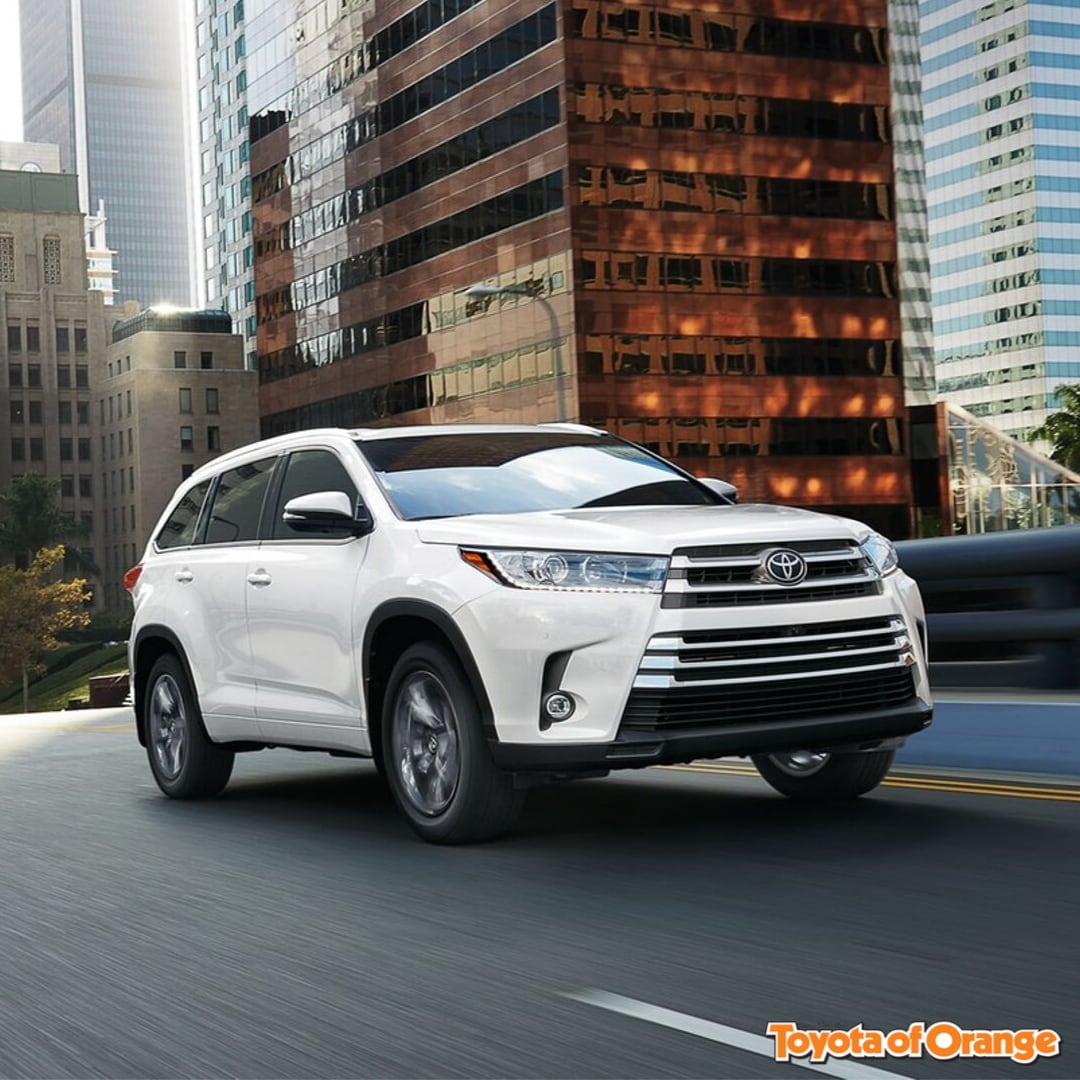 Driving
If you prefer the feeling of a gas-run car, then you will be glad to hear that the 2019 Toyota Highlander comes as a gas-only car as well as the gas-electric hybrid form. The base LE trim level has 185 horsepower, 2.7-liter four-cylinder engine that operates with a six-speed automatic transmission and front-wheel drive. The gas Highlander models use a 295 horsepower, 3.5 liter V-6 and an eight-speed automatic. The V-6 versions have a front or all-wheel drive. Every Highlander Hybrid model comes with a hybrid system that features a 3.5-liter V-6 engine and electric motors. They have 306 horsepower, and every Highlander Hybrid comes with an all-wheel drive.
The SUV's sturdy V6 engine is supported by electric power and is the base for this vehicle. It provides great handling, towing and off-road capabilities. Considering the size of this car, it's very agile and nimble. The Highlander Hybrid reacts very quick when you place pressure on the pedal during acceleration. The 2019 Toyota Highlander Hybrid goes from 0 mph to 60 mph in 7.5 seconds, which is great for a three-row SUV.
The brake pedal works well and provides light and easy use for regular or emergency stops. Some test drivers at Tustin Toyota service commented on how the Highlander Hybrid feels great and has a good weight for a three-row SUV. Also, it has stable handling at highway speeds.
Shockingly, the hybrid is very sporty even though it's a 5,000 pound SUV and goes around corners with conviction. There are eco-oriented, all-season tires fixed on the vehicle that simply stick to the road. On the whole, the Highlander Hybrid has a lot more maneuverability than other three-row SUVs on the market.
Technology
The Highlander's infotainment system is very easy to use and navigate. Although it doesn't include Apple CarPlay and Android Auto, Toyota's Entune smartphone integration is on par.
The touchscreen user interface is very functional with a good layout and menu structure that eases the discomfort and anxiety some might feel when using technology. Many who test drove the Highlander Hybrid at Tustin Toyota service said that there is a really good 12-speaker JBL audio system and user-friendly navigation.
The car is very safe to drive with safety features such as forward collision mitigation, pre-collision system with pedestrian detection, dynamic cruise control, auto high beams and lane departure alert with steering assist. Also, because of the Highlander's massive size, the upper trims include a blind-spot warning, rear cross-traffic, and parking sensors.
The 2019 Toyota Highlander has achieved a five-star safety rating and the Insurance Institute for Highway Safety named the Highlander Hybrid a "Top Safety Pick".
Comfort
The Highlander is known for its comfort and the Hybrid version is no exception. The front seats are nice and wide, and you can enjoy the soft ride with a secure driving feel. If you are the driver or the front passenger, you can lavish in the heated leather seats that feel like you're sitting in your own living room, perfect for long trips, or when you are stuck in unconquerable traffic. The second-row passengers have an extensive slide/recline range and the third row is perfect for small children!
The Highlander Hybrid shines like a star when it comes to riding in comfort. It provides a tight drive with not a lot of movement when going over bumps. Therefore, road irregularities are usually not a problem.
The Highlander Hybrid is practically silent at city street speeds, specifically when it is in those moments of EV mode (battery power only). At highway speeds, the Hybrid doesn't disappoint because the road and tire noise is well concealed.
The trunk offers 13.8 cubic feet, however, you can increase this space by using the third-row seats which fold down 60/40 and add 42.3 cubic feet. When all rear seats are folded, the Highlander Hybrid provides a whopping 83.7 cubic feet of cargo space!
Overall
The 2019 Toyota Highlander Hybrid is roomy, comfortable, fuel-efficient as well as safe! Stop by Toyota of Orange today to test drive a 2019 Toyota Highlander Hybrid!