Toyota and Orange County auto sales understand that we only have one planet earth. That is why they are committed to go greener using many environmentally sustainable solutions with every vehicle they manufacture. There are currently fourteen North American manufacturing plants and over one million Toyota and Lexus vehicles are assembled in the United States. Therefore, the biggest car manufacturer in the world wants to aim for a better tomorrow with eco-friendly vehicles.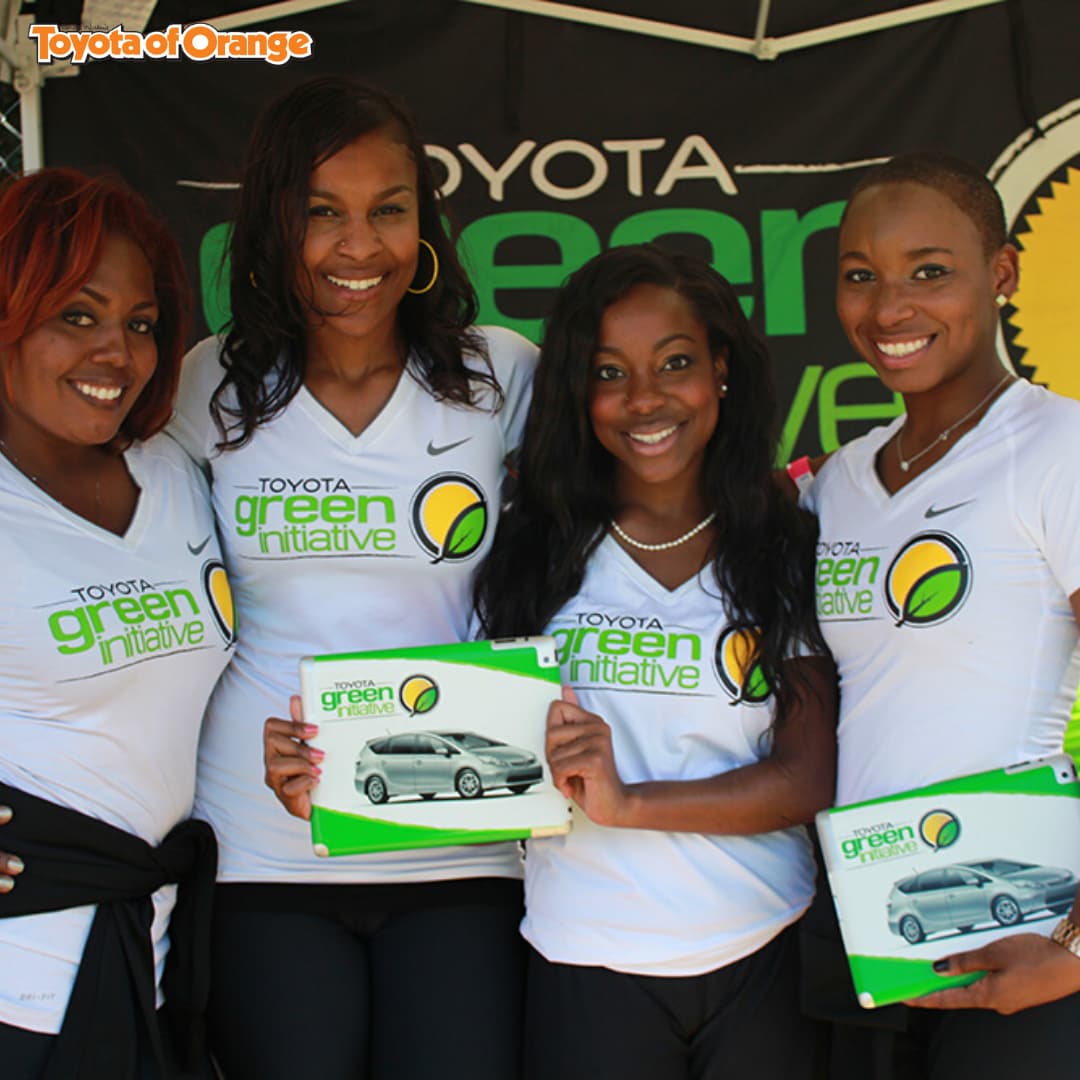 Toyota's Environmental Commitment
Toyota aims to have humans harmonize with nature, while at the same time contribute to society by manufacturing automobiles that have top-notch innovation with break through technology and creativity.
All of us at Orange auto sales notice how Toyota constantly contributes to society by manufacturing vehicles that customers love and tackles serious environmental issues directly. Toyota is so dedicated to the development of sustainable society that they were responsible for the world's first mass-produced hybrid vehicle, the Prius, and the fuel cell vehicle MIRAI. These two automobiles demonstrate Toyota's extraordinary ambition for a sustainable society.
Although Toyota has gone leaps and bonds to launch these cars, the global environment is still in critical condition. The world is experiencing extreme weather conditions because of climate changes that are brought on by greenhouse gases. These environmental changes are threatening our livelihood and for future generations.
What Is Toyota Green Initiative Campaign?
Toyota's Green Initiative Campaign was launched in 2009, and each year the Toyota Green Initiative partners with Historically Black Colleges and Universities (HCBUs). The campaign's aim is to educate and guide students, alumni, and the communities surrounding the colleges on the advantages of sustainable living.
This is what makes Toyota stand out from the crowd. The car manufacturer's fresh and innovative ideas that revolve around sustainability that sing to the consumers' ears and motivate them to discover more about the Toyota brand and encourages them to do their part to make a difference within the African-American community. Toyota's Green Initiative Campaign emphasizes how consumers can simply push for sustainability into their lives and community.
What Happens At Toyota Green Initiative Campaign?
Toyota Green Initiative works with Historically Black Colleges and Universities (HBCUs) to provide a multi-tiered program which is stimulated on campuses, high profile football games, conference basketball tournaments and music festivals. The program also includes sustainability centric activities with tips, facts and tools, a Day of Service, a lecture series with multicultural sustainability experts, and a Green Your Campus Initiative.
Other events that Orange County auto sales have attended are Electronics Recycling Day, a panel discussion between local sustainability experts, and a lunch with college students to help them learn about the various green career paths available to them.
Jim Colon, VP of African-American Business Strategy for Toyota Motor Sales, Inc announced - "Our commitment to environmental progress extends throughout HBCU campuses" said J "Recently, 16 of 22 partner schools, were recognized for adopting sustainable practices, from campus recycling programs to LEED Certification. We are proud to provide resources that help further their sustainability practices."
Toyota continues to contribute to sustainability into everyday activities. These campaign commitments not only encourage consumers to drive Toyota hybrids, but also demonstrates Toyota's driving force in improving their communities.
Toyota's Environmental Challenge 2050
Besides the car companies efforts with their Green Initiative Campaign, the motor corporation started a new plan in 2015 to contribute to achieving a sustainable society. Sales representatives at Orange auto sales say the plan includes six challenges referring to environmental problems such as climate change, water shortages, resource depletion, and biodiversity loss. The goal is not only to reduce the negative impacts caused by automobiles, but it's also to influence a positive impact on society. The challenges are outlined by three main principles.
The "Always Better Cars" Principle
Under these ethics, Orange auto sales informs us that Toyota aims to reduce the amount of carbon dioxide (CO2) emitted from its new automobiles by ninety percent by 2050. Toyota also wants to lower CO2 emissions through their automobiles' complete lifecycle, from raw material production, vehicle and parts production, driving, and to its final disposal.
The "Always Better Business" Principle
Toyota plans to totally eliminate CO2 emissions at its manufacturing plants, though a mix of endeavors to "develop and introduce low CO2 technologies and continuous improvement" and to "harness renewable energy and hydrogen."
The car company also aspires to lower the amount of water used in painting, forging and other processes, and to comprehensively purify water used in processes before bringing it back to natural flows, in an effort to lower environmental impacts.
Bringing clean water to communities that are water stressed regions in North America are becoming increasingly important. That is why Toyota is very focused on lowering the amount of water they use and discovering options for reusing and recycling water, particularly at their manufacturing facilities.
The "Always Better Society" Principle
Under this principle, Toyota globally launched two projects in 2016 to expand its techniques and systems that have been established in Japan concerning correct waste treatment and recycling. On top of that, in 2016 Toyota started to expand on three projects for nature conservation activities that have been managed by its group and affiliated companies to connect to other countries and regions worldwide, and to future generations.
What Toyota Has Achieved So Far?
Through Toyota's sustainability programs and environmental challenges, the company has achieved these sustainability solutions so far.
Carbon
There are 16 hybrid electric models available in North America, including the plug-in, Prius Prime, and fuel cell, Toyota Mirai.
Water
Through Toyota's sustainability efforts, the company has recycled and reused over 148 million gallons of water, which is equivalent to the amount of water used by 1,351 average American families in one year.
Materials
Toyota have directed 98 percent of the waste from the North American operations away from landfills.
Biodiversity
Twelve of Toyota's North American facilities are engaged in conservation programs which are certified by the Wildlife Habitat Council.
All of the above proves that Toyota is dedicated to the importance of the environment and how it impacts our society. They progressively strive to be a car manufacturer that customers can trust with their variety of initiatives related to their green initiatives and sustainability.