The future is changing the way people drive and automakers are working endlessly to restructure their lineups. Sales representatives at the Toyota near Irvine dealership are seeing a trend of customers favoring crossover SUVs to sedans, tech-focused vehicles, and an increasing amount of alternative fuel vehicles.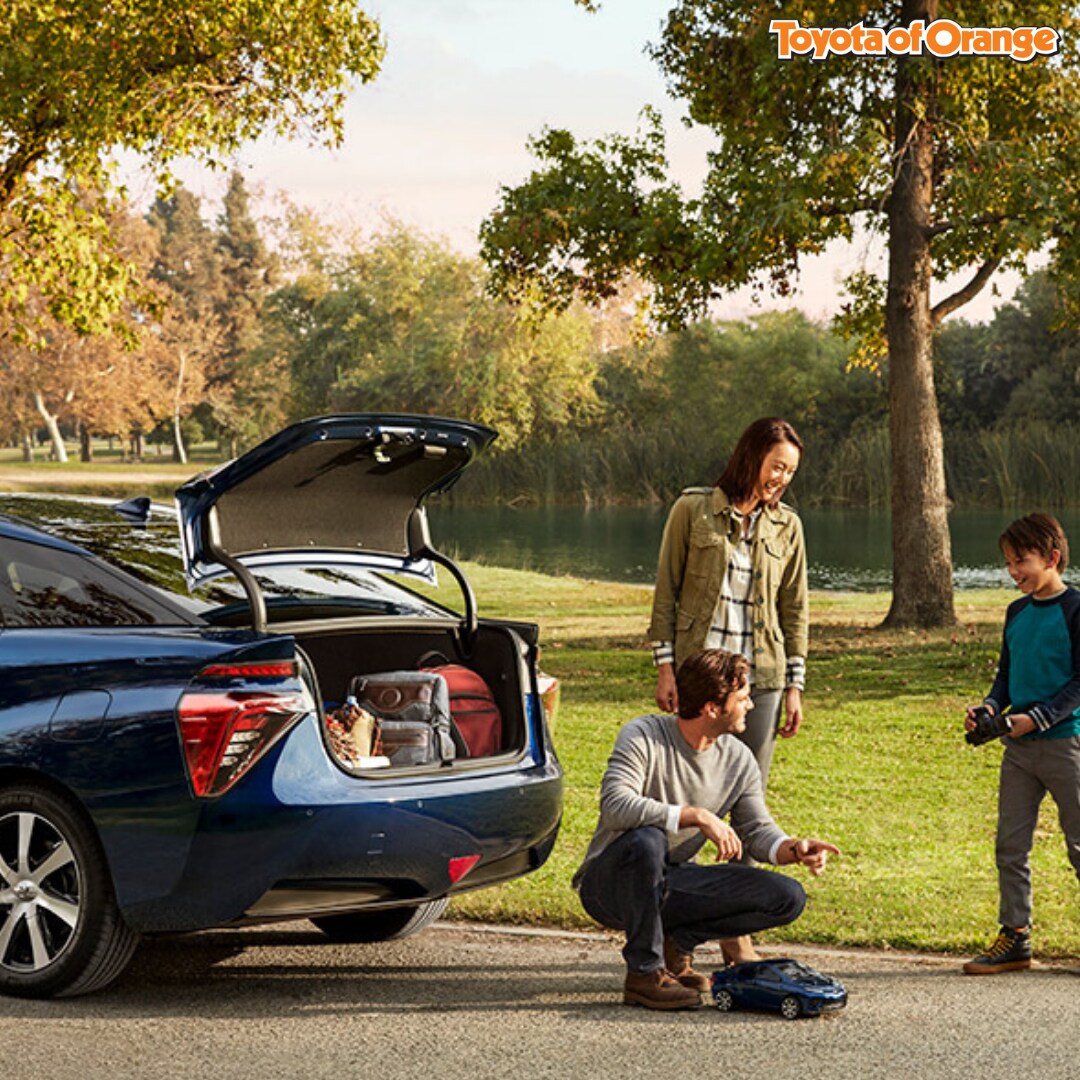 Some customer favorites and lineups at the Toyota dealer near Irvine will soon experience some changes as hybrid or electric vehicles. However, unlike all the other automakers that are jumping on the plug-in electrification bandwagon, Toyota is the maverick in the automotive industry, focusing on fuel cell technology.
Toyota's Hydrogen Fuel Vehicle
When you visit the Toyota near Irvine dealership, you can take a glimpse of future driving habits in Toyota's Mirai, a zero-emission vehicle (besides emitting water) with a driving range of 312 miles.
If you are into fun facts, you would love to learn that the word "Mirai" translates to the "future"! This supports Toyota's attitude of what the automotive marketplace is aiming towards. However, with only 11,000 hydrogen vehicles on the road around the world, and as little as ten Mirai models produced each day, Toyota has come to the conclusion that there are reasons why there is such modest interest among drivers.
Currently, the refueling locations infrastructure is very limited for Fuel Cell vehicles. Sooner or later, you need to find a place to conduct your five-minute refueling, but what good is your alternative fuel vehicle that provides a convenient refueling time when you can't even find a refueling station?
The next point is that it has a less competitive price point even after $20,000 in government subsidies some customers feel that the Mirai is out of their price range. However, these limitations are not holding Toyota back from sweetening the deal with incentive programs.
You have to keep in mind that you will receive three years or $15,000 worth of free fuel. This incentive alone helps to cancel out some of that extra price tag. According to the average American consumption of about $1400 in fuel every year, there is some obvious opportunity for Mirai owners to get their money's worth while helping the environment.
Certainly, Toyota is creating these incentives to attract more interest in the Mirai, which will boost production and decrease its price point.
Although Toyota has an excellent strategy, something is missing and that is educating the consumer about hydrogen fueled technology. Getting the right infrastructure and assurances in place is one factor; rearing up an educated and confident consumer base is a totally different aspect, and that is where Fuel Cell innovators are getting it wrong.
What Is Fuel Cell Technology?
The fundamentals of fuel cell technologies work like this: hydrogen gas is directed from high-pressure tanks into oxygenated fuel cells. When the hydrogen and oxygen combine, it generates an electric current which powers the electric motors, moving the vehicle.
The only bi-products a hydrogen-fueled vehicle produces are heat and water, which reduces the kind of toxic carbon emissions that come from combustion engines. Sounds simple enough, right?
When you simplify the process, just like the Toyota near Irvine dealership has, it becomes more straightforward to see the worldwide impact from a future where transportation is powered by hydrogen fuel cells.
That being said, you should be aware that there is a relationship between hydrogen and natural gas. As a matter of fact, it still distributes a primary source of hydrogen. Nonetheless, there are processes and programs in place to bring in hydrogen from cleaner renewable sources.
California is one of the first states to take steps in this direction. Hydrogen stations need to require a minimum of 33 percent of their fuel from renewable sources. These kinds of incentives might be the redeeming quality of establishing infrastructure and making fuel cell vehicles more interesting.
What Is Japan Doing?
In Japan, such principles and the requirement for clean energy sources are essential for Toyota's strategy. Acknowledging that exhaust regulations are only going to get more rigorous over time, Toyota intends to stay ahead of the curve. This signifies the quest for the ability to make hydrogen cells in bulk, lower the expense while encouraging the convenience of compliance.
Japan aims to become the first "hydrogen society" broadening the use of hydrogen outside the limits of the automotive industry and using it as the main source of power generation for Japan's entire society.
The country's energy minister has ambitious plans to include 100 fuel cell buses being deployed to help with transportation during the 2020 Tokyo Olympics and 200,000 fuel cell vehicles on Japanese roads within the next six years.
Is the Mirai the Car of the Future?
You might have thought that we were getting closer to flying cars, but the future of the automotive industry isn't about living the Jetson's life.
The future of driving will be cleaner and convenient energy. Besides being all that, the Mirai is an elegant and practical, alluring car for the future. It is likely to be a more precise and realistic path to the look Toyota is aspiring to achieve.
The Mirai's styling is bold and aggressive, so it will definitely catch the eyes of bystanders but don't expect people in the street to notice you in your Mirai right away. Why not? Well, don't forget that the Mirain is still an electric vehicle, so although it is powered by hydrogen it drives around as silent as a mouse.
There are many doubters who believe that the economy cannot survive without gasoline and that America isn't the place for the future of the automotive industry, especially hydrogen fuel cell vehicles.
However, technology is advancing. No matter how swiftly it catches on, the Mirai is another reliable Toyota product that can last another ten years, and probably even longer. Hopefully, technology and accessibility for alternative-fueled vehicles will improve significantly by the time the Mirai is on its third generation!