If you are the parent of a teenager in Orange County, you'll probably experience both pride and a little trepidation as your youngster gets behind the wheel for the first time. Many of the Orange auto sales in the area come about when a family has a young driver. Perhaps the intention is for the parent to get a newer model of car, while their older one will go to their teen in exchange for the promise of good grades and responsible conduct on the road.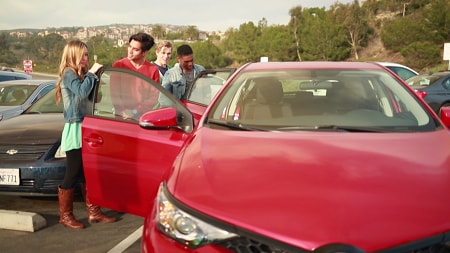 If that's the deal you worked out, then it might seem reasonable in theory. Still, when your teen gets their license and the reality sets in that they'll soon be on the road unsupervised, with their friends in the backseat, you might start to think about the dangers inherent in that scenario. Here's some advice that you can give your teen.
Slow Down
For new drivers in Orange, auto sales are sometimes influenced by horsepower. Many teens show up at the dealerships looking for the model that presents the most power for the price. If you've got a budding speed demon on your hands, have a serious conversation with them about the dangers of car wrecks that come from high speeds.
Make them understand that the responsibility of being a driver is a profound one and that you won't trust them with their own car until they agree not to break the speed limit.
Don't Drive Under the Influence
Some parents in Orange shy away from conversations with their kids about drug and alcohol use, because they don't know exactly how to bring it up. If your teen is about to have a car of their own, though, this isn't the time to be hesitant. This is a conversation you must have.
Get a verbal agreement from your teen that they will not get behind the wheel if they have been drinking or doing recreational drugs, and impress on them how serious you are in any way that you can. They may feel like you're being harsh in driving the point across, but you can't afford to be delicate. One mistake in this area could be all it takes for your teen to mess up their life or that of another driver or pedestrian.
Pay Attention to the Weather
Teach your child that the weather should play a part in their decision-making as it relates to driving. If they know that there's torrential rain or a huge snowstorm expected, they should stay off the roads if they have little previous experience.
If they have no choice but to drive somewhere, they should know to go slower than usual, increase their following distance, and use their headlights.
Your young one will only become more experienced and confident if they spend some time on the road, so it's something that all parents must accept. If you have a series of conversations with your teen about what you expect from them while they are out there, though, you'll know that you have done your job.
Allow yourself to feel the pride of the moment when you go to a dealership in Orange to look for a vehicle for your young one. Some auto sales are more sentimental than others, and likely this will be one of them.