If you've recently been looking at cars for sale Orange County, perhaps you've gone ahead and made your choice. Whether you bought new or used, this is cause for excitement, and hopefully, you'll have lots of fun adventures in your new vehicle.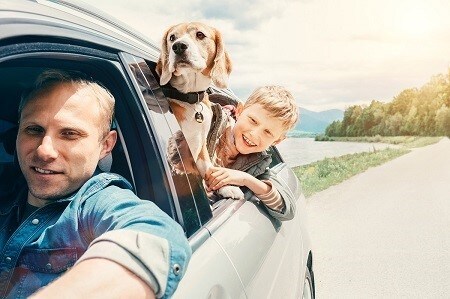 Of course, it's impossible to predict everything that's going to happen while you're out on the road. Even if you are a responsible and safe driver, unforeseen circumstances might arise that leave you stranded in a remote location. That's why it's critical that you have a roadside emergency kit in the trunk at all times. Here are a few items that you'll want to be carrying, Orange County.
Jumper Cables
You'll undoubtedly want to have jumper cables if you need to get the car started again, though these days you have the option of substituting a portable lithium-ion battery with jumper cables. These batteries will also typically charge cell phones and computers. Such batteries might cost as little as $60 or as much as $120. If you go that route, though, you need to make sure and keep yours charged.
Triangle Reflectors or Flairs
If you look at cars for sale and find one you like, your next stop should be at an auto parts store that carries triangle reflectors that you can put up to warn other cars that your vehicle is damaged. Alternatively, you can carry flares that will serve the same purpose. LED flares are becoming more popular these days. Some devices of this nature are vital, though, especially for if you find yourself on the shoulder of a highway at night.
Motor Oil
You should carry a quart of motor oil with you at all times, Orange County. You should also look at the manual for your vehicle so that you know how and where to replenish the oil if the level drops too low. If you got a used car and it did not come with a manual, you can order one from the company, or in some cases, you can download one from online.
Coolant
You should also endeavor to have a gallon of coolant with you. As with the motor oil, a situation may arise when you'll need to add some to the reservoir.
First Aid Kit
If you're in an accident and you're injured, or someone else is, then it might take a little while for medical help to arrive. If that's the case, you'll be glad to have a first aid kit. There are different ones on the market, and it's up to you whether you want to get a smaller, more compact version, or a larger one that has more in it. How much room you have in your car will be a determining factor.
There are many other possibilities for the emergency kit that you may wish to consider, but all the items mentioned should be thought of as necessary. The cars for sale in Orange County will not come with them. It is up to you to put together your emergency roadside kit as soon as it is convenient for you to do so.