Approaching the end of the year, many families in Orange County, CA have a new or used vehicle foremost on their wishlists. There are plenty of used cars available, but which ones are ideal for hauling around a bunch of kids, their friends, and the equipment that accompanies all their activities? Only you can decide what to prioritize most in your next vehicle, but here are some features that the best family cars should have.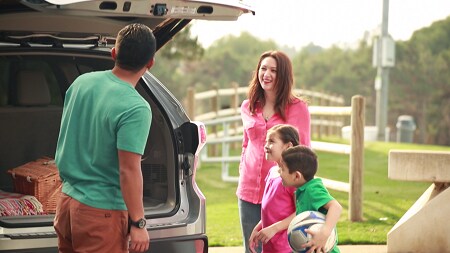 Anti-Lock Brakes
There can be no denying that vehicles with anti-lock brakes are safer than those without. If you have your whole family in the car and you must slam on the brakes suddenly, you'll be glad that your vehicle has them.
Rear Sensors/Camera
In the old days, you had to maneuver your vehicle while backing up by turning all the way around or relying on your mirrors. A rear camera and accompanying sensors come with most modern cars, but if you're looking at a model that doesn't have them, you may wish to reconsider your choice. Not seeing a child, pet, or bicycle that is directly behind you can lead to disaster.
Airbags
Any car intended for families in Orange County, CA should have working airbags, and that includes side airbags as well. If you have ever been in a violent collision, then you know how devastating it can be. The threat of a severe injury is much less when an airbag comes into play.
4-Wheel or All-Wheel Drive
If you're driving in bad weather with a car full of people, you'll be glad of a 4-wheel or all-wheel drive feature. Rain, snow, or poorly-maintained roads can be treacherous, and these modes allow your vehicle to grip the surface so that skidding or fishtailing is unlikely.
Infotainment System
A state-of-the-art infotainment system is not going to improve driver safety, but it will undoubtedly go a long way toward keeping the kids occupied on long car trips to see relatives. There are all sorts of advancements that are being made with the connectivity of various devices in modern vehicles.
The more of these features you can get as you hunt for used cars Orange County CA, the happier you should feel about the model you have chosen. Whether it's a car, SUV, or truck, knowing that the children are safe with you behind the wheel as well as occupied for the drive is sure to put you in a good mood.