Let's face it: Orange County residents don't have the same dread of winter driving as might be the case if they lived in other parts of the country. It may be winter, but in the OC the sun is shining, and people who are looking at cars for sale probably aren't wondering about whether they should get some snow tires.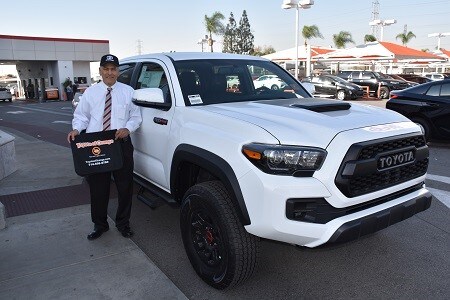 However, just because you live in a part of the country that is not prone to ice and snowfall during the winter, that doesn't mean that you shouldn't be aware of safe driving practices when these weather events strike. You might head to a higher elevation where there are ice and snow, or you could drive out of state to visit friends or relatives in a part of the country where you'll be dealing with inhospitable conditions. With that in mind, let's review some winter driving tips.
Don't Drive When You're Fatigued
If you're going to be driving cross-country to visit someone or go to an event, Orange County residents, then you should be sure to get plenty of rest beforehand. If you're starting to feel tired as you approach the last leg of the journey, consider pulling over for a break or to get some coffee or another caffeinated beverage. As you're looking at cars for sale in the OC, you should also think about getting a model that has best-in-class safety features, like lane departure alert. This will serve you well if you're in any danger of falling asleep at the wheel.
Don't Warm Up the Car in an Enclosed Area
If you have a garage or some other enclosed area, Orange County, then it might seem like a convenient place to warm up the vehicle before getting out on the road on a cold day. However, this can be disastrous, as the fumes from the car can build up within the enclosed space and render you unconscious. This mistake can even prove fatal in some cases if you breathe in too much carbon monoxide.
Proper Tire Inflation
In the cold weather, it is normal for your tires to lose air faster than they would otherwise, Orange County. If you're looking at cars for sale, check the tire pressure when you take them out for test drives, and if you're driving your vehicle in the snow, be sure to check the tire pressure regularly.
You can carry a gauge with you in the glove compartment or the trunk, or you can stop at the gas station and use the indicator there. If your tires are not filled to the recommended amount for that vehicle model, then remedy the situation without delay.
Whether you're looking at cars for sale Orange County or you're getting ready to take your trusted vehicle over state lines and into dangerous weather conditions, it pays to be prepared. With the proper foresight, you can feel more secure about harsh weather, and you'll get to your destination safely.