The market for used cars near Santa Ana is thriving. That's because when you buy a used vehicle, you can save quite a bit of money versus paying for a brand-new model.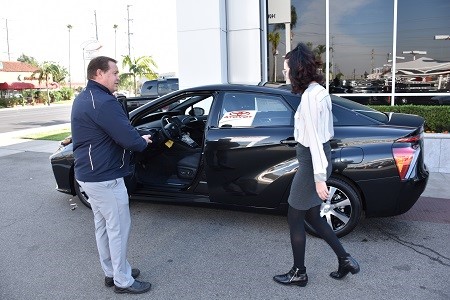 What if you don't have much prior experience with car buying, though? What can you do to make sure that you don't get stuck with a lemon? One way is to bring along someone who knows a lot about cars. Most people have a relative like that, or a friend. If you can't find someone who fits that description, though, you can always fall back on these warning signs that a used car is not worth your time.
Poor Bodywork or Paint
If there is bodywork that has been done to a car that strikes you as shoddy, then that probably means that the car is coming off a recent accident. The same is true if you can tell that the vehicle has been newly painted. On the one hand, seeing that used cars near Santa Ana have new paint jobs might be a point in their favor. The problem is that the paint is probably hiding some problem, like extensive rust.
Repairs that Seem Suspect
If there is something that is visually wrong with the way a car has been repaired, and you can detect it even though you're not an expert, then something is up. An example might be one headlight that is much newer than the other or one tire that is a different brand and either newer or older than the other three. If you notice anything like this, ask the auto dealer for an explanation and see what they have to say about it.
The Car Has Been Warmed Up for You
If you want to test drive a car, and the dealer drives it up to you having warmed it up already, then it might be a courtesy, but it also might make you miss some problems having to do with the ignition. Whenever you go for a test drive, you want to start the car yourself and listen to it warm up. If you don't, you might not be aware of certain issues until after you have signed the paperwork.
Modifications
Beware any used car that has been modified. If a vehicle comes with a spoiler that was installed by the manufacturer, that's one thing, but any kind of addition that was made by a previous owner should be suspect to you. The great thing about cars is that they're trustworthy because professional engineers designed them. Aftermarket additions can work in some cases, and in others, they can make the vehicle unsafe or hurt its performance. Don't fall for buying a car that looks like it was used for a race scene in a Fast and Furious movie.
Most of the used cars in Santa Ana are going to perform fine when you take them for test drives, but you should keep your wits about you and be wary of these possible issues. You should be sure to go to a dealership that has an excellent online reputation and overwhelmingly positive reviews. By doing so, it makes it less likely that you'll have to deal with any of these situations.