Representatives at the dealership of used cars in Orange County are asking their customers to make sure they have their airbags checked. This comes after the news that airbag manufacturer Takata, which has just gone bankrupt, is recalling about 1.4 million driver's side inflators in the U.S. because they could explode and hurl shrapnel.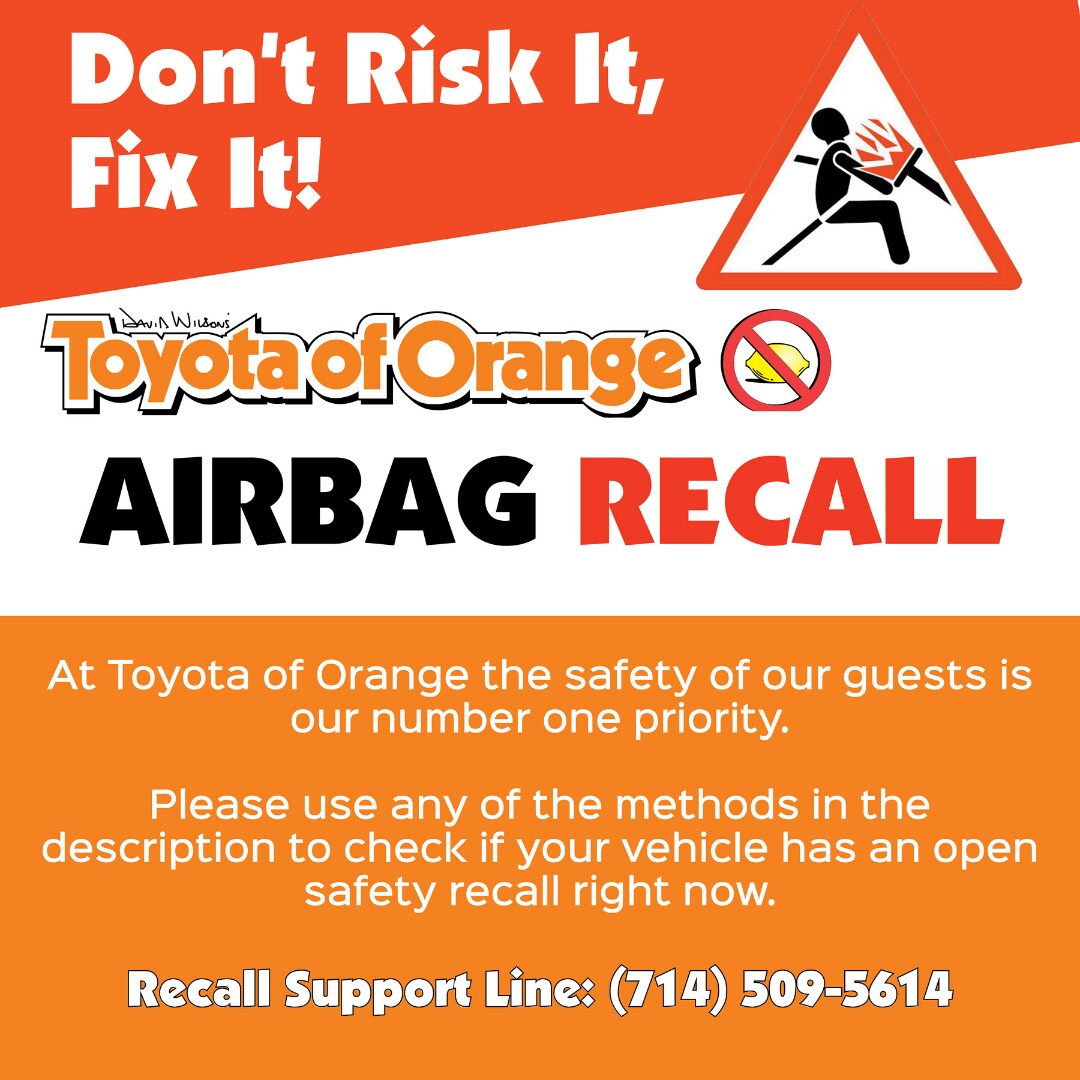 Takata was the airbag manufacturer for many car brands, including Toyota. The vehicles in question are models which were manufactured between 1995 to 2000. According to government documents, about 4.5 million of the inflators were manufactured around the world but only a fraction are still in use since the vehicles are so old. However, the dealership for used cars for sale in Orange County is not taking any chances and is asking all customers who own a Toyota that was manufactured between 1995 to 2015 to have it checked.
What You Should Know?
Nineteen different automakers including Toyota had to recall vehicles due to the frontal airbags on the driver's side or passenger's side, or both. The National Highway Traffic Safety Administration (NHTSA) has called this situation "the largest and most complex safety recall in U.S. history." Most of the important parts were supplied by Takata for car models that came out from 1995 through to 2015. When some of these airbags are deployed, they have explosive results that can injure and even kill car occupants.
What Is Wrong With The Airbags?
Representatives at the dealership of used cars in Orange County point out that the main issue is with the airbag's inflator, which is a metal cartridge brimming with propellant wafers. Unfortunately, in some cases, these airbags flare up with explosive force when deployed. In the event that the inflator housing ruptures in a crash, metal shards from the airbag can scatter throughout the passenger cabin. As a result, disastrous results can come from a seemingly life-saving device.
Fortunately, the NHTSA has got to the root of this issue which is the airbags that are using an ammonium nitrate-based propellent without a chemical drying agent. As assumed from the get-go, environmental moisture, high temperatures, and age are linked to the defect that can cause improper inflation of the airbags and even shoot shrapnel into the occupant. At the moment, there have been 16 deaths reported because of this issue in the United States. Around the globe, NHTSA claims there have been 24 deaths and 300 injuries.
Many announcements have been made, and the recall has tripled in size over the past year. It is thought that the inflator recall will affect more than 41.6 million vehicles in the United States, involving 56 million inflators. In regards to the millions of vehicles that are in the recall but not under a stop-driving order, the NHTSA has prearranged delivery of parts to models and areas with the highest mass of Takata incidents.
What Has Been Done?
On December 12th, 2018 Toyota installed new, non-Takata airbag inflators in select 2003-2005 Toyota Corolla small cars, 2002 to 2005 Toyota Sequoia SUVs, 2003 to 2005 Toyota Tundra pickup trucks and 2002 to 2005 Lexus Sc cars. According to a Toyota spokeswoman, these actions were done a year ahead of schedule since they had the replacement parts required to do the work.
What Can Be Done?
If you own a Toyota, especially one within those particular years, you can check if the vehicle has any open recalls at this site here.
Are The Airbags In My Car Definitely Defective?
Not necessarily. Ever since 2002, a small percentage of about 37 million cars have been involved in these incidents. From November 2014 and May 2015, Takata reported to NHTSA that the company had done more than 30,000 ballistic tests on airbag inflators that are commonly recalled. Within those tests, 265 ruptured, which is an unsatisfactory high figure, and, at 0.8 percent, a far higher frequency than what has been found in vehicles on the road.
Based on defect reports filed with the government, Takata claims that as of May 2015 it knew of 84 raptures that had happened since 2002.
I Am Worried To Drive My Car, What Should I Do?
Sales representatives at the dealership of used cars in Orange County have come across some customers who have voiced their concerns about the recall, and rightly so. If the recall on your vehicle only involves the front passenger-side airbag, then don't allow anybody to sit in that seat. However, if you use the VIN-lookup tool and it informs you that the issue involves the driver's side too, you should do whatever you can to reduce your risk. You should consider the following:
Reduce your driving.

Try to get a lift or carpool with someone who owns a vehicle that isn't affected by the recall.

Use public transport.

Rent a car.
Do I Have To Pay Money To Get The Recall Fixed?
You should be aware that repairs done under the recall are free, but unassociated issues found during the service are not covered.
Which Toyota Cars Have Been Recalled?
If your vehicle was registered in the coastal areas around the Gulf of Mexico, including Alabama, Georgia, Louisiana, Mississippi, and Texas, you should take immediate action. Or else the vehicles in Florida, Puerto Rico, Guam, Saipan, American Samoa, Virgin Islands, and Hawaii have also been recalled.
When the parts are available, owners will receive a notification by mail to bring their car in for the proper repair.
Ultimately, if you are uncomfortable driving your car to the dealership of used cars in Orange County to have the work done, contact your local Toyota dealer, and they will make arrangements to have the vehicle picked up.
Here is a list of the Toyota cars that have been recalled so far:
Lexus
2007-2012 Lexus ES350
2010-2017 Lexus GX460
2006-2013 Lexus IS250/350
2010-2015 Lexus IS250C/350C
2008-2014 Lexus IS F
2012 Lexus LFA
2002-2010 Lexus SC430
Scion
2008-2015 Scion xB
Toyota
2010-2016 Toyota 4Runner
2003-2013 Toyota Corolla
2003-2008 Toyota Corolla Matrix
2009-2013 Toyota Matrix
2004-2005 Toyota Rav4
2002-2007 Toyota Sequoia
2011-2014 Toyota Sienna
2003-2006 Toyota Tundra
2006-2011 Toyota Yaris (Hatchback)
2007-2012 Toyota Yaris (Sedan)