When you get down to used cars Orange County CA and see the 2017 Toyota Corolla iM Base Hatchback in person, you might be a little perplexed when you find out that this car is actually a Corolla (as the name suggests), but it is also a hatchback! Yes, the all-American Corolla has usually been a sedan, but ever since Toyota put an end to its youth-orientated brand the Scion and the Scion iM Hatchback, it needed somewhere to go. Thus, Toyota decided to grace us with the Toyota Corolla iM.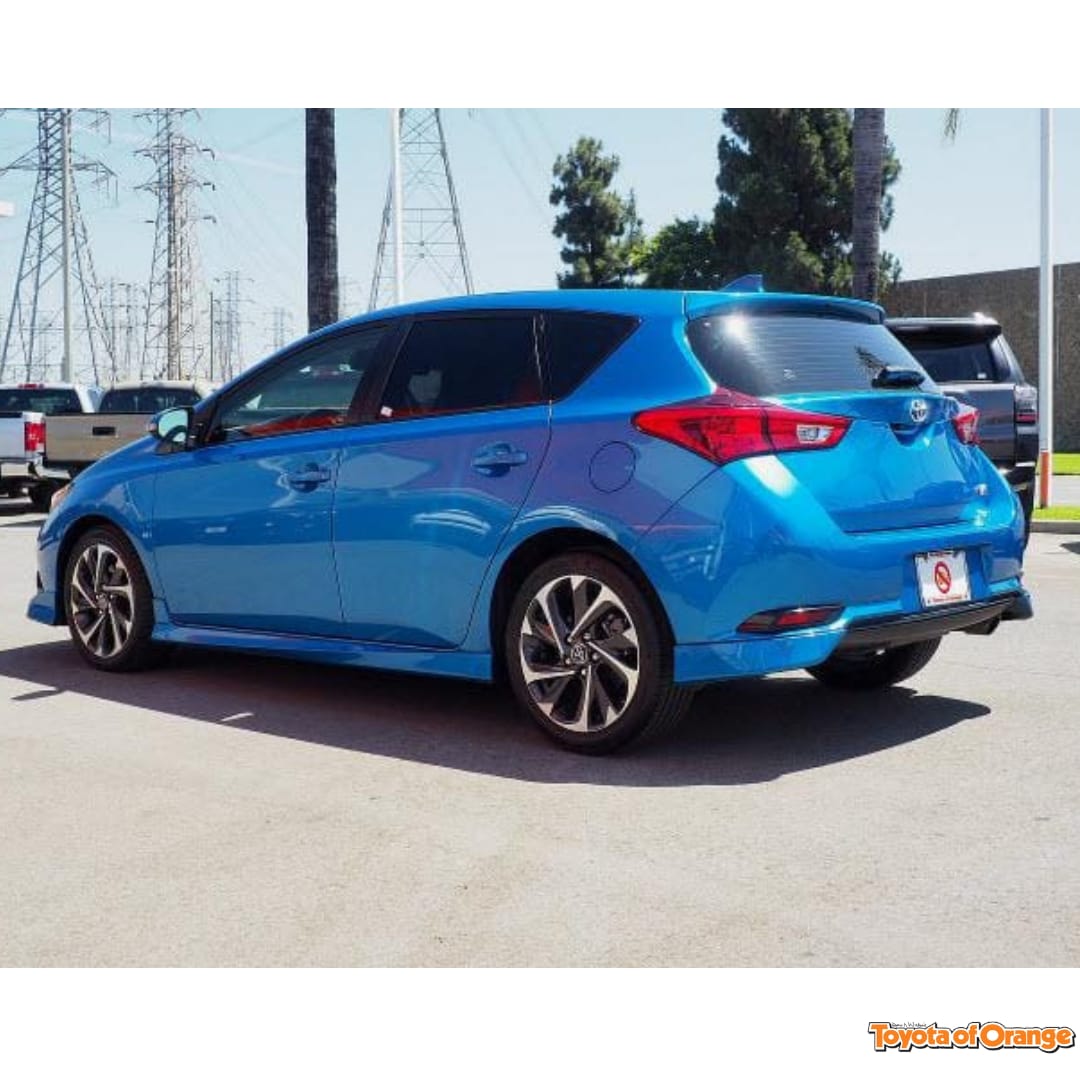 Driving
The Corolla iM features a 1.8-liter four-cylinder engine that is similar to the Corolla sedan. It has a standard six-speed manual or an optional variable transmission that consists of a stimulated 7-speed sequential mode. It delivers 137 horsepower and 126 pound-feet of torque through the car's front wheels.
If you are looking for options, you will be slightly disappointed since the Corolla iM comes in only one trim level, but it is pretty well-equipped. Therefore, when shopping at used Cars Orange County CA keep in mind that previous owners of the 2017 Corolla iM could only choose the transmission type and the color they wanted the vehicle in.
The fuel economy is standard with 28 mpg (city) and 36 mpg (hwy), but don't expect the car to accelerate at full speed. Passing other vehicles in this car might be a problem since even when the car is in "Sport" mode it revs more than performs, but it drives smoothly with minimal jerkiness and turns very well. The car's handling is average, but it performs quickly and accurately when you move the wheel around.
Technology
Although the car comes in one trim, there are some fantastic features to take advantage of. For instance, the dual-zone automatic climate control, eight airbags, automatic headlight control, 17-inch alloy wheels, heated mirrors, LED running lights and taillights, cruise control, six-speaker pioneer audio system with Bluetooth, a 7-inch touchscreen, a driver's information display, a USB port, and a back up camera. Another standard feature that comes with this model is Toyota's Safety Sense C, which is a driver's assistance suite that packages together pre-collision braking, lane departure warning automatic high beams.
Comfort
The front seats have small bolsters located on the side to give an extra feeling of comfort and generous adjustment for taller drivers. In the back, the rear seats are flat with adequate legroom and suitable headroom, but it is good enough for a car at this price range and size. Also, the back passengers have center armrest with two cup holders. All in all, if you plan on taking the 2017 Corolla iM on a long car trip, you and your passengers will be sung as a bug, without any necessary calls to the chiropractor for back and neck adjustments afterward!
There is a leather-wrapped steering wheel with contrasting stitching and texturing on the leather that feels comfortable to hold and handle as well as providing a high-quality look and driver's experience. The steering wheel conveniently allows the driver to access the radio volume, station preset as well as mode buttons, Bluetooth phone controls, and voice recognition system. On the left side of the steering wheel, some buttons engage with the screen that is located in between the two gauges and Lane Departure system button. The car's gauges are easy to read with its black background and soft blue lettering. This makes it comfortable for the eyes to read, particularly at night.
Behind the rear seats hides the gem of this car and that is the 20.8 cubic feet of cargo space. There is also underfloor storage for smaller items and if you have larger items to transport you can do so by dropping the rear seats that fold 60/40 which are easy to operate because of their convenient seat releases and almost go completely flat. When the car has to drive on fluctuating road conditions, it proves that it can take on bumps at an impressive pace because of its controlled suspension. Dealers at used cars Orange County CA can confirm that the car has very good outward visibility which is very helpful when it comes to parking or wheezing in and out of traffic on the freeway.
Overall
When all is said and done, the 2017 Toyota Corolla iM Base Hatchback is a vehicle that helps you get to work and run your errands, it never stated, nor does it pretend to be an athletic performance sports car. Therefore, if you want to fault this car because it is lacking in pony power and torque, go a little easy on the Corolla iM. However, it does make up for its snail pace with its exceptional fuel economy, many standard features, durability, reliability and has a cool exterior design. Nobody can make a dent in Toyota's Corolla reputation!
It has a sporty, young, hype look, 17-inch wheels, and chrome exhaust tip. LED daytime running lights as well as LED tail lights, and although the vehicle only comes in one trim, this might come as an advantage to someone who feels overwhelmed when choosing what car to go for in a specific model. The car comes very well-equipped as it is, has comfortable seats and the interior is comprised of a leather-like plastic dashboard that makes the car look sharp and edgy.
The car looks and feels very modern with good interior space, especially in the trunk! The car provides a load of safety and driver assistance features for standard equipment. The 2017 Toyota Corolla iM Base Hatchback seems to be extremely average to a car enthusiast that is looking for something fun to drive and no possibility of options, but it does redeem itself with fuel economy, style, and great value for money! So, come and take it for a test drive today with no obligations necessary.