Toyota near Irvine has seen the small update that the 2019 Toyota Yaris Sedan has received, with a change of name by ditching the iA name (the fragments that still remain from the Scion era) and extra trim levels. Previously, the vehicle was only available in one basic trim level (also inherited from Scion), but presently Toyota is offering this car in three different trim levels- L, LE, and XLE.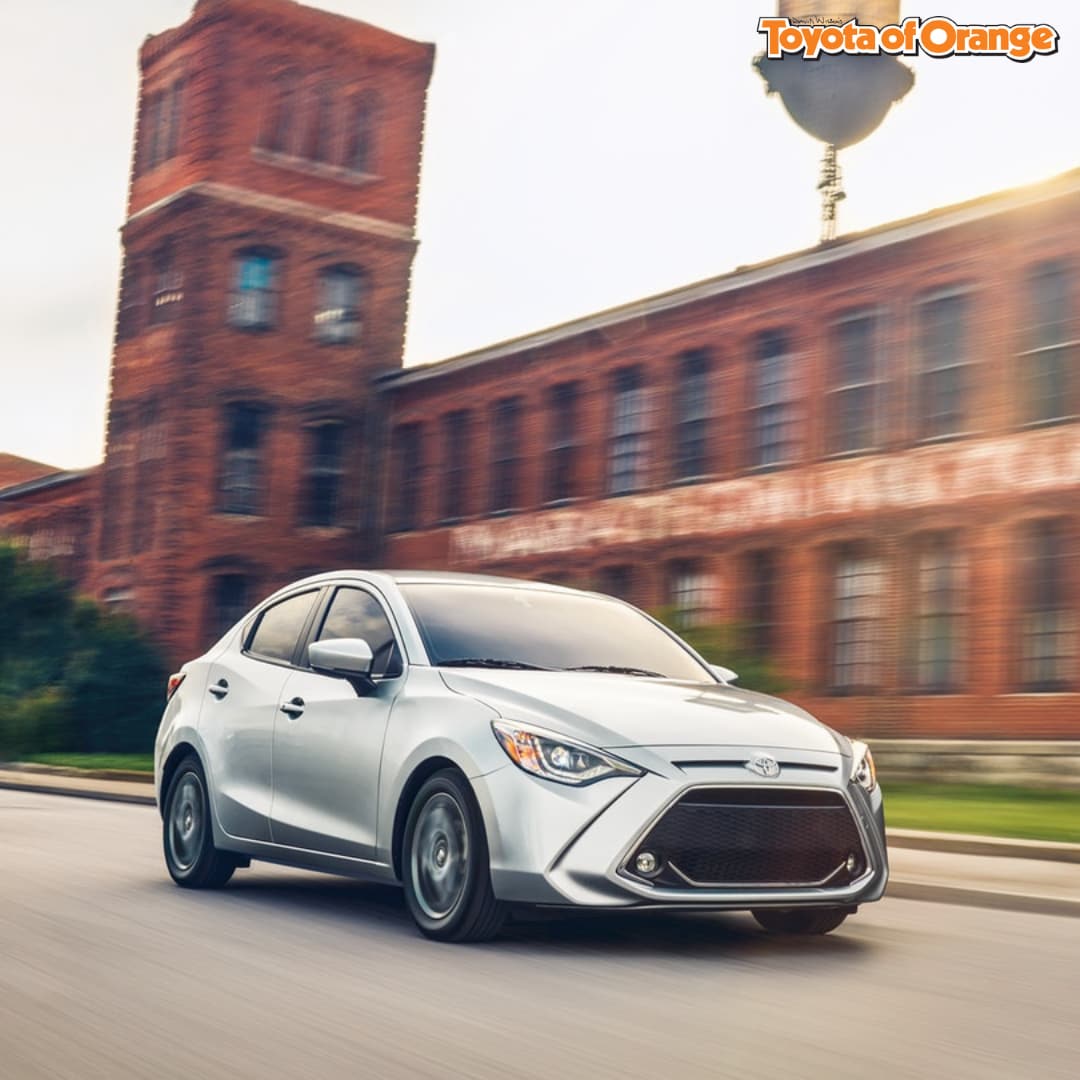 Driving
All three available trims for the 2019 Toyota Yaris sedan are powered by a 1.5-liter inline-four, but only the L and LE, however, are available with manual transmissions. It has 106 horsepower at 6,000 rpm and 103 pound-feet of torque with a six-speed transmission and front-wheel drive. It weighs 2,416 pounds and has a fuel efficiency of 32 mpg (city), 40 mpg (highway) as well as 35 (combined). The automatic version of this car provides 1 mpg more than its manual-equipped carbon copy.
The car comes in a sleek, sculpted front-end design with an aerodynamic profile that is set off with a piano black honeycomb grille insert to give it more pizzazz. If you upgrade to the XLE, you gain a bit of a sportier look that consists of LED headlamps, rear spoiler, 16-inch alloy wheels with a contemporary gunmetal finish, and XLE badging.
Technology
Toyota near Irvine points out that the standard features on the 2019 Yaris Sedan are a 7-inch infotainment screen with voice recognition and a rearview camera, keyless entry/ignition, along with climate control. Additionally, as part of the standard package, the vehicle comes equipped with a six-speed sound system and you can play your favorite tunes with one of the two built-in USB ports, a 12-volt outlet, Bluetooth and iPod connectivity.
It is also equipped with safety features such as Brake Assist, Electronic Brake-Force Distribution, and Dynamic Stability Control, to name just a few. Nevertheless, the most interesting safety feature in the 2019 Yaris Sedan is the Low-Speed Pre-Collision System. This system scans the road the driver is on and picks up on any potential risks for a collision. If there is a risk, the driver will be notified with an audio and visual alert, and the brake assist technology will come into effect. If the driver doesn't respond in the time allocated, the vehicle will brake on its own, limiting the damage that is usually caused by low-speed collisions.
There are frontal disc brakes, and believe it or not, there are drum brakes in the back. In front of the steering wheel, there are three gauges. The middle is the speedometer, which is actually an analog gauge, the left of that there is the tachometer that is quite small for some but is a relief to see in a vehicle that is not luxury. The tachometer is ideal for letting you know when to skip shifts but doesn't make you if you don't want to.
All trim models of the 2019 Toyota Yaris Sedan get cruise control and a push-button start. The LE and XLE models are decked out with an elegant Smart Key System compared to the more primitive keyless entry system of the entry-level trim. Topping off this list of standard tidbits you can expect when you purchase the 2019 Yaris Sedan are power windows and steering wheel-mounted controls.
When you upgrade to the Toyota Yaris Sedan LE and XLE trim levels you get elevated style and technology. These trims come with fog lights, a rear roof spoiler, power heated outside mirrors, 16-inch alloy wheels and integrated LED turn signals. If you opt for the top of the line XLE trim, the Yaris Sedan comes with automatic LED headlights, illuminated entry, automatic climate control, and rain-sensing windscreen wipers.
Comfort
It goes without saying that the basic trim will give you a standard yet comfortable seat that gets the job done. Also, the seats come with manual adjustments. If you are desiring something more "luxurious" in the affordable Toyota Yaris Sedan range, go for the LE and XLE trim levels. They both offer a fancier ride and as mentioned before the XLE trim has extra comfort with its synthetic leather upholstery and leather-trimmed steering wheel.
All models have good use of space in the truck with 13 cubic feet of cargo space and the additional room can be made available when using the 60/40 split-bench, which is ideal to transport large items. The Yaris Sedan provides ample seating for five full-sized adults with good legroom in the front and the rear. The front seats are in a bucket shape to fit the driver and front passenger snugly and come heated on the Yaris XLE. For more comfort as you drive, the three-spoke tilt and telescopic steering wheel include audio controls so you can manage your tunes as you cruise the road.
Overall
The 2019 Toyota Yaris sedan has an economy engine under the hood, so Toyota built the vehicle to offer a reasonably priced car to their customers. The low horsepower on offer is good enough to get you from point A to point B and ultimately that was what the Yaris was designed to do. If you have never driven a Toyota (and what a shame that is), their entry-level car is not the Toyota Corolla, but the Toyota Yaris. Therefore, the Yaris is the most economically priced Toyota you can buy!
Toyota near Irvine thinks that the 2019 Toyota Yaris Sedan is a good looking modern economy car. It is a vehicle that gets you and your passengers where you have to go and can carry an abundance of belongings without making any bold statements. Customers at our car dealerships are so pleased to know that you can still buy a brand new automobile at an affordable price tag that provides the necessary basics for a safe, reliable, and comfortable ride.